Trails
There are many trails nestled in the beautiful Kentucky hills near Lake Cumberland.
Rattlesnake 192
Hwy 192 Pulaski County, KY
150 turns in 11 miles. Motorcycle owners and sports car enthusiasts will enjoy this remote, twisty road in the foothills of southern Kentucky. Be sure to stop at the Souvenir Shack for your gifts and souvenirs and get a refreshment to sit on the porch and "take a 'brake' on the Rattlesnake"! For a map, visit www.rattlesnake192.com.
Buck Creek Blue Water Kayak Trail
Dahl Road
Somerset, KY
The Blue Water Trails series of articles details paddling trips on streams and rivers across Kentucky. No other stream in Kentucky has caves that flow cold air and fog over the water, springs that gurgle fresh water along the bank and rugged beauty that rivals the Red River Gorge like Buck Creek. A series of floats on this remarkable resource immerses the paddler into the power of water in a karst environment and its ability to carve a steep gorge into the Cumberland Plateau through the millennia. Buck Creek's first float starts at the Rainey Road access, off Dahl Road (KY 1677) in Pulaski County that winds and curves 17.7 miles until the final takeout. For a map visit Buck-Creek.pdf.
Pulaski County Park Mountain Biking Trail
1200 Highway 3189
Nancy KY 42544
(606) 687-4670
What is Somerset-Pulaski County's best-kept secret? It could very well be the 15 miles of hiking and mountain biking trails nestled in Pulaski County Park, an 804-acre mecca for outdoor adventure in western Pulaski County. This trail system offers varying levels of difficulty while providing incredible views of Lake Cumberland as hikers and bikers traverse the course.
Black Walnut Trail
855 Boat Dock Road Somerset, KY 42501
606-679-6337
Monday-Friday 8:00 AM-4:30 PM
Black Walnut Trail is a quarter mile, one way, trail boasting many interpretive signs to assist with a self-guided tour. The trailhead is located at the Lake Cumberland Natural Resource Management Office at 855 Boat Dock Road Somerset, Ky. A map of Black Walnut Trail can be found here!
Alpine Picnic Area Trail
Exploring the woods nearby you may find evidence of old coal mines from the Alpine Coal Camp that thrived in this area from 1884 to the 1930s. The mines are hazardous, so do not enter them. The chimney in the wood picnic shelter is all that remains of a farmhouse the once occupied this site. The exceptional craftsmanship of civilian works programs are evident in the wood shelter that was built by Job Corps in the late 1960s. The foundation and chimney stone from the old farm house were used to form the original picnic shelter. The farmhouse was constructed by the Civilian Conservation Corps in the 1930s. In exchange for the building of the house the owners agreed to sell what is now Alpine Picnic Area to the federal government. The house was eventually torn down in the early 1960s.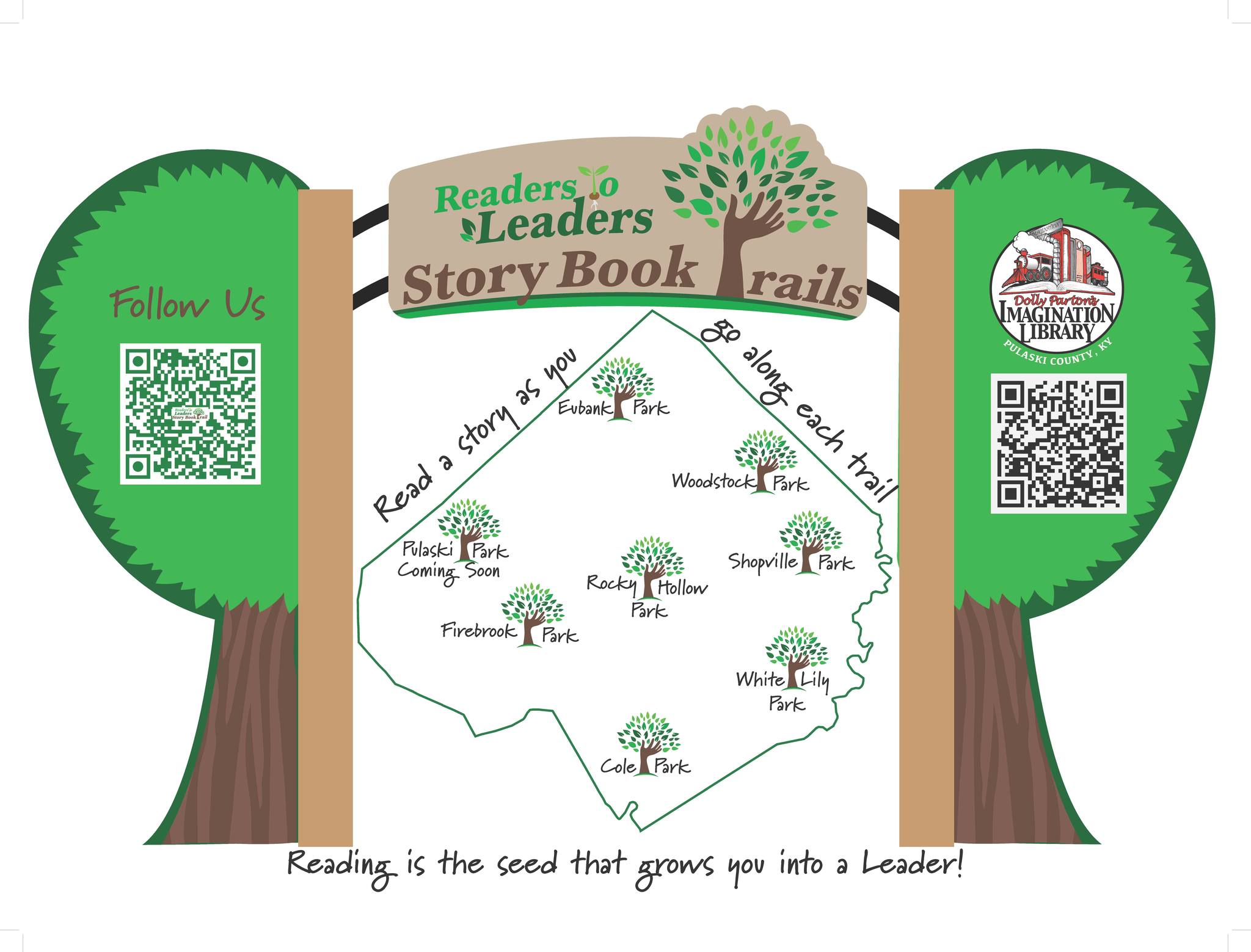 Readers to Leaders Storybook Trail
You can take a walk along a path and read a popular children's story with pages and activities displayed on stands spaced out along the trail targeting students in grades K-5.
Locations:
Cole Park
Eubank Park
Firebrook Park
Rocky Hollow Park
Shopville Park
White Lily Park
Woodstock Park
PC Park (coming soon)
Visit our Parks Page for more information on these locations.
2020 Leadership Lake Cumberland Class Chose "Readers to Leaders Story Book Trails" as their community project. They invite families to experience great children's books in a unique way…exercise for the brain and body! We challenge each of you to visit our Readers to Leaders Story Book Trails across Pulaski County, building your child's literacy skills, family health and memories together.