Cabins + Cottages
Find the perfect hideaway for your vacation, many which offer gorgeous lake views.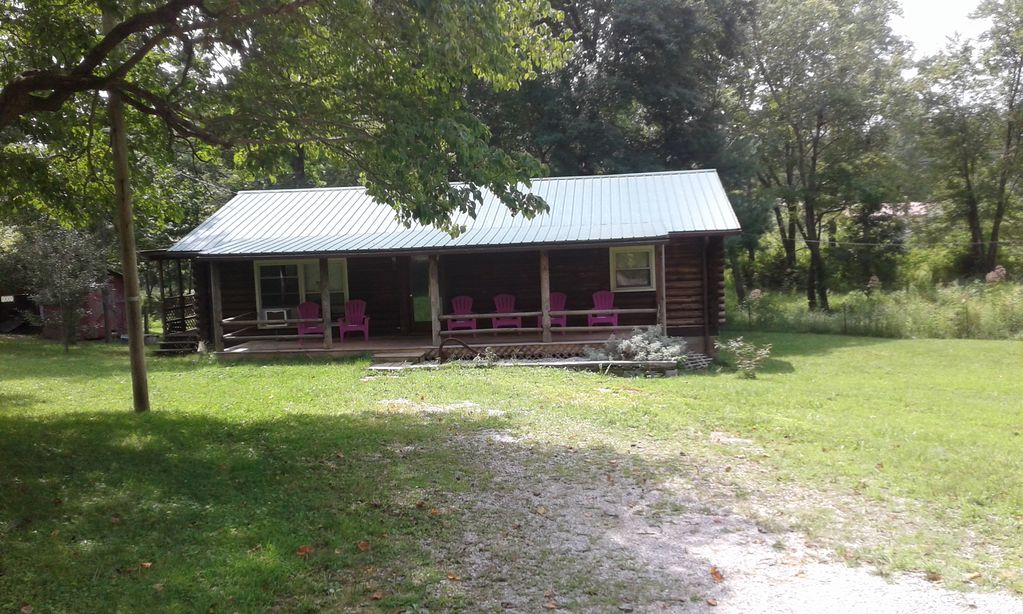 Aaron's Log Cabin
251 Broyles Road
Somerset
606-271-3283
This two-bedroom, one-bath log cabin is five miles from downtown Somerset, 30 minutes from Lake Cumberland and a few miles from Eagles Nest Country Club. With plenty of room to park several cars and/or a boat, a charcoal grill, fire pit in the backyard, and intentional lack of Wi-Fi, it's the perfect place to truly get away for a while.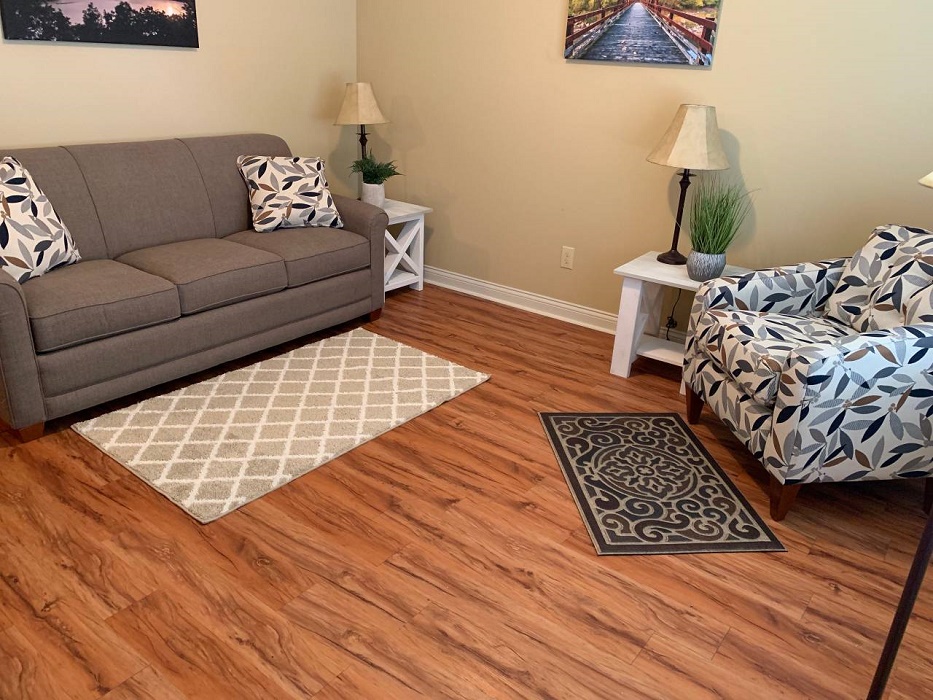 Abbi's Place 2 & 3
11 Abbi Ct. #2 & #3
Somerset, KY
606-679-9009

Each of these 2 bedroom duplexes have queen beds in each bedroom, lazy boy sleeper couches with memory foam (able to sleep six total in each); 1 large bathroom; fully functioning kitchen; washer/dryer; flat screen TV's living area and both bedrooms; downtown Somerset 1.07 mile from Somernites Cruise; easy access to the bypass to all boat ramps/marinas/parks; plenty of parking space for boats and trailers; host will be available through text to guests. Sorry no pets and no smoking. Smoke ONLY on the front porch or outside please.
#2  https://www.airbnb.com/rooms/32402417
#3  https://www.airbnb.com/rooms/31600017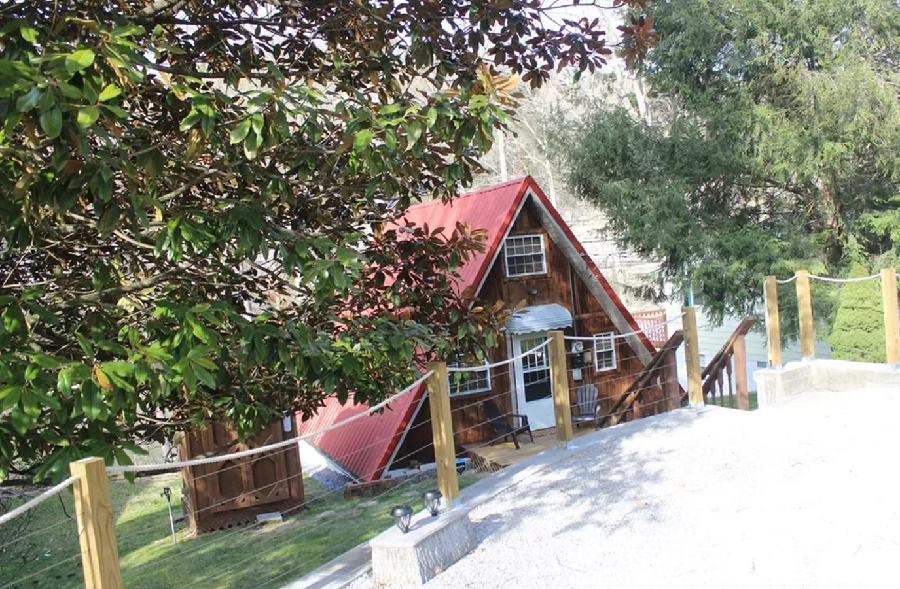 A Camp Living, Lake View, Rustic Path to Private Dock
460 Echo Rd.
Bronston
606-219-6471

A small simple A-frame dwelling lined with cedar planks nestled in an old quiet community less than 10 miles from the HWY 90 bridge. The roads to this place were laid by, "someone chasing a rabbit" so bring your groceries when you come. The views will never get old as it has year round lake front views with a rock wall back drop. Imagine a camping experience in a camper but instead in a small home. The aroma of the red cedar that makes up the inside of this cabin adds to the coziness you feel when you step inside. A great place for a family or even those whom you really love to be in close quarters with. The living room comes equipped with an Ashley pullout "full" size sleeper sofa as well as an additional loveseat. There is a 32″ smart television in there complete with WiFi for your enjoyment. The kitchen comes complete with a full size refrigerator, small stove and microwave as well as all utensils needed to accommodate up to 6. There is also a dining table inside to sit 4 as well as 2 bar stools and a bar for a few extras. There is 1 full bath located on the main level complete with a shower/tub. The 2 bedrooms are located upstairs. The master bedroom on the rear of the house facing the lake comes complete with a queen size bed. The second bedroom comes with a twin size bed on top, with a pullout twin size trundle below. There is a small washer & dryer in the house to help keep all your laundry caught up as you vacation. Just outside the double sliding glass doors is a spacious deck complete with a charcoal grill and a large patio dining set to accommodate up to 4 with additional seating that is sure to allow up to 6 to dine comfortably while overlooking the dock. There is also a fire pit in the back yard with a cedar swinging chair and additional seating below. It has a private seasonable dock accessible from the back yard. The dock is 10×10 making it large enough for most boats. The lake level fluctuates all year therefore the journey to the dock from the steps can be more rocky at some than others. There is a public ramp less than 1/4 mile from the driveway.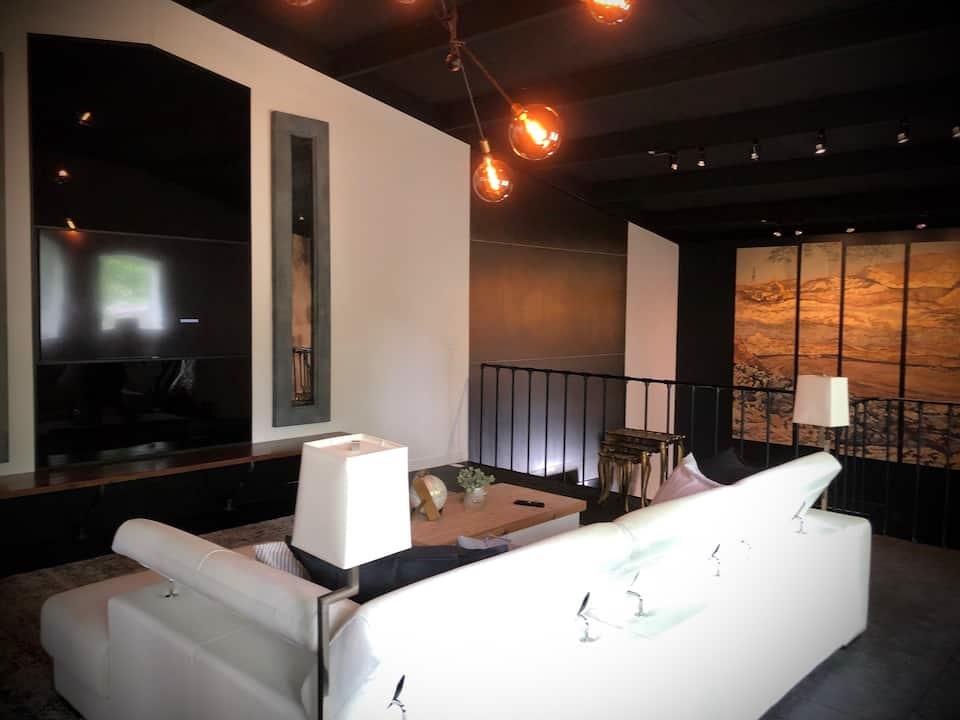 Ashton's Place
563 East Racetrack Rd.
Somerset, KY
606-219-2266
A steel framed industrial warehouse converted into an upscale two bedroom rustic-chic living space located within 8 miles of beautiful Lake Cumberland and within 5 minutes of Downtown, Somerset. The city is yours to explore from your own private 2 bed, 1 bath modern rustic retreat. Picture comfy beds, full bathroom, a kitchen built for entertaining, all under a metal tin roof for those rainy days when you just want to curl up and relax. A roomy 2000 square foot exquisitely detailed living space. An ambient space that is modern yet cozy. Peaceful and quiet location yet within miles of fun, food, and friends! The kitchen has a double door refrigerator, dishwasher, coffee pot, microwave and stove. Nestled in the middle is a large island with five barstools creating a great atmosphere of entertaining and fun. A garage type door is located above the sink that brings the outdoors inside. The space also includes a commercial washer and dryer, Samsung Smart TV's with local cable and there is plenty of space for parking vehicles with or without boats/trailers, RV's, busses and more. A full garage bay is available by request only.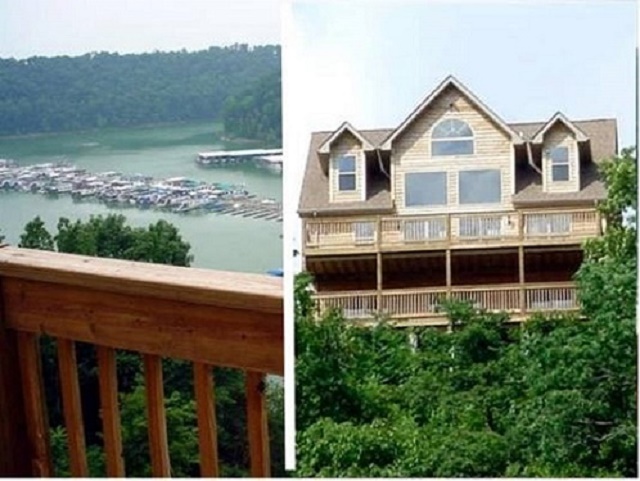 Lakehouse Hideaway
899 Hideaway Dr.
Somerset, KY
937-602-6106
This 4BR, 3 1/2BA home has a breathtaking view of Lake Cumberland and Lee's Ford Marina with close access to boating, dining, and shopping. The house has many amenities and is located just 3 miles from Somerset with plenty of dining and shopping options and within 20-minute drive to Burnside Island State Park Golf Course.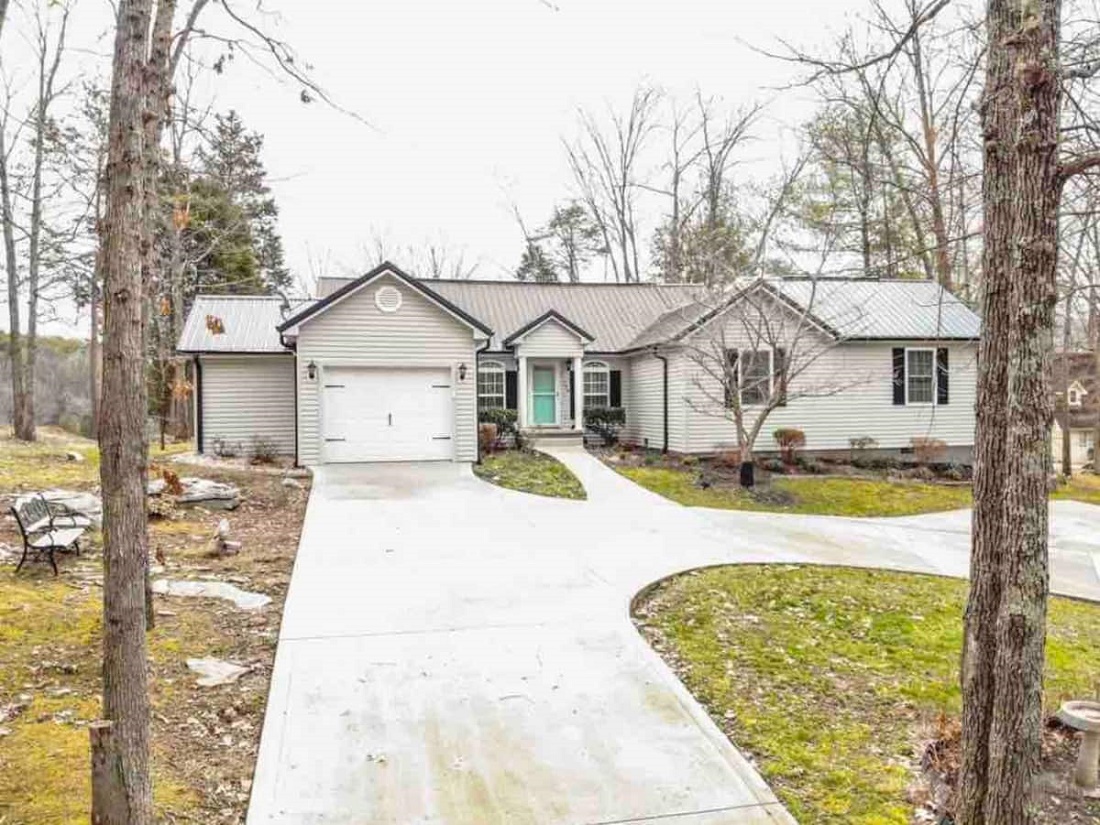 Blackbeard's Lakefront Bungalow
154 Waters Edge Dr. 
Somerset, KY 
405-208-1914
Blackbeard's Bungalow is located in Somerset overlooking Pitmann creek on beautiful Lake Cumberland. Enjoy the amazing year round lake views. Three large bedrooms, two full bathrooms, great room, dining room, open kitchen, screened in porch, and double decks are all yours for rest and relaxation. Updated bathrooms and kitchen with an open feel. Living room sofa also makes a queen memory foam bed. Large circle drive with additional parking pad to bring your boat or toys. The charming small town city with all the big amenities is less than three miles away.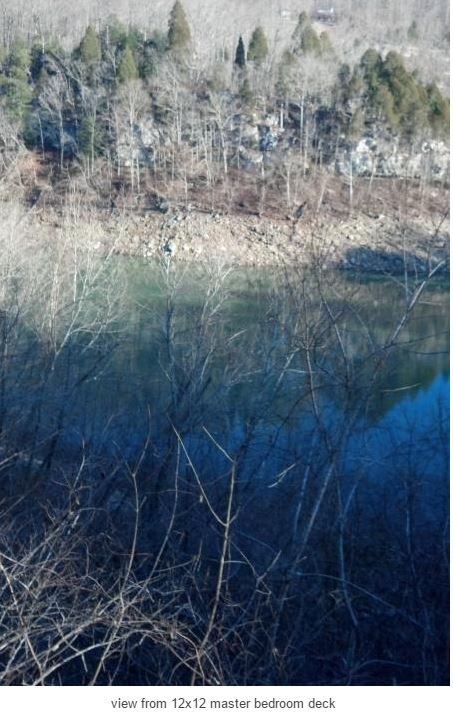 Buck Creek Bungalow
9700 Rush Branch Road
Somerset
606-308-2745
This three-bedroom/two-bath vacation rental is lakefront near the Buck Creek boat ramp (closest ramp to I-75) and includes a walking path to the lake as well as two decks with lake views. Fully furnished, it includes other amenities such as hot-tub, washer and dryer, fully equipped kitchen and DVD-TV. Linens are provided.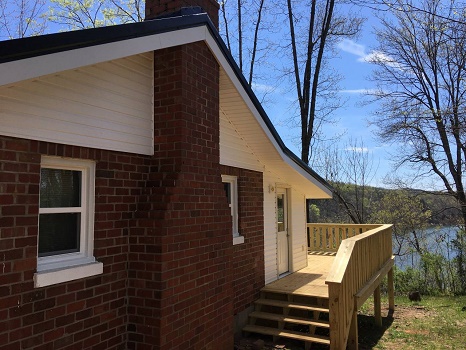 Bugg's Cabin
861 Boat Dock Road
Somerset
859-878-8001
This newly remodeled one-bedroom/one-bath cabin overlooks Lake Cumberland, is fully furnished and located less 10 minutes from Burnside Marina.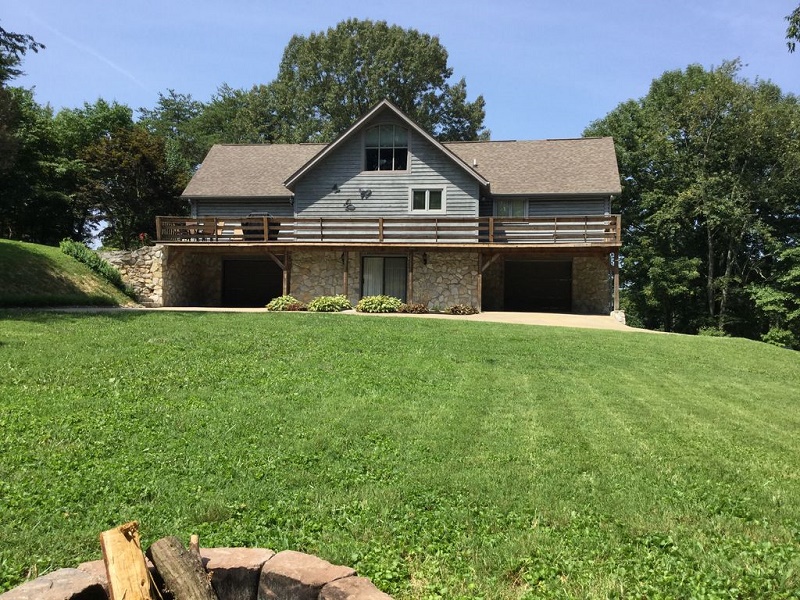 Cedar Log Home
605 Lakeview Dr.
Somerset
970-549-7733
Enjoy this spacious beautifully appointed 4 bedroom 2.5 bathroom cabin. Two large master bedrooms downstairs feature each a king size bed and a bathroom. Two bedrooms upstairs feature each a twin size day bed that converts to a king size bed. Large loft for play time. Bathroom/powder room in the basement. Living room has a large flat screen HDTV, pull out couch, and a beautiful solid stone fireplace to keep you cozy when the weather gets cooler. Fully equipped kitchen. Large wrap around deck. Plenty of parking on the driveway that circles the front of the house and wraps around the back – will easily accommodate a boat, trailer and a few cars. Boat launch is down the street. House is conveniently located just a few minutes from the Burnside Marina, and the General Burnside State Park. Few minutes drive to conveniences of the City of Somerset shopping and entertainment.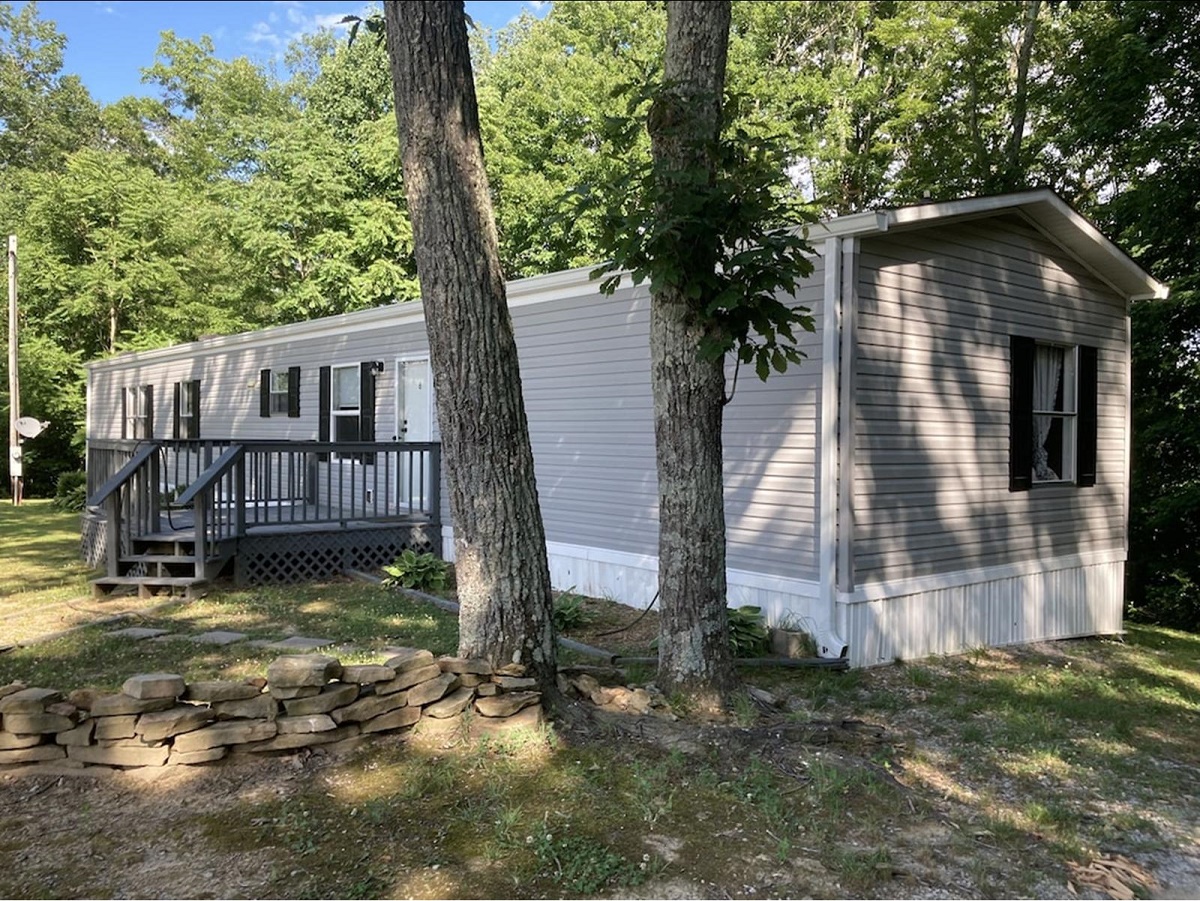 Chelle's Shack
722 Malvin Hill Church Rd.
Somerset, KY 42501
302-233-0065
For motorcycle riders and sports car enthusiasts, this is in close proximity to the Rattlesnake 192 as well as many other named roadways and attractions. Home of the Somernites Cruise and Master Musicians Festival. It is secluded and not far from Buck Creek and the Daniel Boone National Forest. Other attractions, such as Cumberland and Laurel Lakes are less than 30 minute drives; and less than an hour from Cumberland Falls, Big South Fork Scenic Railway. Perfect location for day trips – watersports, 4-wheel trail riding, walking trails, parks, and wineries and breweries. Owners will try to be accommodating, living 1/2 mile up the drive.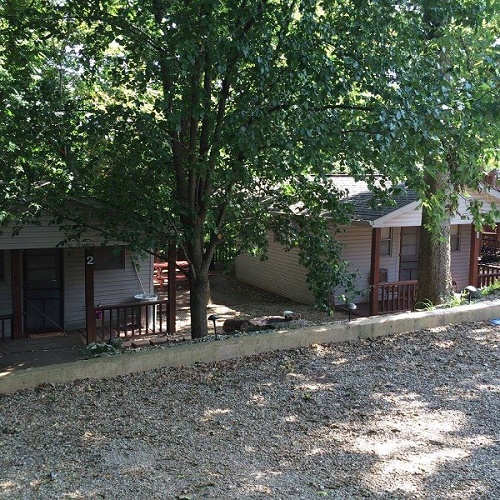 Cottages on the Lake
Somerset
These two cottages are nestled in the treetops overlooking Pitman Creek on beautiful Lake Cumberland. Cottage one is a one-room studio cottage with a queen bed, bathroom, mini fridge, microwave, coffee pot and covered balcony. Included is dock access with kayaks. Cottage two is a one-room studio style cottage that sleeps two with extra room for an air mattress. This cottage has a small kitchen and full bath.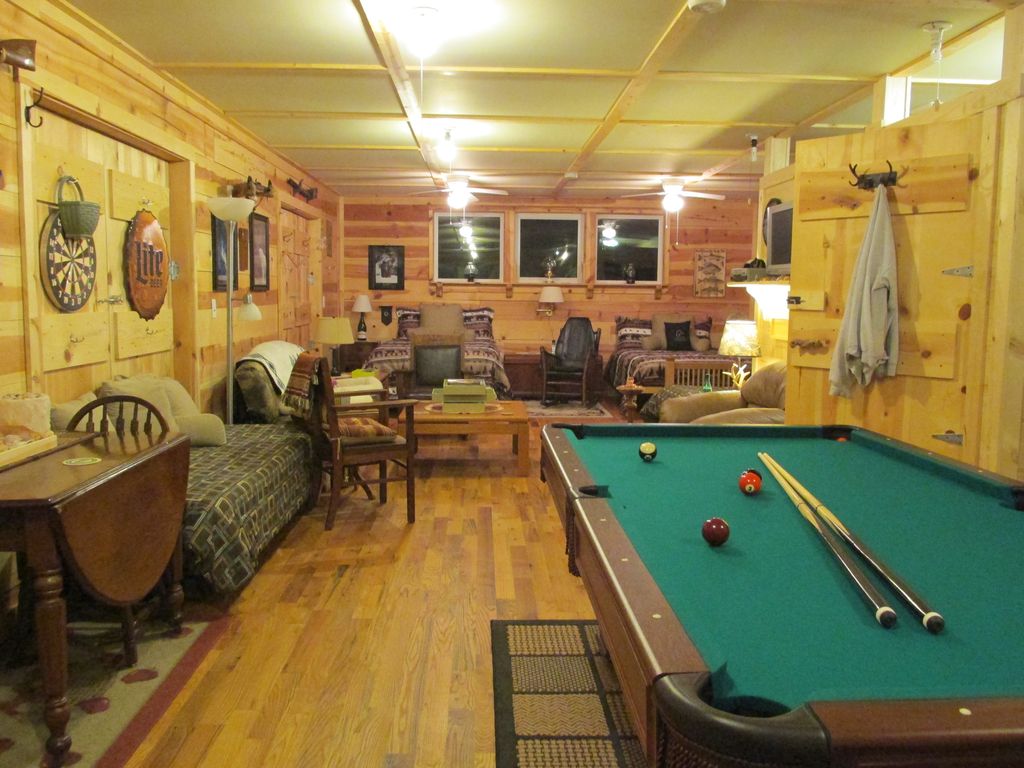 Country Bunkhouse
90 Edgewater Dr.
Somerset, KY 42503
888-829-7076
606-679-2300
Country Bunkhouse all set up for vacation, in a park like setting on a personal estate in the hills of KY. Very close to Somerset's stores and restaurants. On 100 mile long Cumberland Lake, near KY State Parks and Pulaski County Park for boating and hiking. Walk down to the lake on the property and go fishing for monster Striped Bass. Brand new build with full bath and shower, living area, kitchenette and dining area and ping pong or pool table. Sleeps up to five. Beautiful area with wildlife galore. Clean! No smoking! 1 mile to boat ramp, Boat Tours available as well as 4 Wheeling Tours in wildlife areas.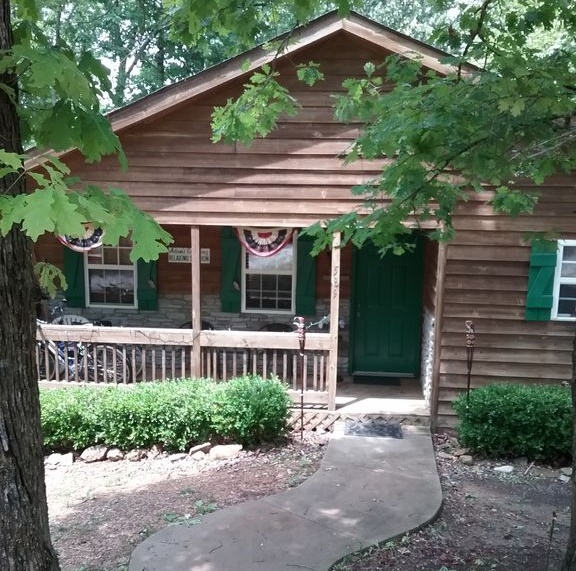 Cozy Cabin in a Gated Community
589 Enchanted Forest Way
Burnside
407-810-3001
Enjoy quiet evenings and nature walks in this secure gated community (Lake Cumberland Resort). This two-story, three-bedroom, two-bath cabin has lots of privacy on each floor and room for eight. Each bedroom is furnished with a queen bed and there is another couch in the basement. The living room has a sleeper sofa, smart TV and there is internet access throughout. There is also a pool table, jacuzzi and fire pit at the cabin. The resort has three pools, tennis courts and ramp access to Lake Cumberland.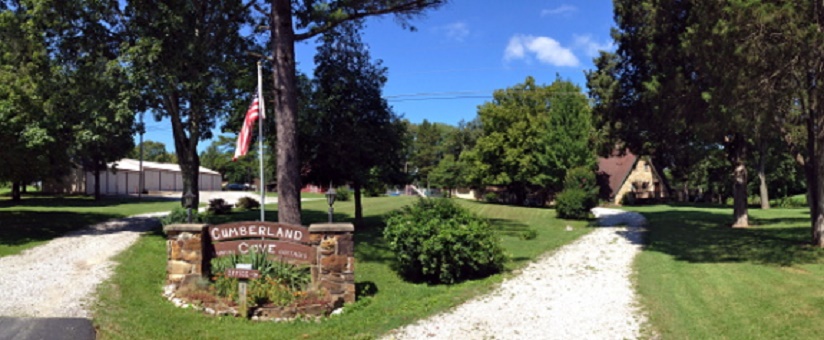 Cumberland Cove Cottages
620 Coomer Road
Burnside
606-499-0742
Located right on the lake, water skiing is at its best. Cumberland Cove is situated on the South Fork of Lake Cumberland and is just a few miles from an 18-hole golf course, a swimming pool, tennis courts, a drive-in theater, shopping centers and more. All cottages have fully stocked kitchens, bathrooms, a living area, covered deck and bedrooms complete with linens.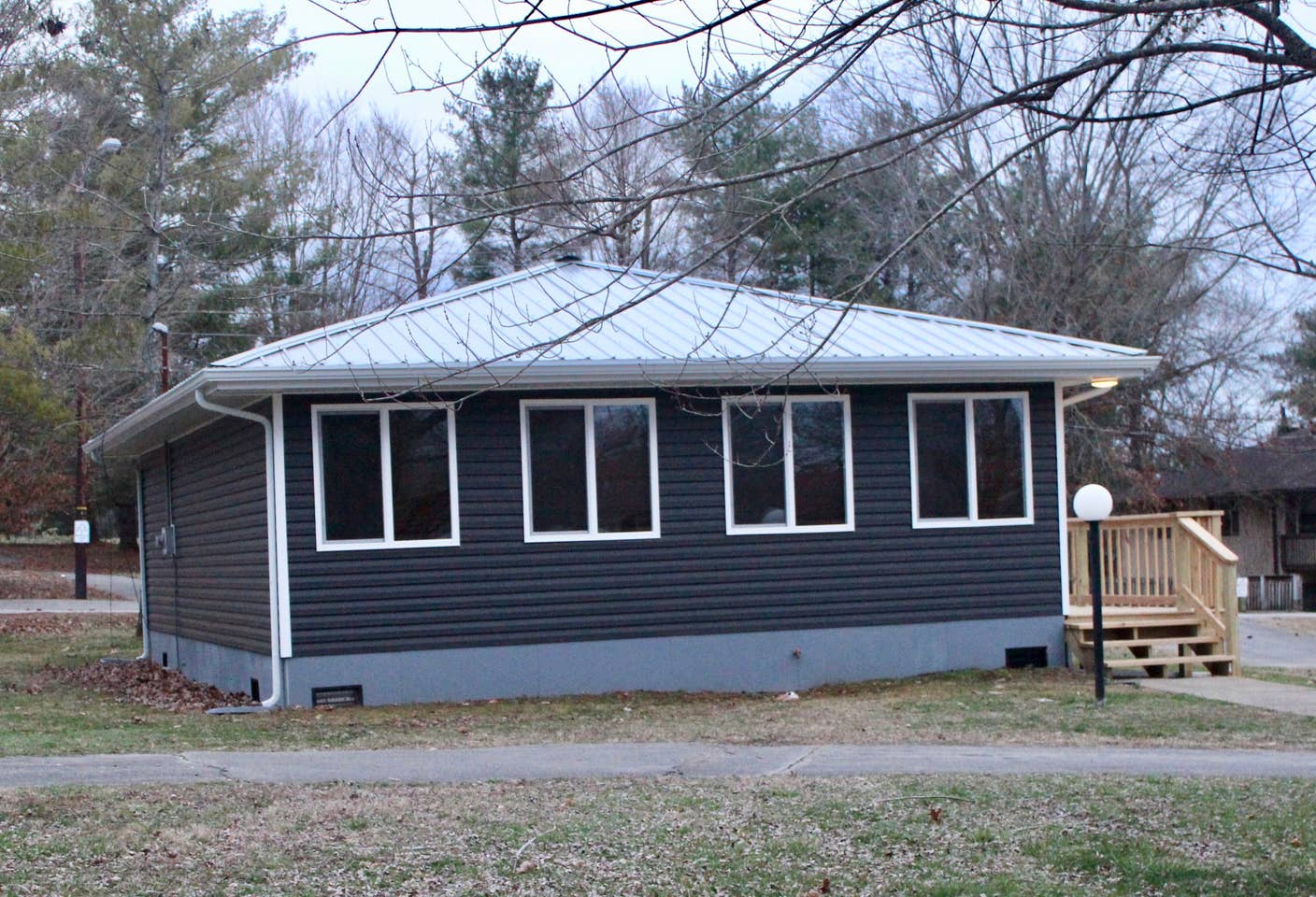 Jack - A Lake Vista Property
10 Villager Resort
Burnside, KY
606-219-6471
Jack is one of two side by side cottages (Jack & Diane) located in the old tourist spot in Burnside KY known as Villager Resort. Jack, with a classic all American boy theme, is right next to Diane, so they are perfect for hosting large groups, separate but together! A handmade farmhouse style table can comfortably seat 6, or more, sets in the open kitchen in front of windows. Cedar accents are located in the bathroom which carries a great smell in a small space. There is a bunk room that houses a twin bunk and a twin over full bunk. The other bedroom has a king bed. There is also a queen sleeper sofa in the living room. The cottage has a washer/dryer and the property has a heated pool, tennis court, batting cages, picnic area, bagged ice for purchase on site, fishing and swimming is allowed off the dock, and a charcoal grill that is available. With the beautiful Lake Cumberland right at your fingertips, private dock access, and a coin operated tram that can take you and your belongings down to the dock. Burnside Marina is only 1.5 miles away! Be sure to bring your own recreational towels, lifejackets, fishing gear, floats etc.
https://www.airbnb.com/rooms/41800025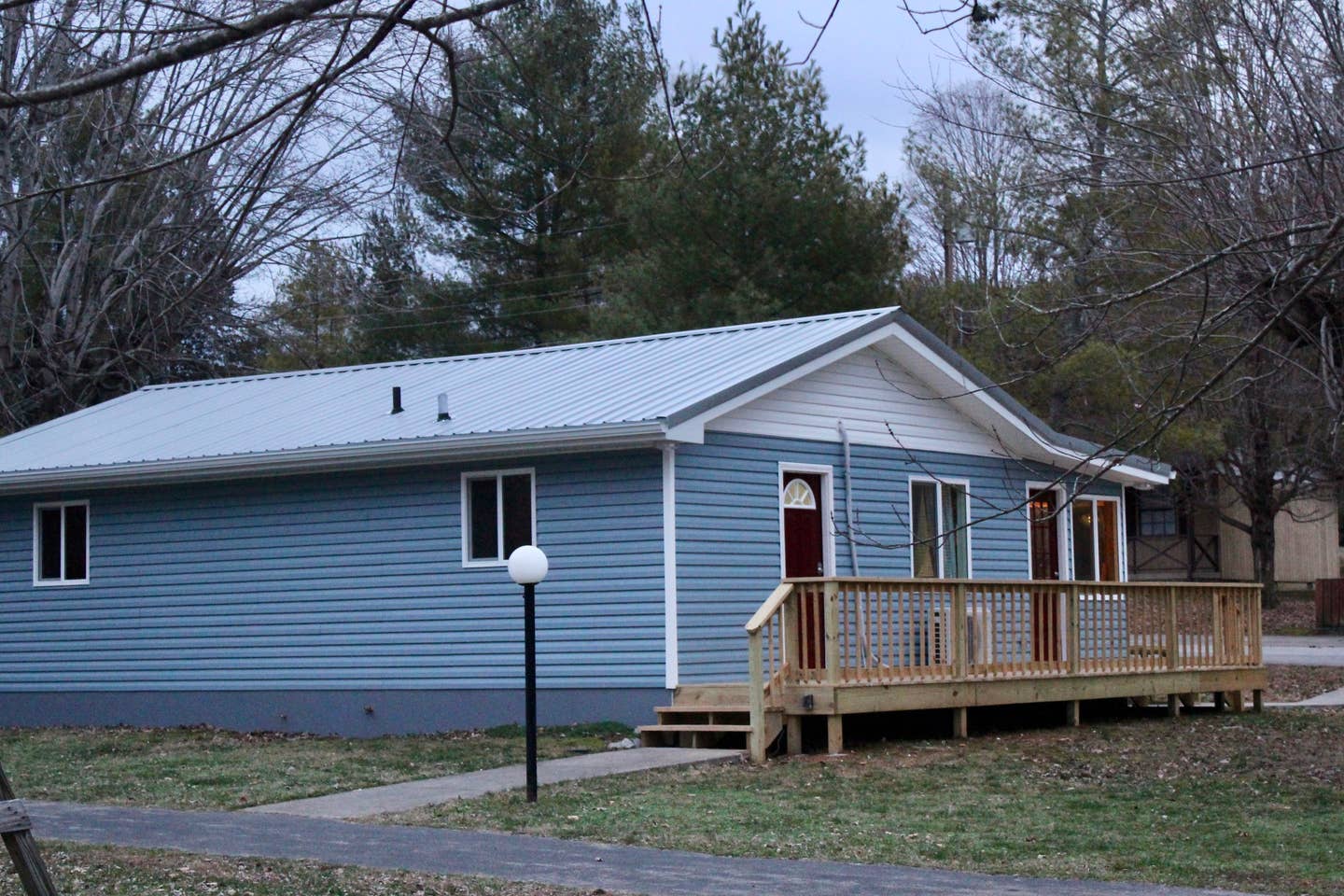 Diane - A Lake Vista Property
9 Villager Resort
Burnside, KY
606-219-6471 
Diane, located right next to Jack, in a classic all American boy theme, so they are perfect for hosting large groups, separate but together! The space is decorated with a unique personal touch and items made by my family and I. The bedrooms house king platform beds made of pine with floating shelves on each side. The bathroom is finished off with hints of handmade cedar items that release a wonderful smell in the small space. The sunroom area is off of the living room finished off with different wood pieces on the wall, deck style floor, 2 ceiling fans, and numerous windows. You can take in the warmth of the sun, open up the windows and feel the breeze and smell the fresh air, or listen to the rain hit the metal roof! For your personal convenience we also chose to put a washer/dryer in the cottage. There is plenty of parking available as well as space to take a walk. The property also has a heated pool, tennis court, batting cages, picnic area, bagged ice for purchase on site, fishing and swimming is allowed off the dock, and charcoal grill that is available to you during your stay. Burnside Marina is just 1.5 miles away. Be sure to bring your own recreational towels, lifejackets, fishing gear, floats etc.
https://www.airbnb.com/rooms/41747304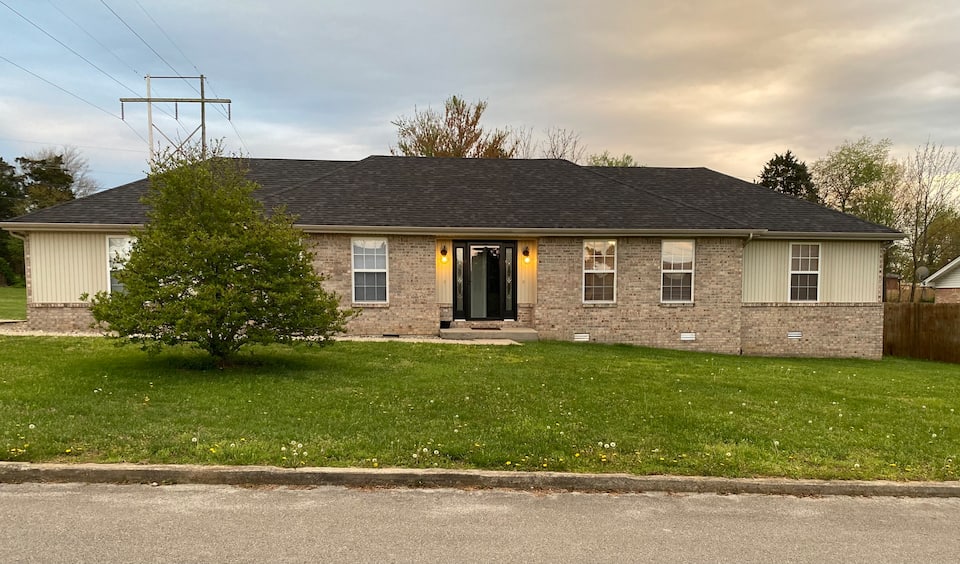 Cozy, Cute and Comfortable Duplex
97 Pondview Dr.
Somerset, KY
606-425-3896
Keep it simple at this peaceful, centrally-located place in the hub of Lake Cumberland. The A side of the duplex home is cute, clean, and comfortable. 6 miles to Fishing Creek, 6.4 miles to Pulaski Park, 4.6 miles to Lee's Ford Marina, and 6.8 miles to Burnside Island boat ramps and 3 miles from the main strip of Somerset. This 2-bedroom, 1-bath home has recently been newly furnished, completely! Large 60 ft driveway that is 2 cars wide for trucks with boats. Relax outback by the Fire pit or on the deck. Nice and quiet neighborhood!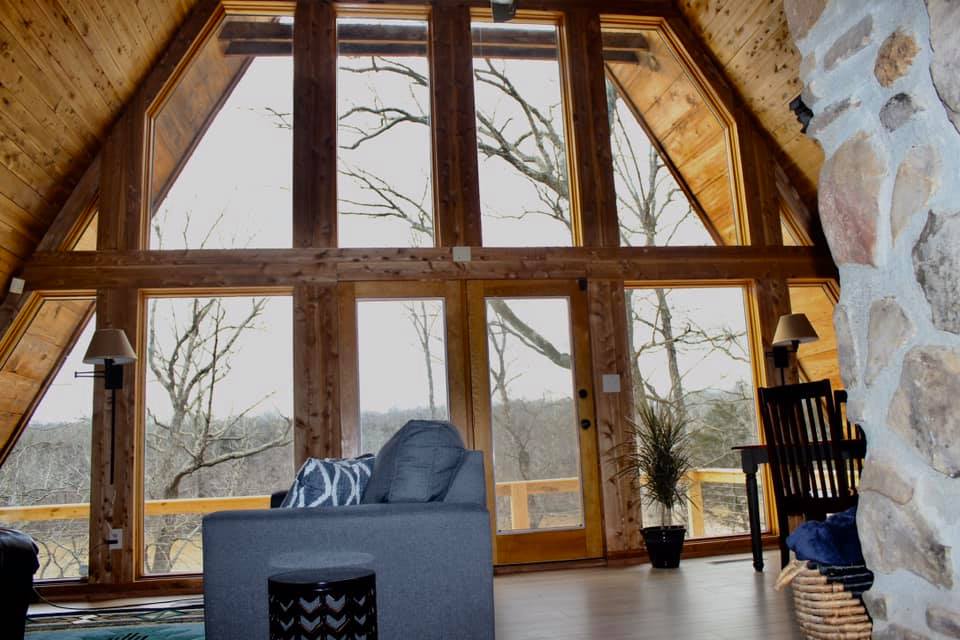 Window Lake House - A Lake Vista Property
992 Stonegate Dr.
Burnside, KY
606-219-6471
This house features a unique A-frame style and wall to wall glass across the back of the house. The seasonal view of Lake Cumberland is amazing! The majority of the home is lined in cedar. The main level holds a full size bathroom with a washer and dryer, a bedroom with a queen size bed, kitchen, and living area that also has a queen sleeper sofa. Deck access is off the living area. A set of stairs takes you to the loft that holds a king bed and with access to a small Juliet deck that faces the front of the property. Window Lake sits on 1 ½ acres with plenty of room to enjoy the outside, a fire pit area and plenty of parking for a vehicle and trailer, there is also a covered shelter to park underneath.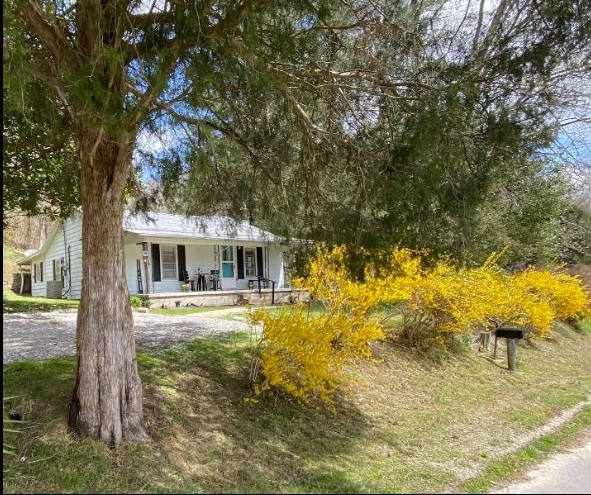 The Creek House
Science Hill, KY 
606-875-6699
This 120 yr. old, 2 BR, 1BA, Creek House is filled with character & charm, for an authentic country cottage experience! Recharge on our peaceful porch, sit around the crackling fire pit, listen for the call of a hooting owl or whippoorwill. Enjoy all the peace, tranquility, & natural beauty our getaway affords. Our house has endearing features and offers all modern conveniences like dishwasher, microwave, internet (15MB, fastest for area), & Roku TV. New flooring throughout, the bedrooms are spacious and the lounge could serve as an office. Great parking available. No street lights near the home, though the Creek House has solar powered motion activated flood lights.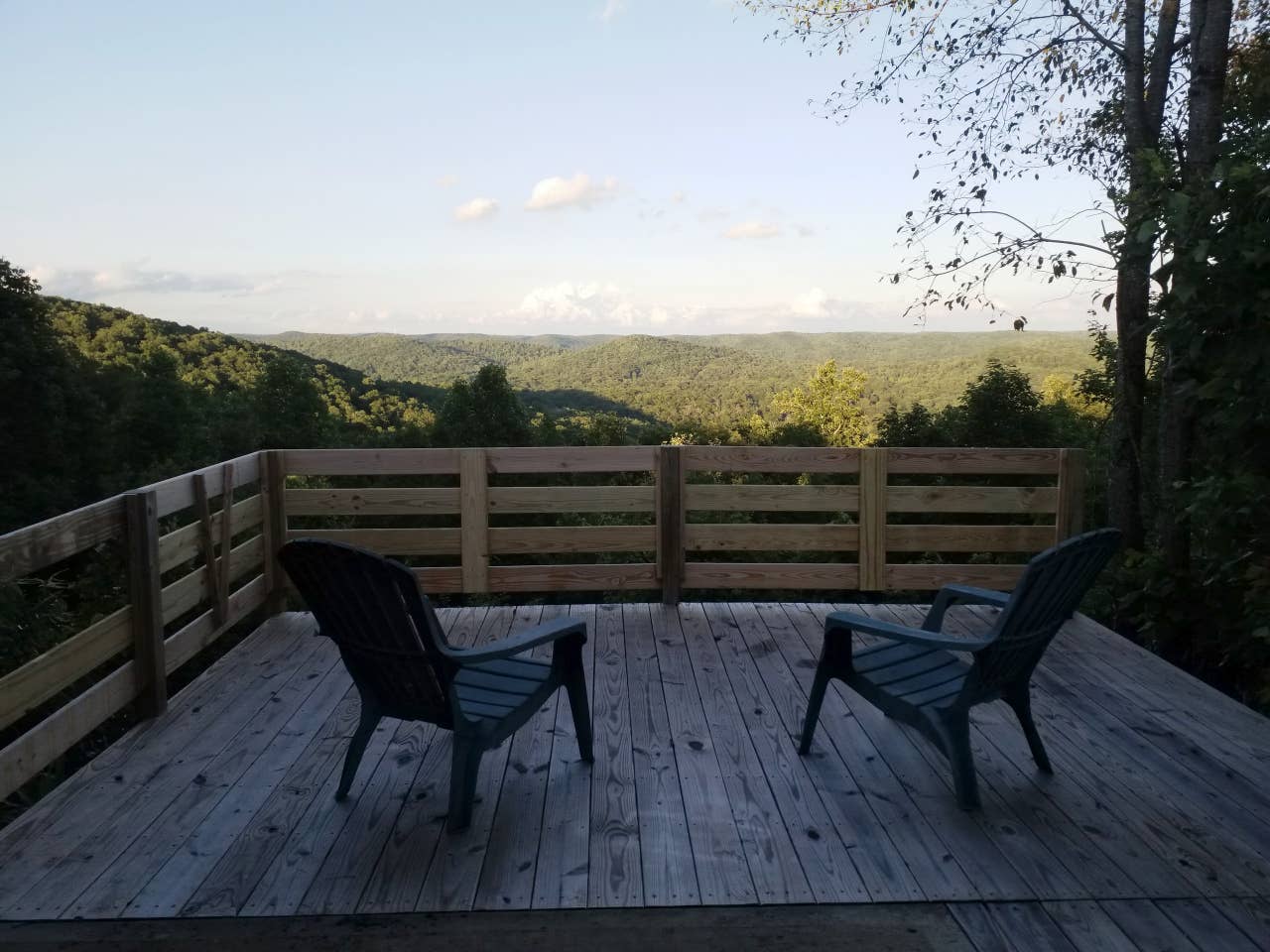 Dixie Mountain Hideout
167 Dixie Bend Rd.
Burnside
606-875-7218
606-305-8692
Enjoy a breath taking Mountain view from your private log cabin as you drink your morning coffee. The bedrooms have memory foam beds so you wake refreshed and ready to enjoy all the Lake Cumberland area has to offer. Within 5 miles to General Burnside Sate Park and boat ramp and Burnside Marina. This 2 bedroom, 1 bath vacation home is only 10 miles from downtown Somerset, Somernites car cruise capital! Boat parking available with turn around. Dixie Mtn. Hideout, when you're away from home, we welcome you home!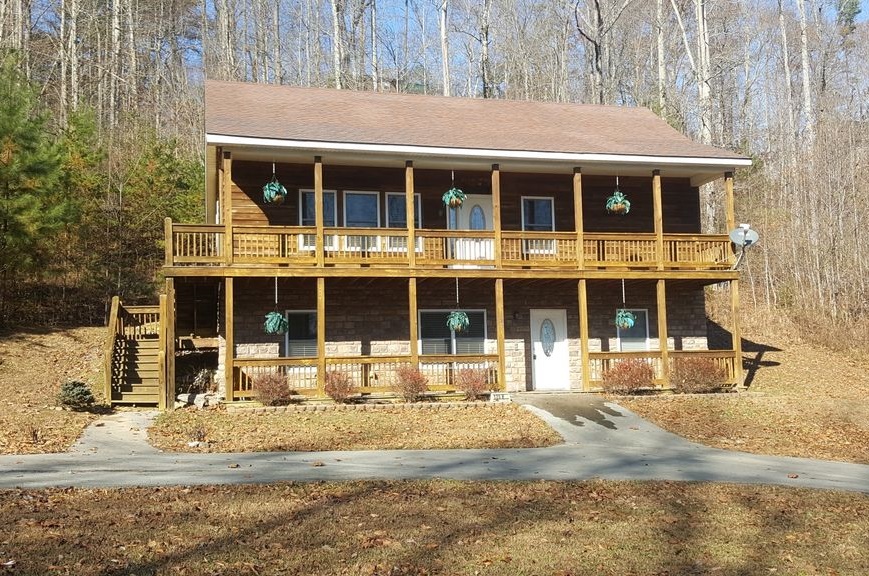 Ellie's Place at Lake Cumberland
125 Serenity Terrace 
Burnside, KY
859-444-0995
We are excited to share our beautiful cabin with you. Awesome scenery in this warm Mountain Cabin. Ready to getaway!!! Relax at our Beautiful 3 bedroom 3 bath Mountain Retreat. Each bedroom has its own access to a separate bath. Stunning views from front deck. Hot tub on private screened back deck. Fire pit to enjoy roasting marshmallows and hot dogs or just family fun. Home offers pool table in game area. Kitchen stocked with basic cooking utensils, pots and pans. Home located in the gated community of Lake Cumberland Resort. The Resort offers 3 outdoor swimming pools and tennis court. Home is within a mile of Keno Boat Ramp and Shooting Range. Resort is surrounded by 500 acres of Daniel Boone National Forest. The home is 30 minutes, or less, of Cumberland Falls State Park, Somersplash Waterpark, 2 Marinas and several golf courses. Our provides hospitality to all our guests. Military discount available. Contact us to receive discount.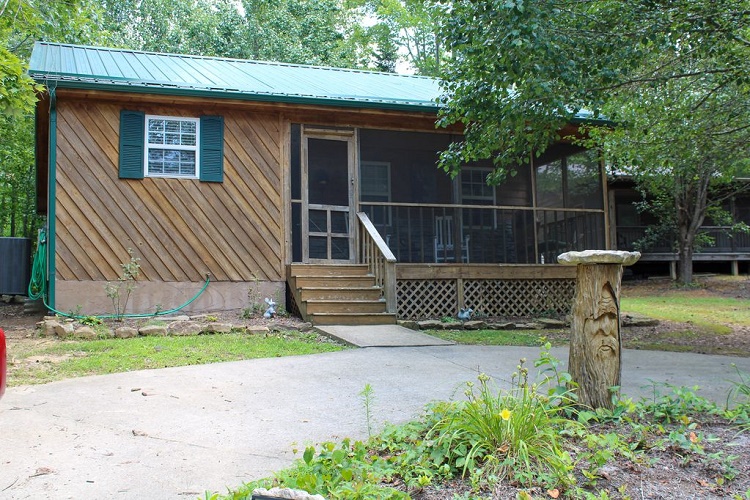 The Enchanted Hideaway Cabin
Enchanted Forest Way
Burnside, KY
606-492-5169
Nestled in Lake Cumberland Resort and bordered by Lake Cumberland and the Daniel Boone National Forest is this adorable cabin newly decorated and outfitted for your fun and relaxation. With two bedrooms and two full baths it is the perfect size for a couple, for two couples or a family of four. This cabin has all you need to be comfortable for a weekend or a full week. Two screened-in porches are lovely for morning coffee, outdoor dining and relaxing in the hot tub with 31 jets! Evenings can be spent reliving the day's events around the fire pit. Comforts of home are standard: internet, phone, cable TV, dishwasher, fridge, stove and microwave. There are three swimming pools in this gated resorted, one just steps away from the cabin. Tennis courts are nearby and the boat ramp is a short one mile drive.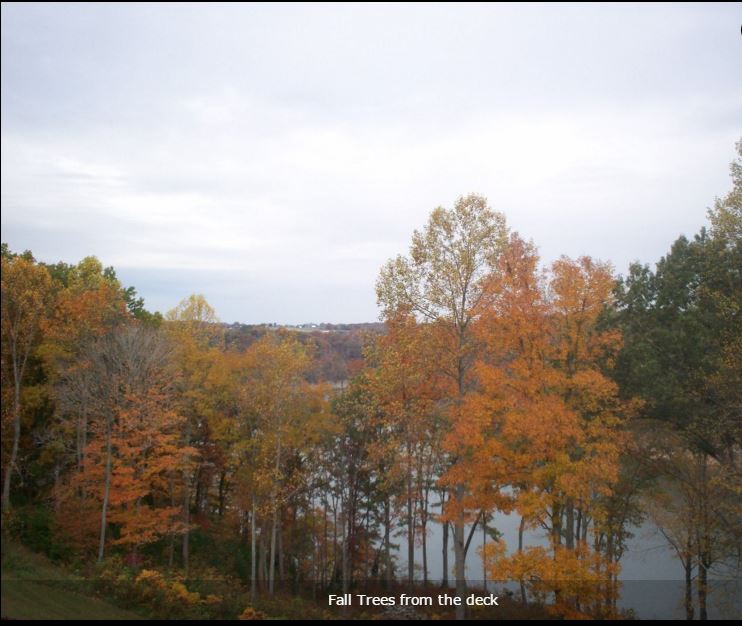 Falling Water Rentals
284 George Street
Somerset
561-713-3666
A beautiful, four bedroom, lakefront rental offering all the modern amenities plus two full decks, one upper and one lower. The upper deck provides excellent lake views year round. The lower level suite has a separate kitchen.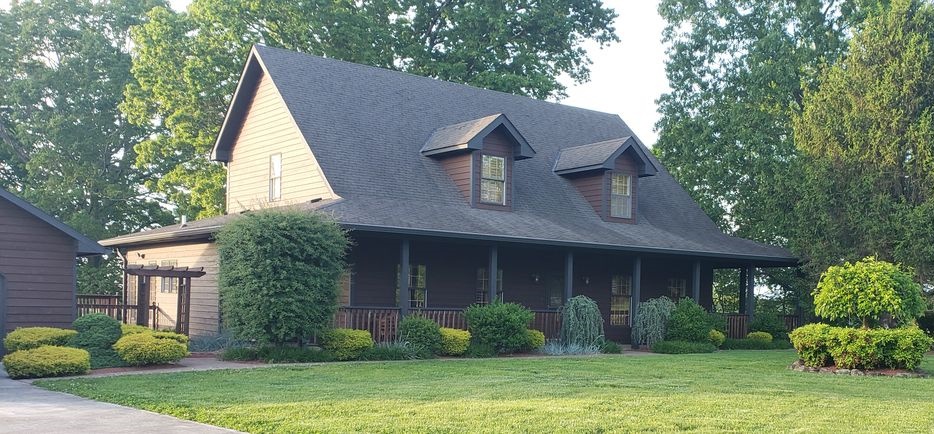 Cedar Shake Lake House
164 George St.
Somerset, KY
859-268-3935
3 Story Cedar Shake "Cabin Style" Lake house overlooking Fishing Creek on Lake Cumberland. Covered Front porch the full length of house. Wrap around rear deck on entire rear of house. Lower Deck overlooks Lake Cumberland. Rear concrete porch under rear deck and newly fenced rear of house and side yards. 1st floor kitchen is fully equipped with refrigerator, 2 ovens and stove, microwave, dish washer, garbage disposer. Kitchen Island with 4 bar stools, dining room that seats 6. Sun room with extra seating and a table for 4. Fireplace on 1st floor great room and a lower level gas fire place. Lower level Kitchen w/wood cabinets and bar seats 6. Kitchen is equipped with refrigerator, dish washer, wine fridge, ice maker, and disposer. Six bedrooms-1 Master on 1st floor with walk out to deck. King poster bed with private master bath with shower and jacuzzi tub. Second floor bedrooms have two queens, 1 bunk with full mattress on the bottom and twin on top. Hall open and over looks great room. Lower level has Queen and bunk room with 3 sets of bunk beds. Two twin sets and 1 full set. 4 T.V.'s in home. 3 Smart T.V.'s with cable channels and Netflix. Hardwood floors on 1st and 2nd level with all tile floors on lower level. Fully equipped with pans, dishes, all kitchen items such as coffee maker, can opener, blender, crock pots. All linens, towels, toilet paper, paper towels, and cleaning supplies. Rear decks and front porch has furniture to accommodate 20 plus. House can sleep 18 guests in beds and 6 on couches and futons. House has 3 blowup mattresses that are pillow top and can sleep 6.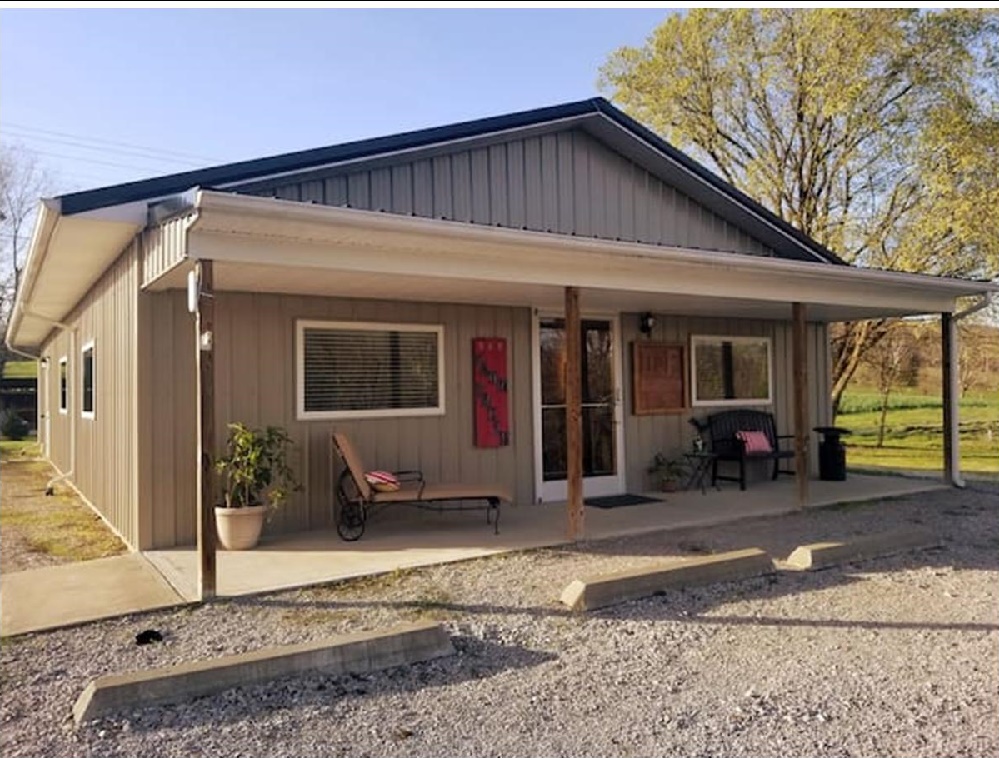 Farmhouse at D & F Farms
755 Elihu Rush Branch Rd.
Somerset, KY
606-875-0624
This unique stay is better than your typical vacation rental. The 1500 square foot building is great for hosting your family and friends. Lots of space, both inside and outside. House has 2 bedrooms, 1 ½ baths and the living/dining area features an open floor plan. We are located on a 200 acre farm. Farm feels secluded, but most places are within a short drive. Parking is very spacious and can hold all vehicles, boats, and toys you can haul. We have a loop style driveway, so you never need to back your vehicles anywhere.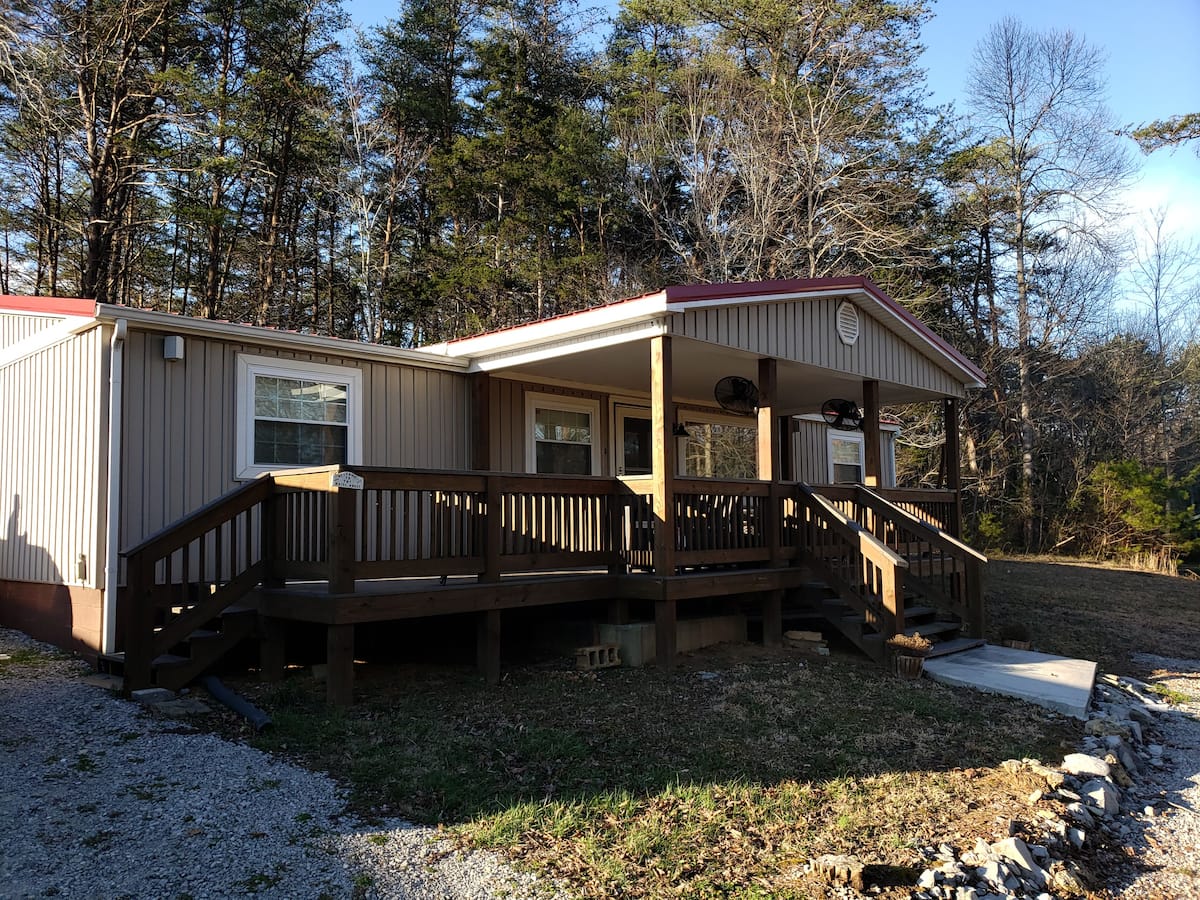 Garland Getaway
2414 Garland Rd.
Burnside, KY
513-276-0651
Come make yourself at home at The Garland Getaway with 3 bedrooms 2 baths, comfortably sleeps 8. Enjoy the laid back atmosphere and lake decor, stocked kitchen and bathroom essentials! We are 10 minutes to Burnside Marina where you can rent a boat or use General Burnside State Park to launch your own boat or spend the day golfing. Head over to Cumberland Falls or Big South Fork Scenic Railway for the day and then relax on the covered front deck. Plenty of space for parking cars and boat trailers!
The space
-No Smoking!
-Boat Ramp at the end of Garland Road (less than 1 mile from house) Limited Parking!
-Washer and Dryer off Kitchen!
-Master Bedroom with Queen Size Bed and Toddler Size Built In Bunks (each bed can hold up to 80lbs)
-Queen Size Bedroom
-Bunk Room with Full on the Bottom and Twin on the Top
-Hallway Bathroom with Tub
-Pull Out Couch
-Beautiful Fully Stocked Kitchen with Dishwasher
-Hairdryers in both Bathrooms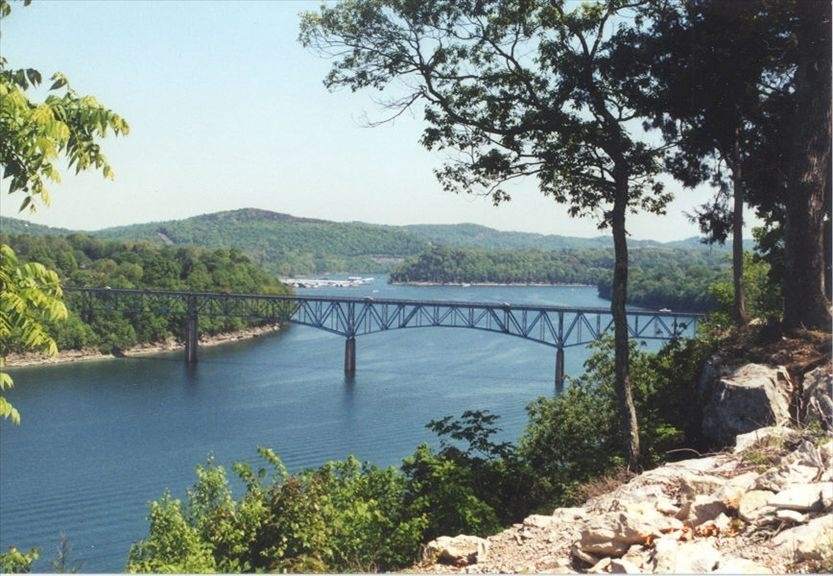 Hilgefort Lake View Home
556 Cumberland Dr.
Bronston, KY
859-640-3637
Beautiful view of Lake Cumberland and Pitman Creek. Our 2 bedroom home features a fully equipped kitchen for with new cooktop, new refrigerator, dishwasher and microwave, washer and dryer, gas grill, flat-screen Roku 40″ TV, Blu-ray DVD player, central A.C., and a spacious deck and porch swing. It is furnished with the following beds: one king, one queen, one double, and two twin beds (daybed and trundle). We are conveniently located 5 minutes from Burnside Marina, 10 minutes to Somerset, and 15 minutes from Conley Bottom Marina. Enjoy the stars at night while overlooking the lake or gathering around the fire pit for a good old-fashioned campfire. Dogs are welcome at our home. The pet fee is $85 for one and $150 for two dogs.  Also, there is a fully refundable $200 pet deposit which is paid and refunded via Paypal.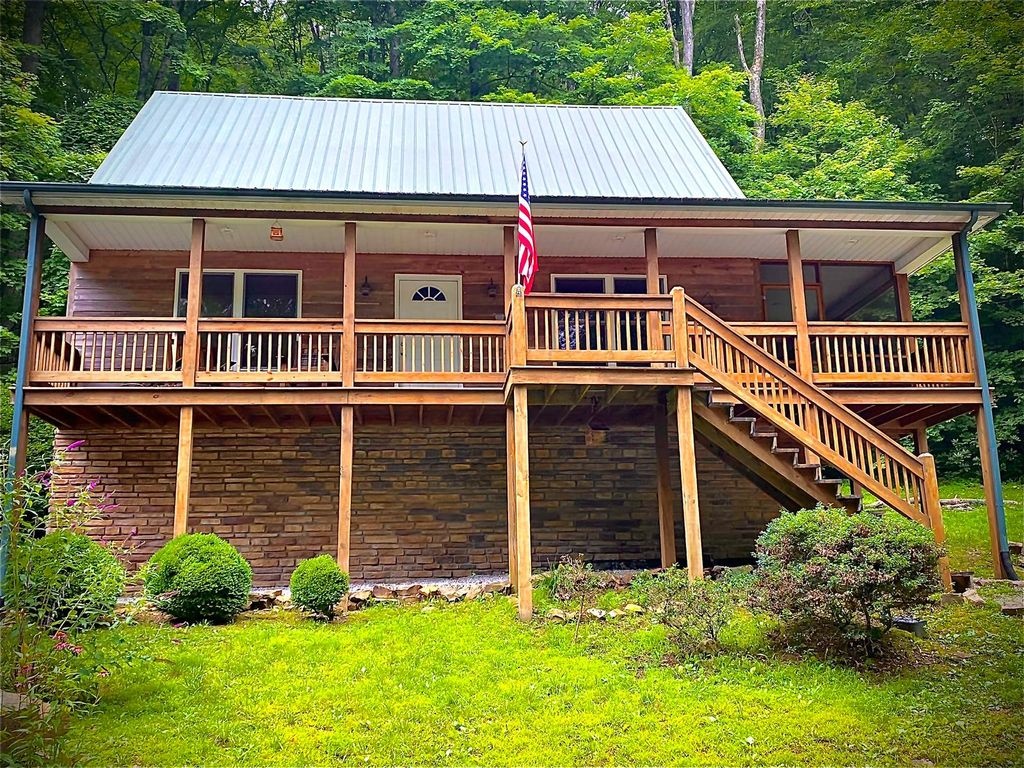 Harmony Hideaway
337 Harmony Lane
Burnside, KY
513-518-5928
Watch the sunset in our relaxing 3 bedroom 2 bath home in lake Cumberland resort. Surrounded by the Daniel Boone National Forest, you'll be able to escape from it all. Jump in the lounge hot tub after dark and enjoy the 32 jets and LED lighting. 3 sparkling swimming pools will keep you busy when not on the lake. Park you boat across the road from the house and your ATVs under the deck. The foosball table in the open loft (also the 3rd bedroom) will keep everyone entertained, along with cable television and smart TVs in every room. The local boat ramp is less than 5 minutes away and will have you in the lake in no time!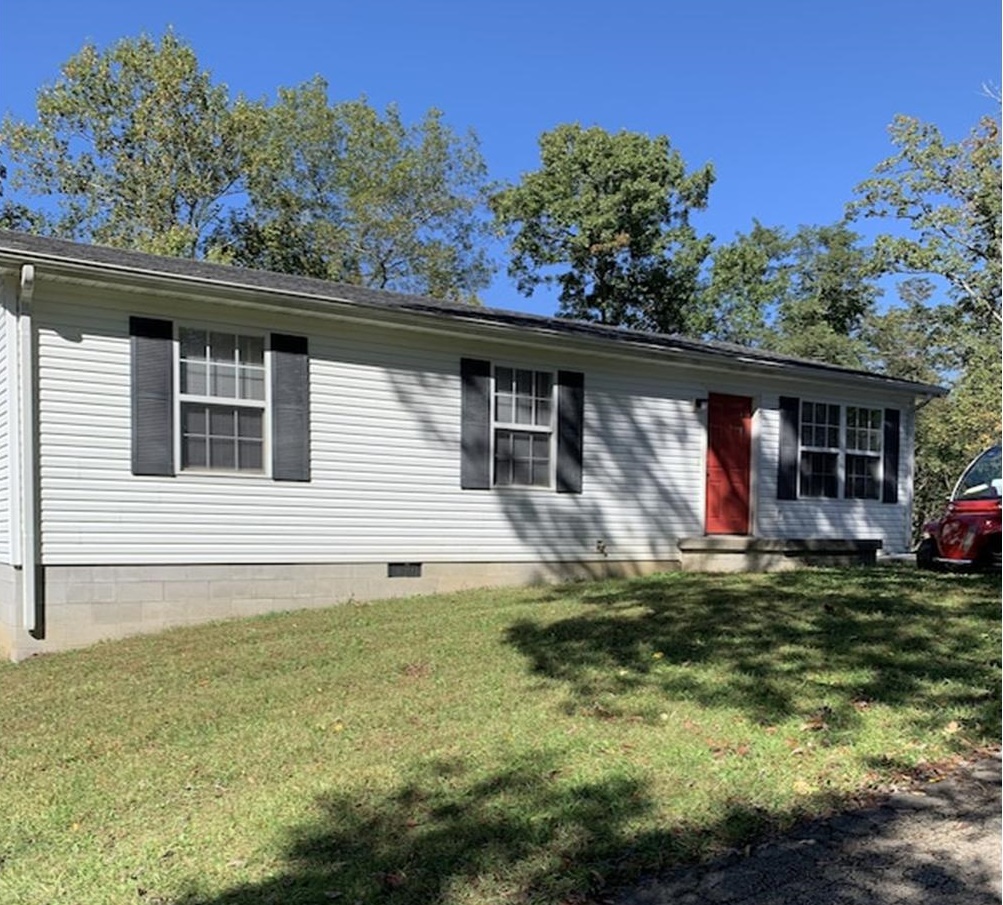 Haynes Knob Retreat
117 Pole Ridge Rd. 
Somerset, KY 
859-979-2438
We are Southern Hospitality with quiet country living. This 3 BR, 2BA home is only a few minutes from downtown Somerset, The home has everything you would possibly need for your stay. Fully stocked kitchen with range/oven, microwave oven, all the pots/pans you will need, dish washer, outdoor grill and patio seating for 4. In the evenings enjoy a roaring Camp fire in the fire pit. There is ample parking for 2 vehicles and if you bring a boat with you to enjoy Beautiful Lake Cumberland, there is additional parking beside the house on a gravel driveway. We are only 2 miles to Lake Cumberland and a "Free" public Boat Ramp at Buck Creek, only 4.2 miles from the 914 Bypass and only minutes to The Center for Rural Development and 11 miles from Burnside Island State Park.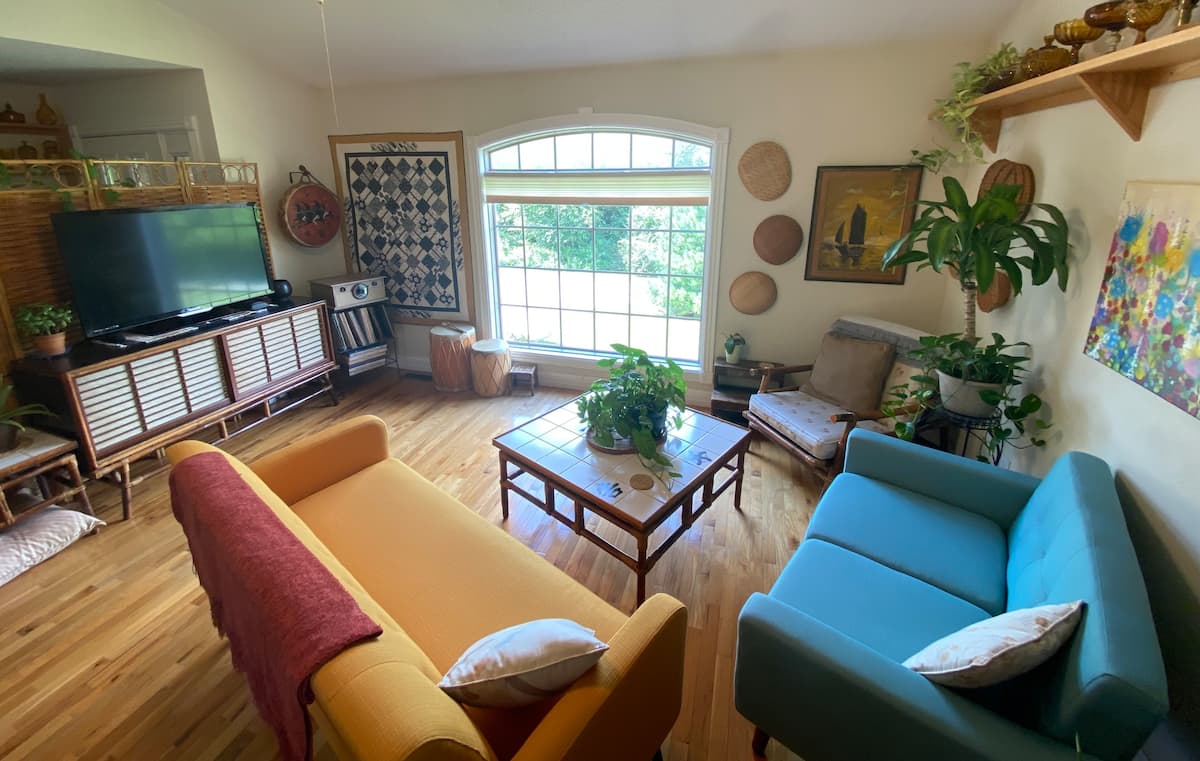 The Hub Duplex
949 Kit Cowan Rd.
Somerset, KY
606-219-0515
This one bedroom, one bath home is conveniently located near all that Somerset and Pulaski County have to offer! We're mere minutes from boat docks, the mall, movie theaters including the drive-in, restaurants, bars, shopping, flea markets, the skate rink/fun center, downtown, the farmer's market and the water park. We are pet friendly, with a fenced in back yard and a short woodland path for you to enjoy! Our long driveway has plenty of parking for your boat, camper or trailer.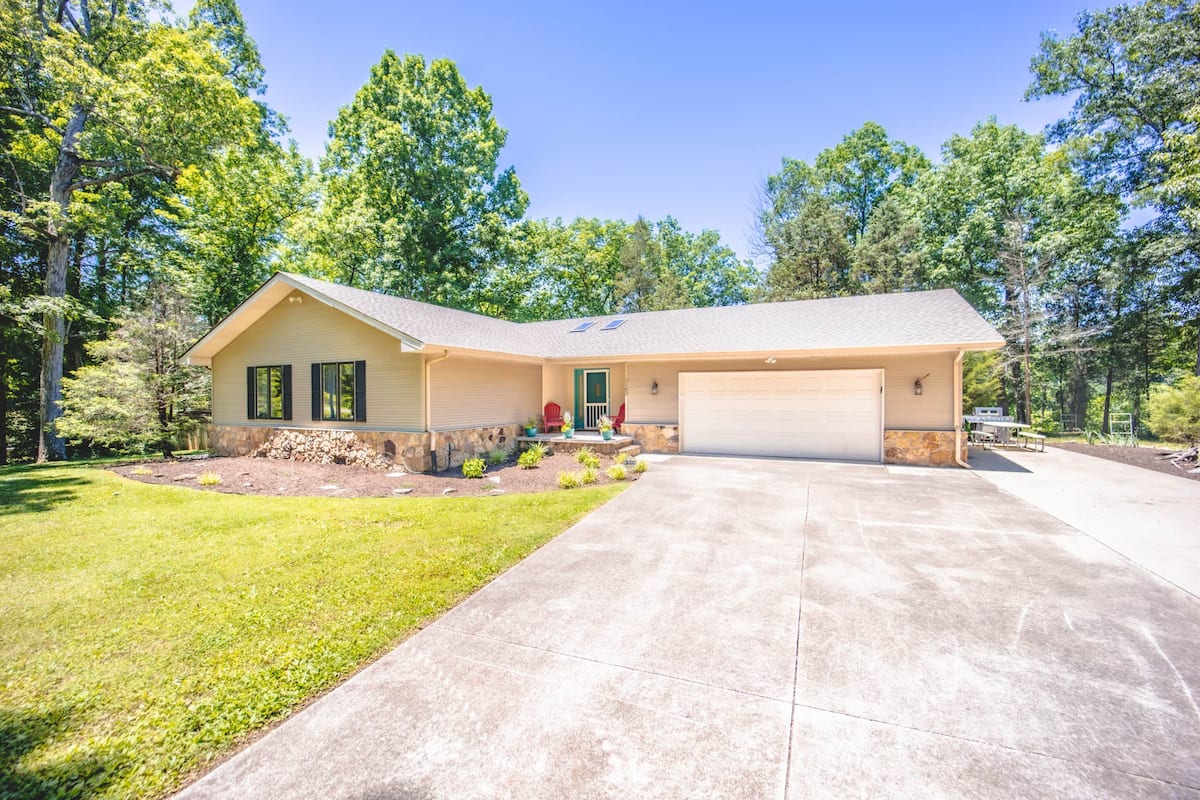 Irie Escape
1162 Stonegate Dr.
Burnside, KY 
513-702-5856
In Jamaica, Irie (Eye-Ree) means, "It's all good, mon!", so welcome to Irie Escape; our soothing, tranquil retreat on Lake Cumberland, Kentucky (LCK)! As you approach our home, you will notice huge, mature trees and spacious land to allow for plenty of outdoor games, grilling, and relaxation from our cozy hammock. If you like quiet that is the first thing you will notice when arriving. The kitchen is fully equipped, and includes a waffle maker, blender, and food processor. If you prefer to cook outside, there is a large Cuisinart grill with a custom griddle pan. As you walk through the kitchen and by the hand-built six-person dining table, you are adjacent to a large, modern-rustic family room featuring luscious leather furnishings along with a big-screen TV and stereo. Behind the family room is a sunroom featuring windows that open and allow you to enjoy the refreshing breeze while taking in the beautiful lake view. In addition to these main spaces, the home features 3 bedrooms and 2 baths. The outside of the home features a deck with glass dining table for six, in addition to a two-seat bistro set and three-person porch swing. Note that while our home has a view of the lake, there is no access to the lake. The home is near a bluff with a steep drop-off down to the lake. For those of you with boats or who want locked parking, there is a three-door boat barn adjacent to the home that has plenty of room for multiple boats or vehicles. This barn has its own security camera, as does the front and back of the home. The house is 4 miles from Burnside Marina and General Burnside Island State Park and Golf Course/Boat Ramp and 5 miles from several good restaurants. Although we are in a secluded, peaceful area, we have all the stores and eating establishments you need within 10 miles.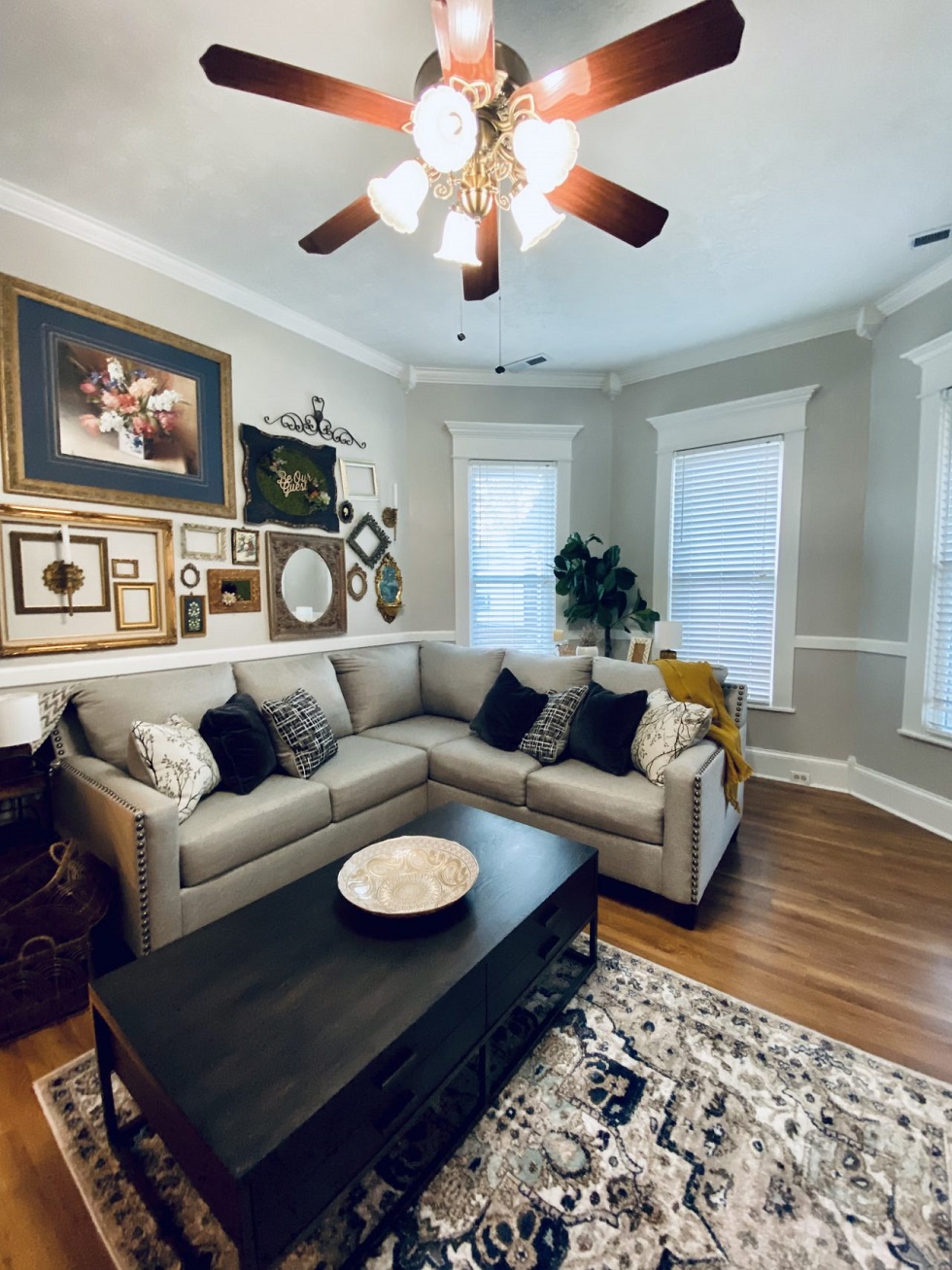 Lady Jasmine
109 Jasper St. 
Somerset, KY 
606-802-1110
Take a step back in time and book your next vacation at the historic Lady Jasmine.  Located on one of the quaintest streets in Somerset, The Lady Jasmine is an eclectic beauty rich in personality and located on Jasper Street, she is just a quick stroll away from everything downtown has to offer – shopping, dining, parks and entertainment. The Lady herself is a real animal lover and comes equipped with a fully fenced in yard, should your dog be traveling too.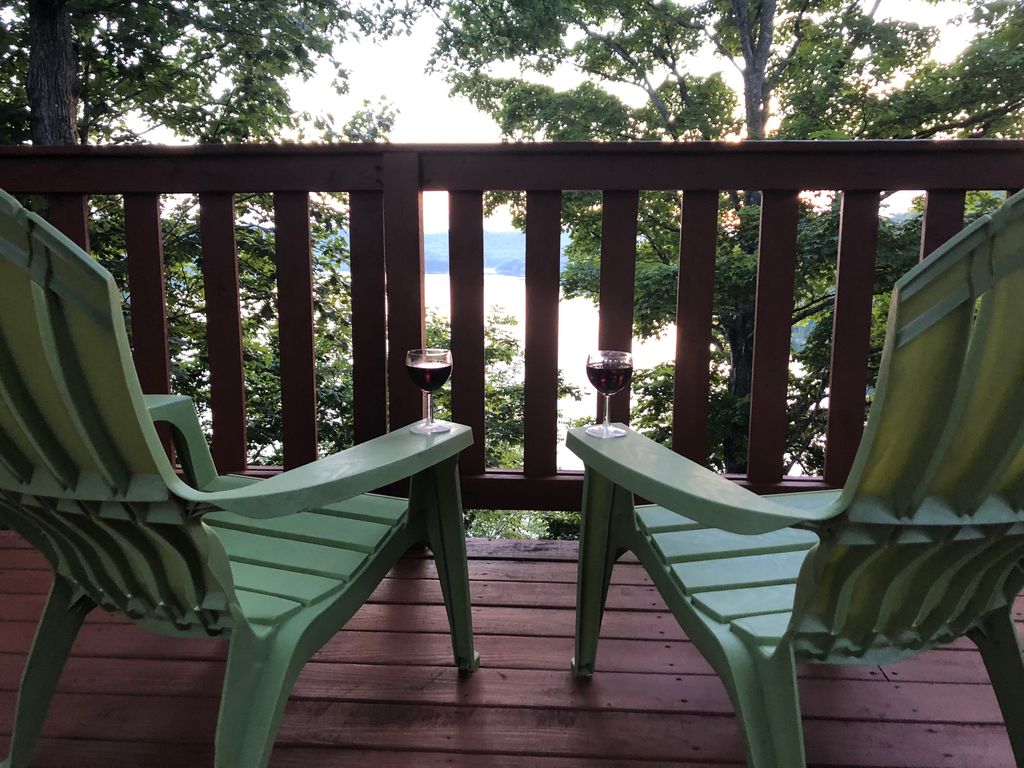 Jetter's Fishing Creek Cottage
287 Suits Us Drive
Somerset
888-640-7927
Updated home with incredible lakefront view located near the marina, park and town. Sit by the fire pit or on the deck and enjoy your favorite beverage while watching the lake activity. Master bedroom sleeps two, loft sleeps two, and futon in living area sleeps two. Several TV's, DVD players and WiFi are included. Plenty of parking for cars and boats, plus transient slips for rent are available at Lee's Ford Marina.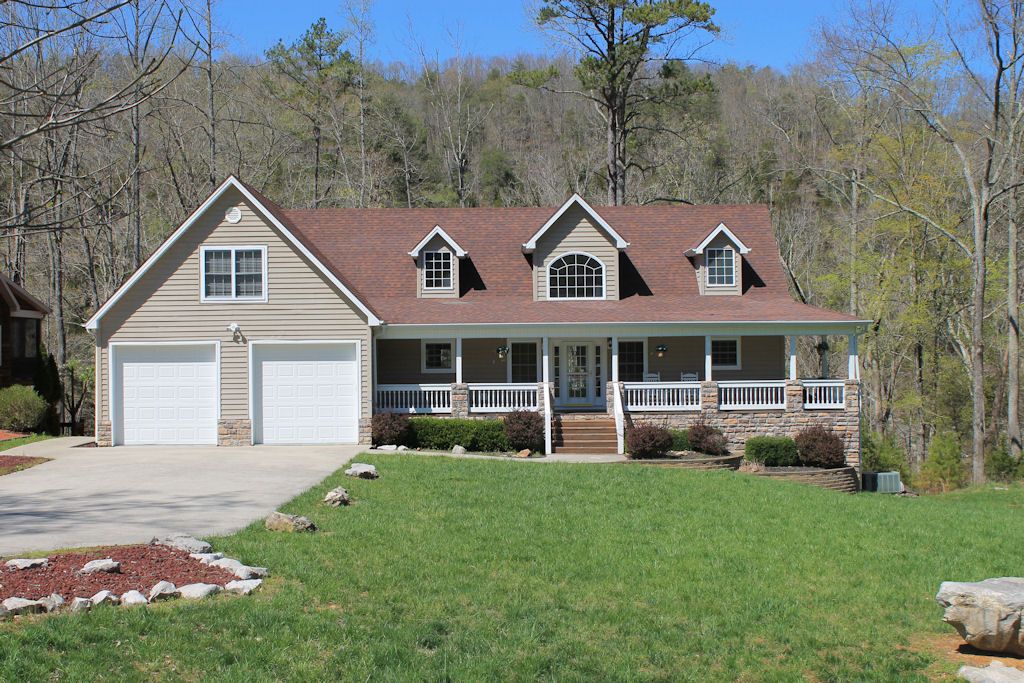 K. Cox Lakefront Home
2632 Roberts Bend Road
Burnside
937-902-1970
This luxury lakefront home is Lake Cumberland Resort's largest rental home. Featuring over 4,000 square feet of air conditioned space, plus approximately 1,500 square feet of covered and open air decking, the home features five bedrooms and four and a half baths. Stone gas fireplace, amazing view of the lake, and multiple porches with ceiling fans and eating areas are awaiting your stay.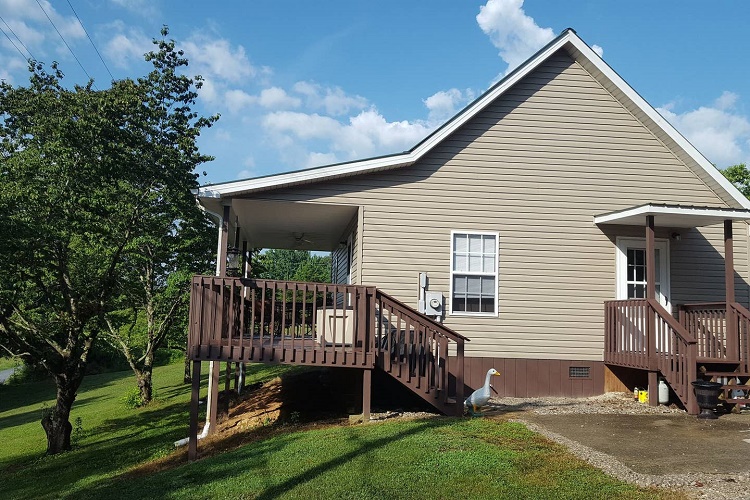 Lake Cumberland Cabin
595 Old Waitsboro Rd.
Bronston, KY
630-473-5885

Cute, 2-bedroom, 1-bath cabin decorated with nautical theme. Fully furnished just bring your personal belongings. Gas grill on the patio and covered front porch for you to enjoy the mornings and evenings after a day on the lake. Cabin is less than a mile to old Waitsboro road boat ramp. Gas station and dollar General store are just over a mile away. VIP restaurant is open till 3pm daily and about a mile away. Kroger Marketplace is about 7 miles. Burnside restaurant and liquor store is about 3.5 miles away.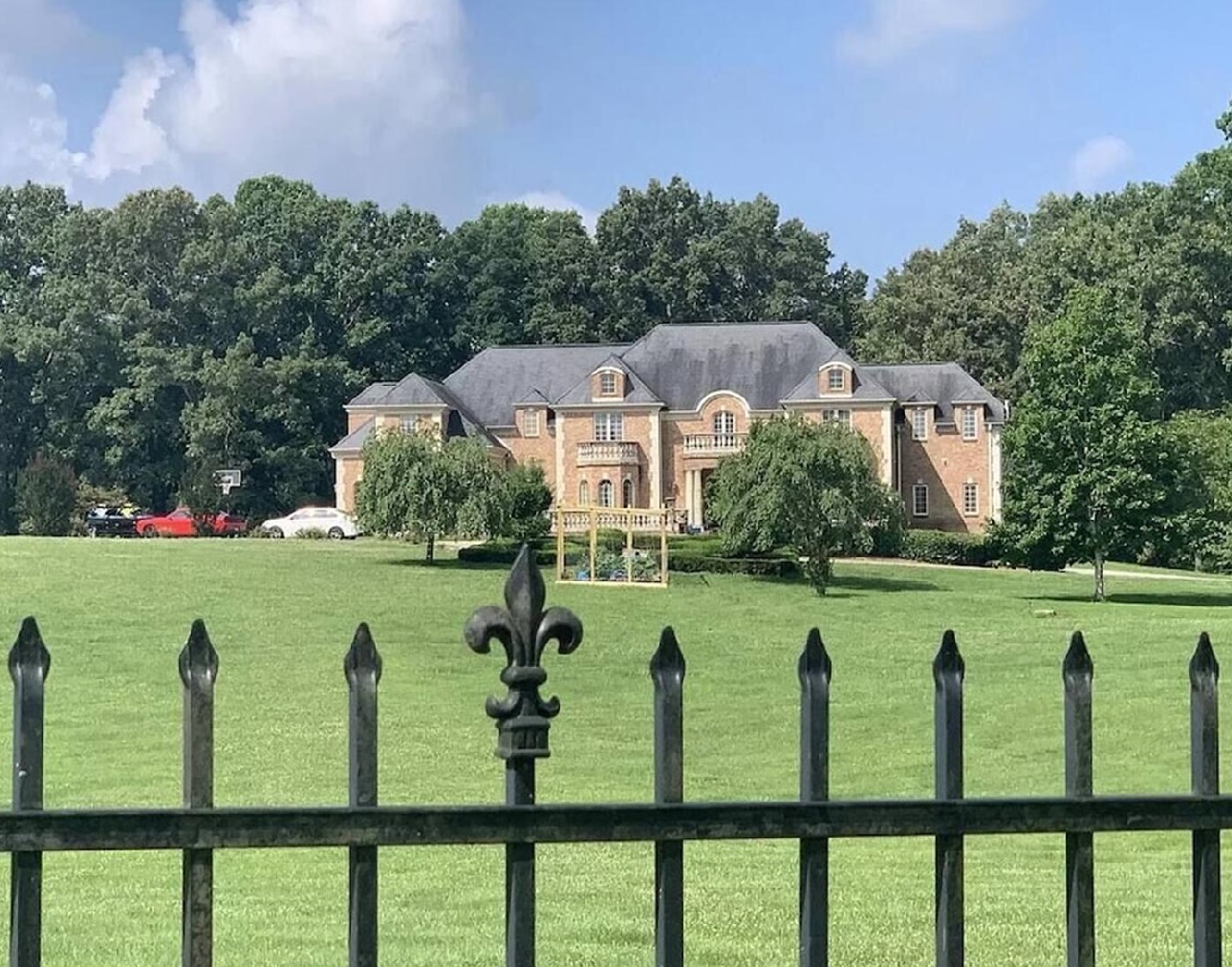 Lake Cumberland's Clubhouse Luxury Pool Estate
1215 Shafter Shepola Rd.
Somerset, KY
859-583-0244
Welcome to your own nine bedroom, seven bathroom luxury pool estate set on 16 private acres of Kentucky bluegrass just 5 minutes from Lake Cumberland. Enjoy time with friends & family inside your 12,000 square foot dream Clubhouse with stunning living and dining areas, entertainer kitchens, recreation, and theater rooms. Later, gather poolside year round at the digitally heated custom pool & spa. Get ready to make memories together amidst the most magical of all southern Kentucky backdrops. Prior to arrival, your Estate concierge will reach out to offer personalized assistance & itinerary planning including our optional private dining & catering services. We will also give you details about our curated excursions. These amazing experiences include custom guided boating & fishing excursions on Cumberland, sunset bourbon tasting cruises, and even family adventure days with trips to area waterparks and water tubing outings. Your group can choose from as many or as few of our amenities as you like. All of our services are both are both completely awesome and completely optional. The nearest town, Somerset, is about 10 minutes from your Clubhouse. It is a charming mid-sized Kentucky kind of place with appealing local & national dining options, unique shopping and boutique stores, & several national retail grocery options.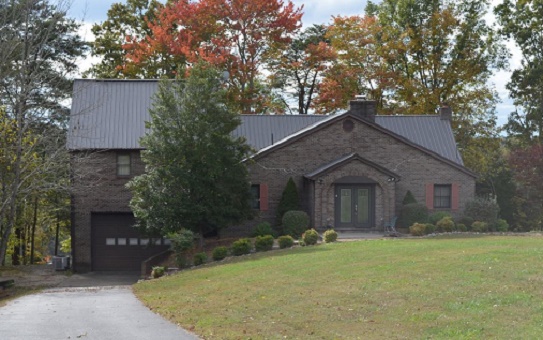 Lake Cumberland Rental Properties
3260 & 3340 Ard Ridge Road
Nancy
614-216-8897
630-219-4223
Situated on Faubush Creek, surrounded by seven acres of property and with a public boat dock within nine miles, these houses are just 25 minutes from Somerset. Both houses are fully stocked, so all you need are your bags, food and beverages. The wooded hillside provides a path to the lake for adventure seekers.
Lake Cumberland Somerset/Pulaski County Park Rental
66 Park Road
Nancy, KY
937-325-9991
Enjoy this large vacation home (1,650 Sq. Ft.) with four bedrooms, three baths, large patio, fireplace, WiFi, concrete drives and large eat-in kitchen with seating for 12. Located 1/2 mile from Pulaski County Park and two miles from Lee's Ford Marina Resort.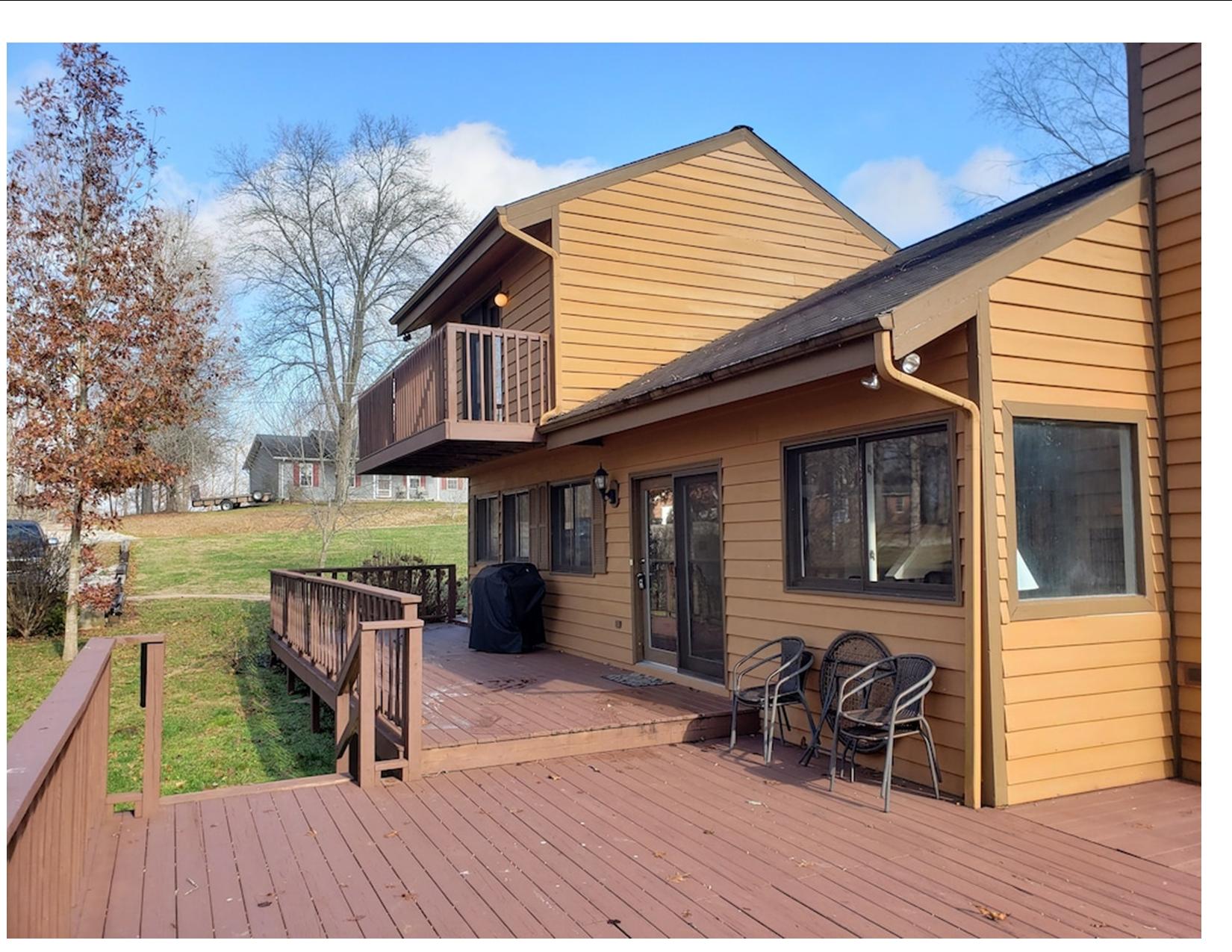 Lake Cumberland 3-Bedroom House
104 Jonathan Ct.
Somerset, KY
937-325-9991
This newly renovated (2021), roomy home offers beautiful views of rural Kentucky and has a large deck to relax with your family. The property is located one mile from Somerset, KY at the entrance of Fishing Creek Boat Ramp which offers a free boat ramp launch and a public beach. This home is only minutes (2 miles) from Lee's Ford Marina and Restaurant which has available boat docks as well as ski boat, pontoon, and jet-ski rentals. The home boasts over 1,250 square feet of space including 3 bedrooms, 2 bathrooms and an eat-in kitchen. The Master Bedroom has a King size bed and includes a private bathroom which includes a tub/shower. Two other bedrooms downstairs offer Queen Size beds and share the second bathroom with shower. The Living Room includes ample seating for 8, and a 50″ HD television. The futon in the living area allows for additional sleeping space if needed. The Eat-In Kitchen seats 8, and has new stainless steel appliances includes seating for 6 at the table. Free wireless internet service is available. This home offers the perfect getaway for 3 couples and kids but is also very accommodating for a romantic couple's getaway.
Note: If you need more bedrooms or this home is already reserved, please see our other homes in the area, two of which are on this same property. (Search for properties #3992750, #4172740, #4639773, #4356482, #7620971)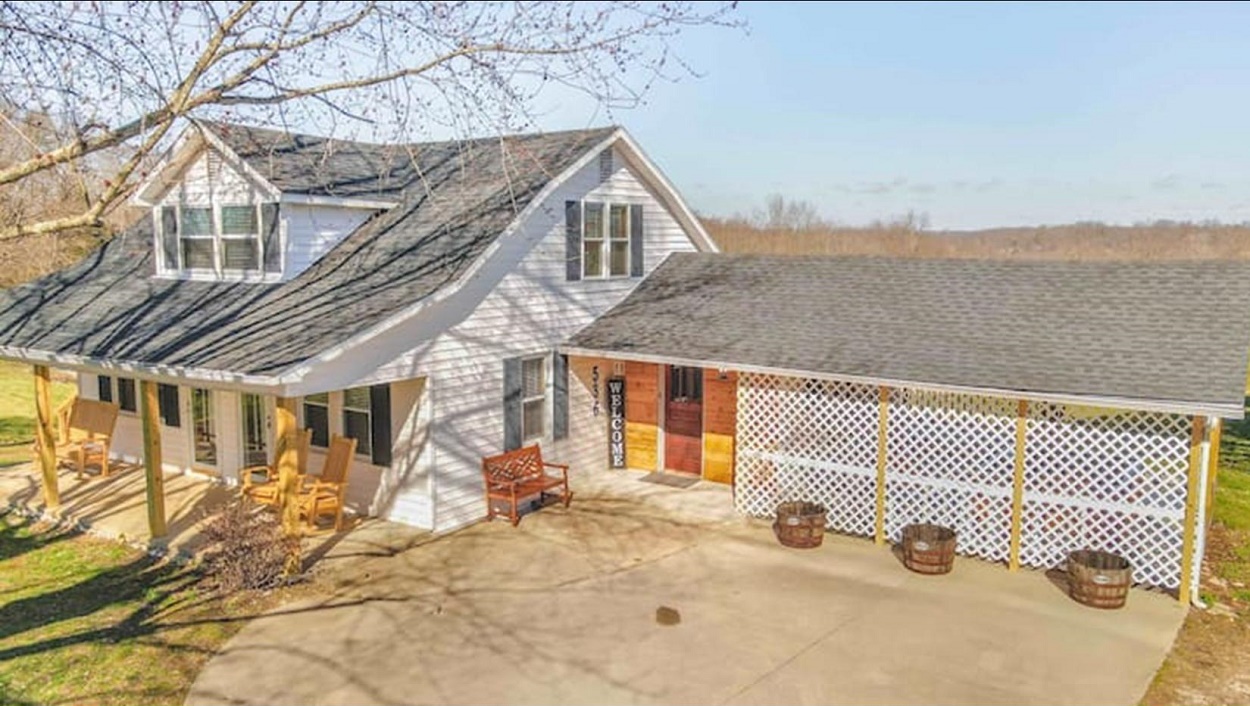 Lake Escape
536 KY 1248
Somerset, KY
270-585-1508
LAKE ESCAPE is approx. 3,000sq.ft. of casual lake life on Lake Cumberland surrounded by private land with a large deck and porches. The lake house features 3 bedrooms and 2 baths, sleeping up to 10 guests. The home's lake style blurs the line to create its own version of "casual cozy lake decor." It is 1/2 mile to fishing creek boat ramp and recreation area at the beautiful Lake Cumberland. Enjoy swimming, fish and have a picnic. This lake house features lots of boat parking, even enough room those big boat trailers. This is the perfect spot for multiple groups coming together. Come enjoy fishing at the private pond right behind the lake house. Gorgeous views from the porch year around. The house has an amazing deck and an awesome porch. Bonfires in the backyard after grilling on the deck are always enjoyed by guests. Enjoy drinks and a game of pool in the game area. This peaceful location provides the safety and comfort you want when away from home and the essentials needed. LAKE ESCAPE offers the option to connect with WIFI to ensure you are able to stay connected. While we hope you are able to relax and unwind, we understand the need for fast strong WIFI and are happy to be able to provide it. LAKE ESCAPE offers cable TV on the main level living room TV. Come make memories that will last a lifetime at LAKE ESCAPE.
Lake Life at its Best
17 Edgewater Point Road
Somerset
606-305-6349
This spacious, fully-furnished lake house on beautiful Lake Cumberland overlooks Needle Point on Fishing Creek. The master bedroom opens up to a deck complete with grill and privacy. Boat ramp is within one mile. Shopping, Lee's Ford, and Burnside Marina are all within a 15-minute drive.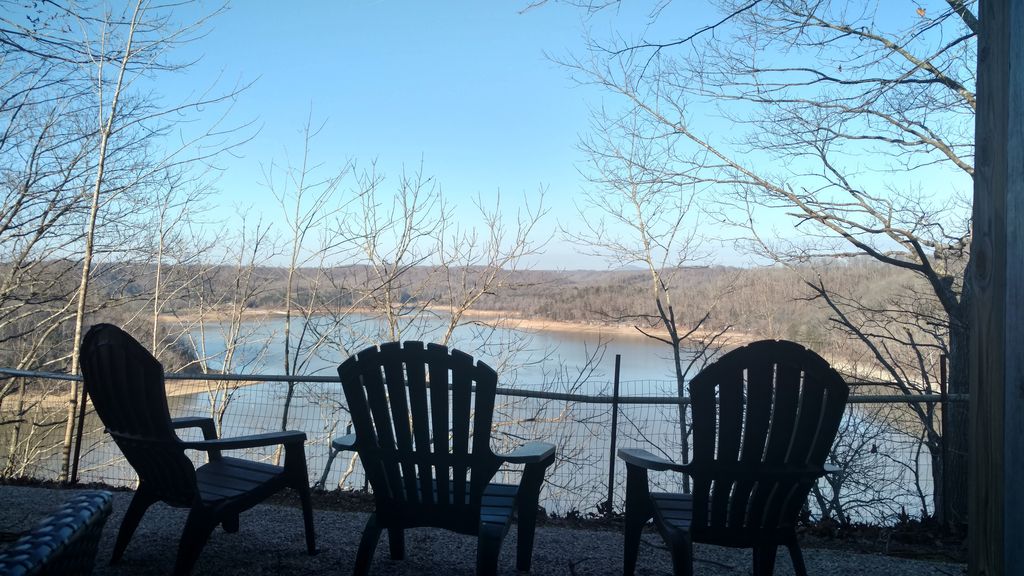 Lake View Fishing Creek Home
155 Suits Us Drive
Somerset
937-325-9991
This 1,800 square foot, three-bed/two-bath home offers beautiful views of Lake Cumberland, Fishing Creek and Pulaski County Park from its deck. Minutes from Lee's Ford Marina and the Harbor Restaurant, Pulaski County Park with its free boat launch and sand beach is just a four mile drive.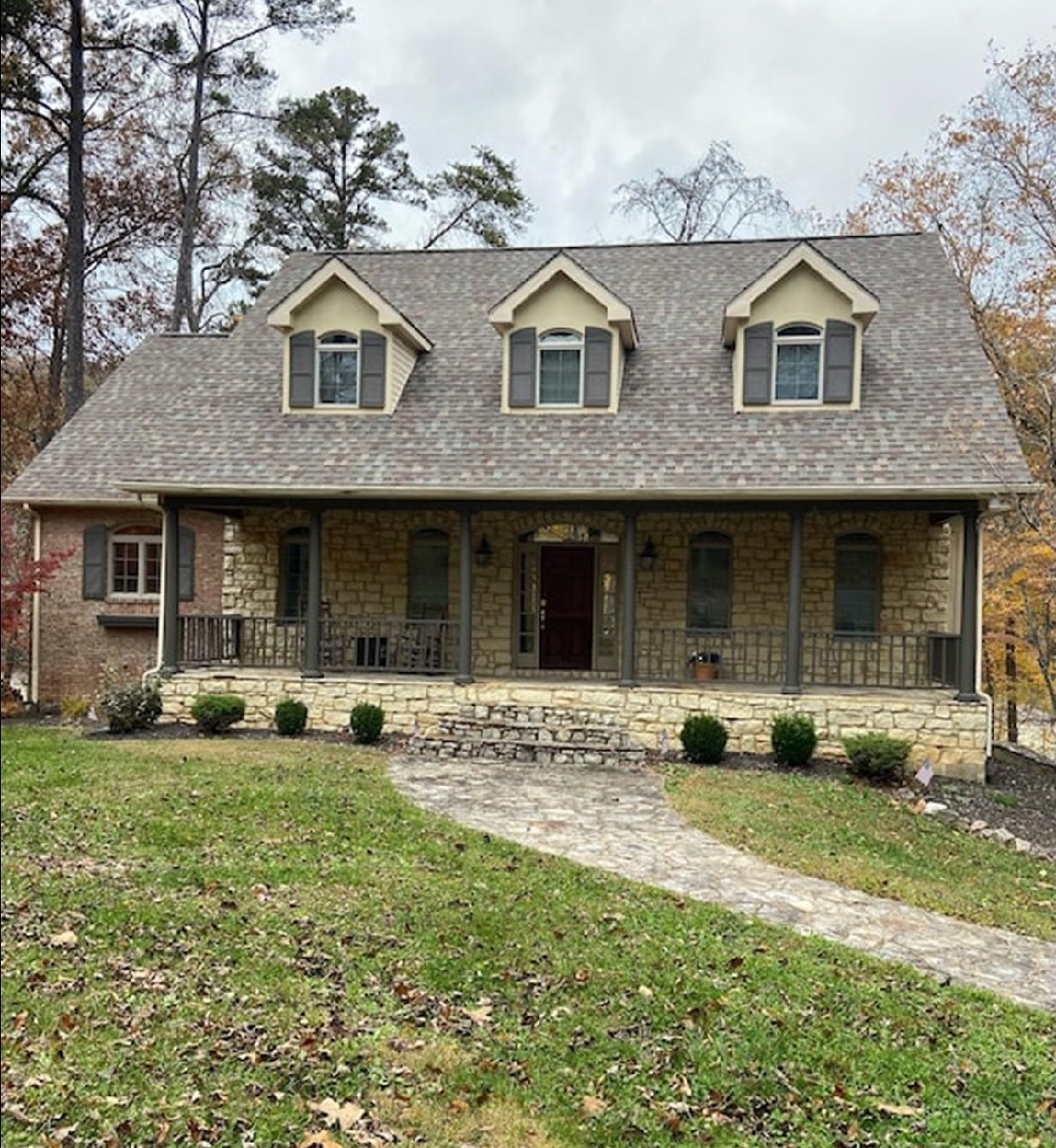 Lakeside Escape
2576 Roberts Bend Rd. 
Burnside, KY  42519 
812-363-0076
'Lakeside Escape' is an extremely rare waterfront 4-bedroom 4.5-bathroom home located on Lake Cumberland with access to the water. The property is located in the secluded gated community of Lake Cumberland Resort. The public boat ramp and access to swimming pool is located within distance from the home. The large deck with ample seating is perfect for family gatherings. The main level features a large kitchen that opens to the dining area with seating for twelve. Relax and enjoy the cool evenings with a fire in the gas fireplace complete with a beautiful stone facade. The living area is equipped with expansive windows highlighting the amazing views of the lake all year round.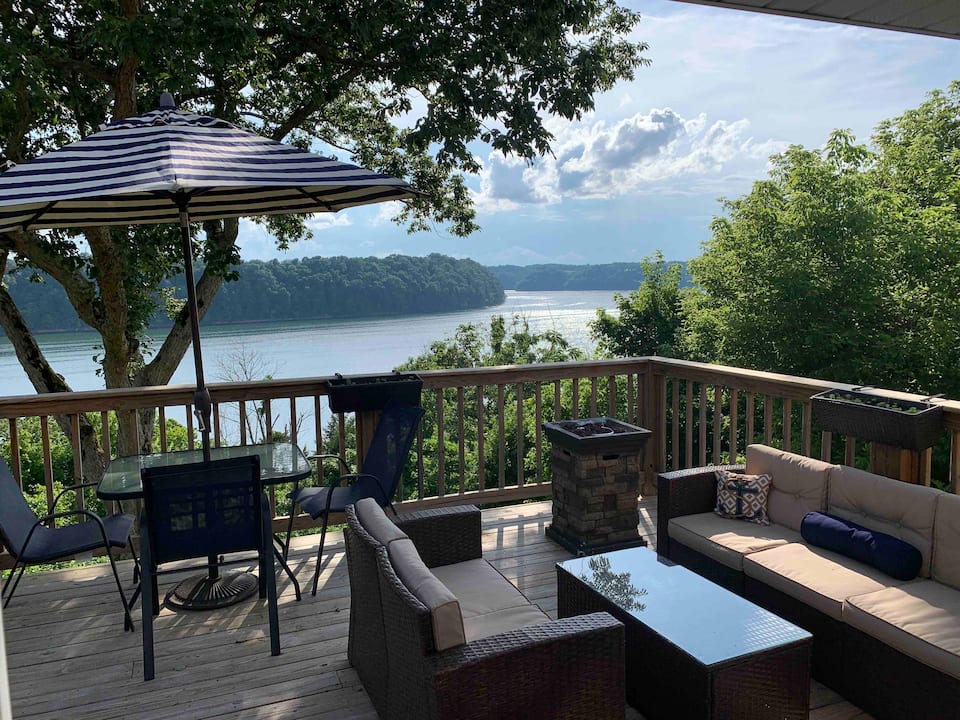 Lakeview Blue Cottage
177 Lakeview Dr. 
Somerset, KY 42503 
875-421-7152
This 3-bedroom, 2-bath cottage was previously our family home for several years, we cherish this property and many of those living nearby. We ask anyone renting to respect the neighbors and home as we have. The Lakeview Blue House is in a quiet neighborhood within walking distance of Lake Cumberland, several restaurants (casual to fine dining), gas stations and a liquor store. A large deck with grill has a wonderful view of Lake Cumberland. Several of the rooms in the house share that great view of the lake. There is a seasonally open public boat ramp directly over the hill from the home and many others including Waitsboro, Burnside Marina and Burnside Island State Park/ ramp nearby.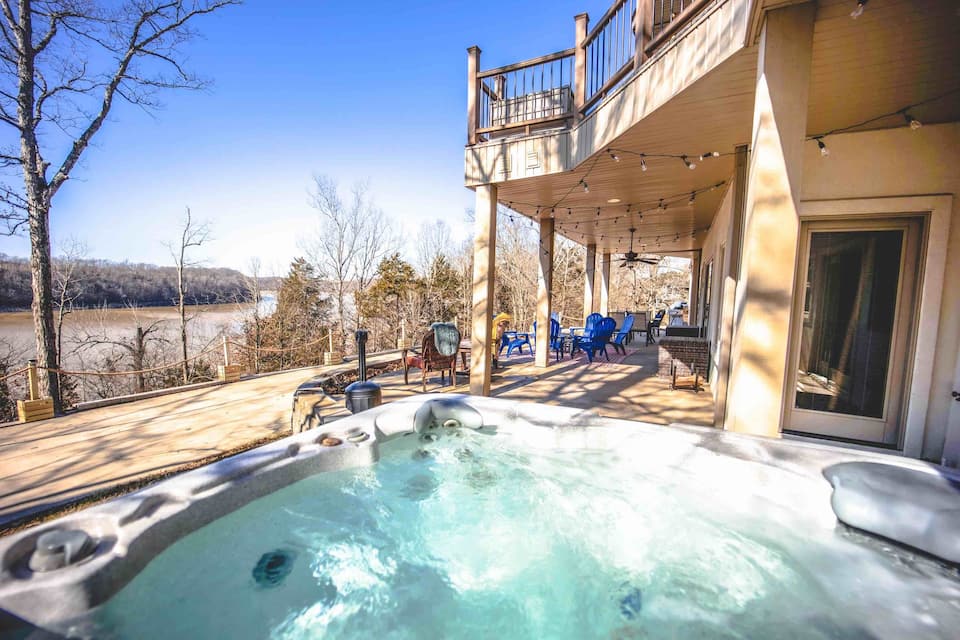 Lakeview Landing
389 Lakeview Dr.
Somerset, KY
270-585-1508
Welcome to LAKEVIEW LANDING of Lake Cumberland
LAKEVIEW LANDING is approx. 6,000sq.ft. of casual luxury on Lake Cumberland and features 6 bedrooms and 5.5 baths; sleeping up to 16 guests. The home's eclectic flair blurs the line between old, new, formal and casual to create our own version of "laid-back lake decor." LAKEVIEW LANDING is happy to be dog-friendly*.
As soon as you walk in the front door at LAKEVIEW LANDING you're drawn to the bright and open great room and the wall of windows that provides you with an amazing lake view. Vaulted ceilings, wood floors, fireplace, comfortable furniture and multiple eating areas make the room warm, inviting, and invigorating place to gather. Step out to the upper deck that overlooks the lake and take in the views from any of the seating areas. Our fully-stocked kitchen is ready for you with everything from a cake pan to a quesadilla maker. Our coffee bar features a Keurig Duo, a kettle and French press, ground Starbucks coffee, a variety of K-Cups, teas and hot chocolate. You will find a 10ft. farmhouse-style table in the dining room as well as a dry bar. The washer and dryer is in the laundry room with an ironing board and a drying rack. Starter supply of detergent and fabric softer is provided. Get your game on in the basement with your choice of a ping pong, darts, foosball or billiards. A variety of card games, board games and puzzles is also available in the large seating area near the TV. The lower patio is covered and this is where you will find the gas grill, fire-pit, outdoor table & chairs, heater and the hot tub.
*Visit our website for details on pets.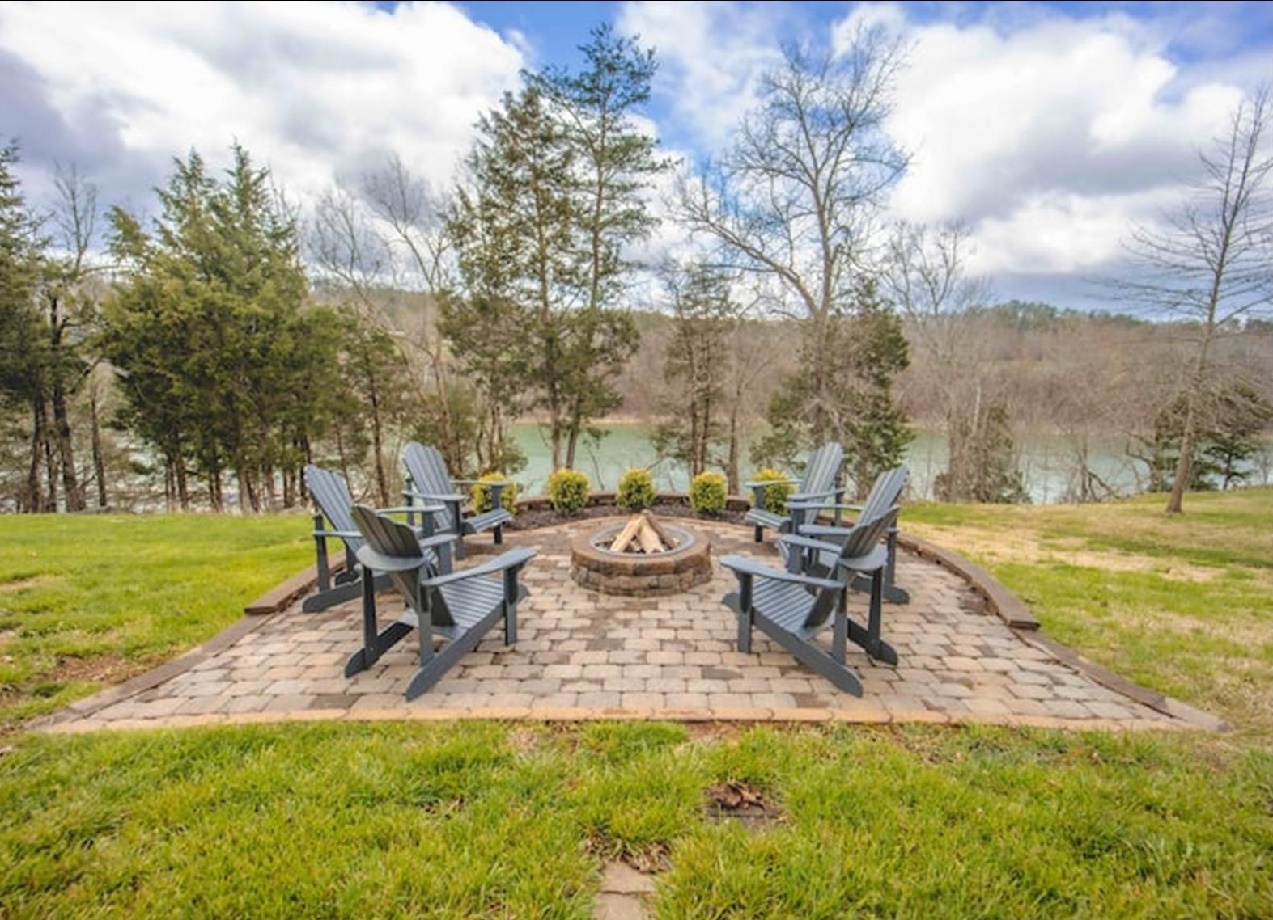 Lakeview Lodge
155 Canterbury Dr. 
Bronston, KY 42518
270-585-1508
Welcome to LAKEVIEW LODGE
Modern casual luxury in this spacious( 4,5000sq.ft.) 5bd/ 5ba home w/lake views year round from the back decks & lower patio. Game room & bar in the basement with an 85" TV in the recreation room. Hot tub, fire pit, gas grill & gym. Fully-stocked kitchen on the main level w/ coffee bar & espresso machine and w/multiple eating areas. Basement w/multiple areas to relax including, pool table, foosball table, darts, ping pong, air hockey, shuffle board, board games and an awesome bar area.  Gorgeous year-round views. LAKEVIEW LODGE is approx. 4,500 sq. ft. of casual luxury on Lake Cumberland. The lake house boasts beautiful outdoor seating areas and features 3 levels with 5 bedrooms and 5 baths, sleeping up to 17 guests. The home's custom style blurs the line to create our own version of "casual luxury lake decor." Abundant windows let in natural light and open every room for guests to soak up the views. This piece of paradise is a perfect fit for entertaining friends and family by the stone fireplace in the great room. Whether sipping morning coffee on the screened porch or roasting evening marshmallows at the fire pit, you are sure to love vacationing in our home. Serenity awaits you with lake views and wildlife galore.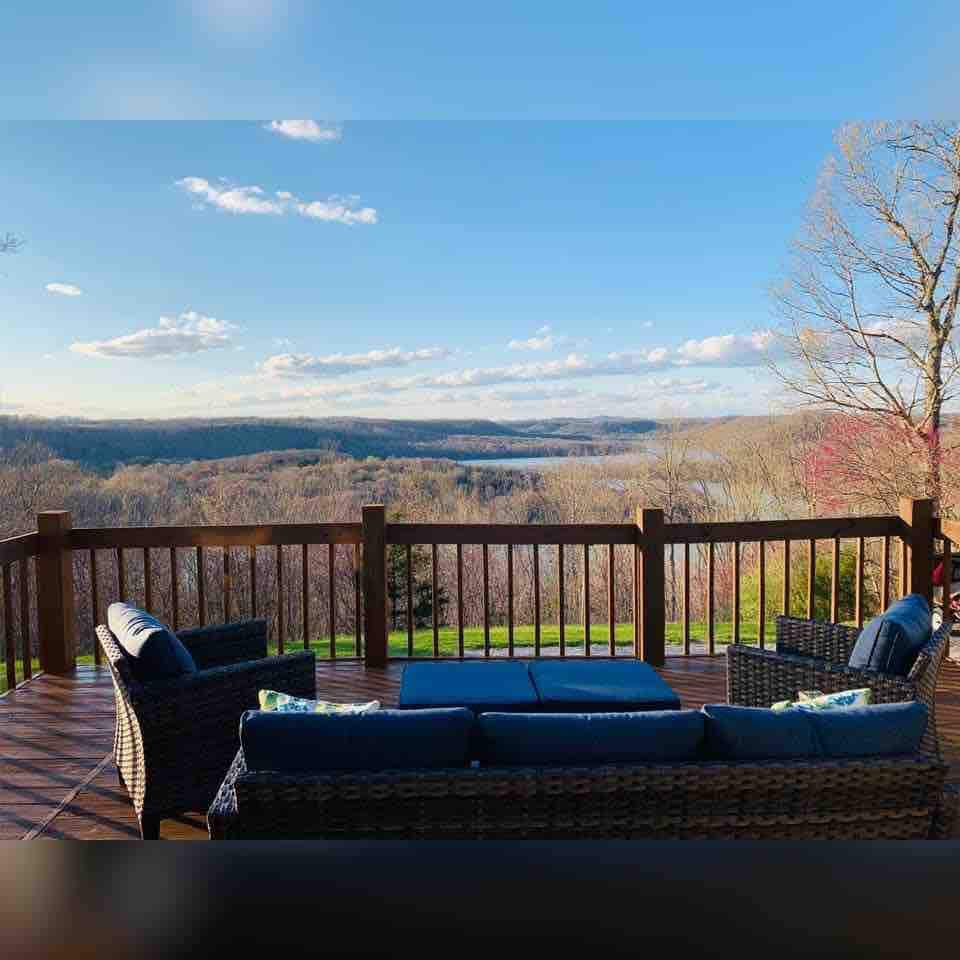 Lakeviews Retreat at Cumberland
160 Denham Lane
Somerset, KY 42501
270-585-1508
Modern casual luxury in this spacious, 5bd/ 3ba home w/lake views year round from the front and back decks & lower patio. Game room in the basement & 75" TV in the rec room with PS4. Wii U in the upstairs living room, parking, hot tub, 2 fire pits, gas grill, sauna & gym. Fully-stocked kitchen on the main level w/ coffee bar and w/multiple eating areas. Basement w/multiple areas to relax including, Pac man, basketball, foosball table, darts, ping pong, board games. Gorgeous year-round views.
As soon as you walk in the front door at LAKEVIEWS RETREAT you're drawn to the bright and open living room and the sliding glass doors that provides you with an amazing lake view. Wood floors, fireplace, comfortable furniture and multiple eating areas make the room warm, inviting, and invigorating place to gather. Step out onto one of the many decks that overlook the lake and take in the views from any of the seating areas we have created. This beautiful, lake-house with private parking for 10 vehicles or boats is a short walk/drive to the lake/boat ramp and a short drive into Somerset or Burnside. Gorgeous year-round lake views from the back upper deck and lower covered patio with a hot tub.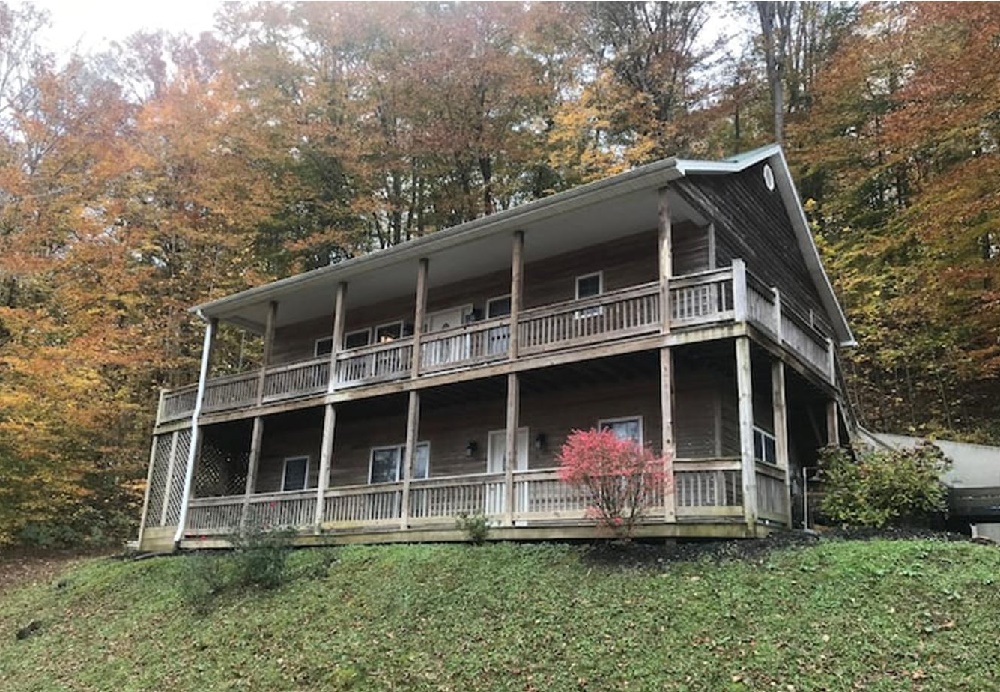 Lazy Hillside Home at Lake Cumberland
1258 Stoneybrook Rd.
Burnside, KY
614-805-5885
Beautiful family home in Daniel Boone National Forest, surrounded by woods in gated Lake Cumberland Resort about 12 miles from Somerset, KY. Each of the 3 BRs has their own full bath and TV (one doesn't have cable). There are 2 living areas and full kitchen/eat-in. Home has a wrap around deck with a screened in rear porch. Free high speed Wi-Fi. Fire pit with wood. There is plenty of room to park 4 vehicles. Sleeping for 9: 3 bedrooms (1 king, 2 queen), a pull out sofa and futon. We do allow pets but require a non refundable fee. The property has tons of ATV trails and plenty to do: hiking, tennis courts, swimming, boating… with a ramp just 1 mile away.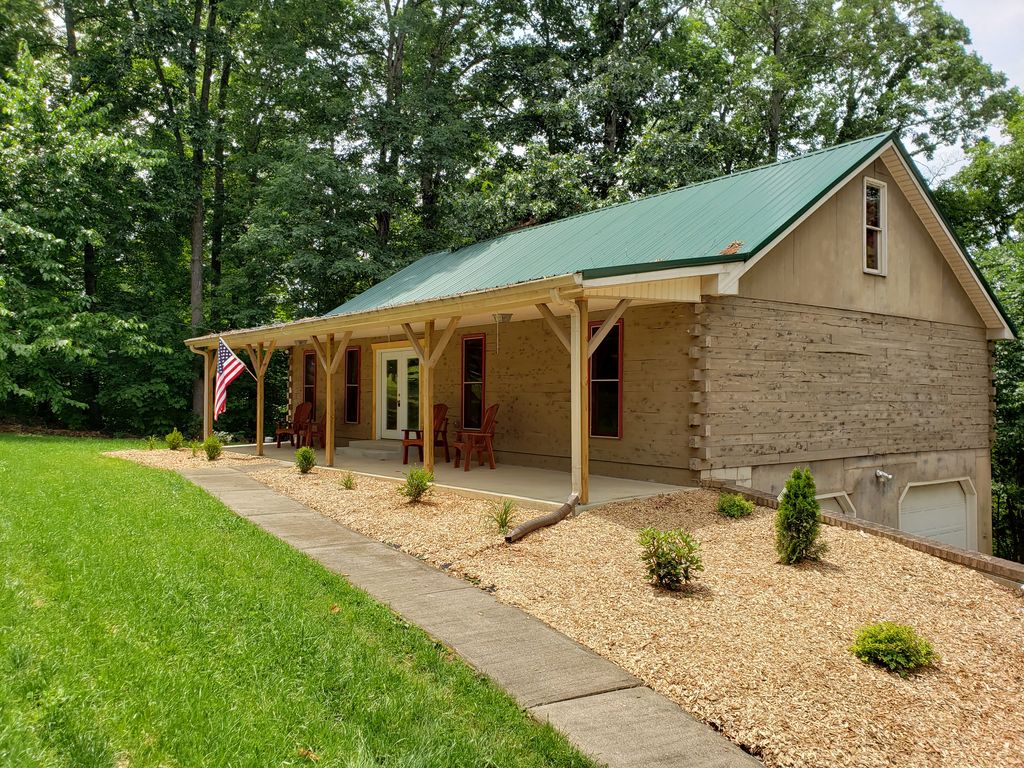 Lovely Lake Cumberland Log Home
1416 Prather Dr.
Nancy, KY
937-325-9991
Newly Renovated 3 Bedroom, 2 Bathroom Home That Sleeps 8 Adults. The home is located near Nancy, KY, Pulaski County Park which offers a free boat ramp launch and a public beach and Lee's Ford Marina and Restaurant which has available boat docks as well as ski boat, pontoon, and Jet Ski rentals. There is over 1,350 square feet of space including 3 bedrooms, 1 bathroom, and an eat-in kitchen (seating for 8). The Master Bedroom has a King size bed and includes a private bathroom which includes a shower. The second bedroom offers a Queen Size Bed and the second Queen bed is located in the loft. The Living Room includes ample seating for 8, with a 50″ HD television. The futon in the loft area allows for additional sleeping space if needed. The Eat-In Kitchen has new stainless steel appliances. This property has a grill and deck seating off the main floor to relax with your family. Free wireless internet service is available. This home offers limited parking on the concrete drive.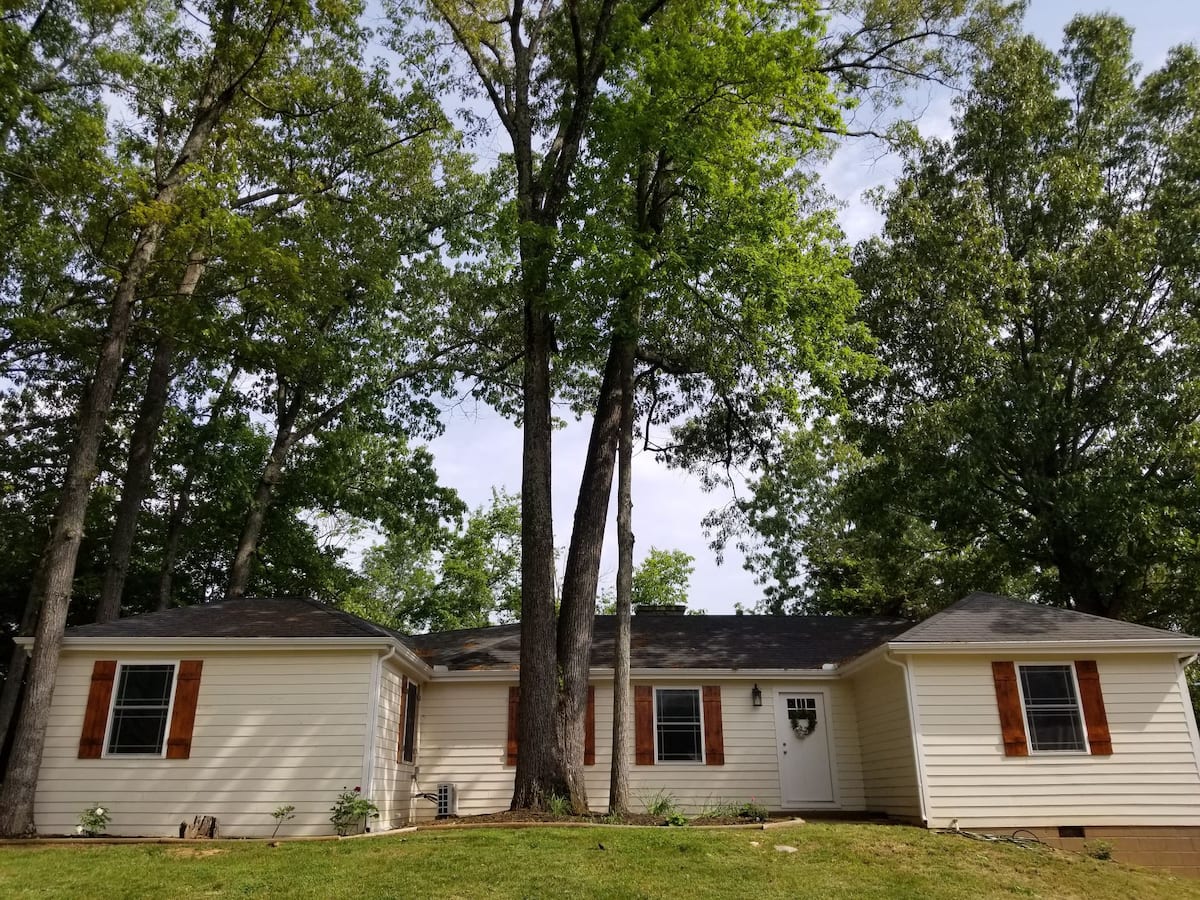 Lucky Lake Haven
Lucky Lake Haven
Somerset, KY
Lucky Lake Haven is your peaceful retreat from a long day on the water or a quick weekend getaway. Park your boat at the Airbnb. There is a Free public Boat Ramp at the end of the street, less than a mile. There is a Large Deck, perfect for Bird Watching, soaking up some Sunshine or Grilling. You can also enjoy the space indoors, in the Sunroom, Open Living Room & Large Kitchen, with everything you could need. It has two bedrooms with king beds in both bedrooms and two baths. Beautifully decorated with comfort and convenience in mind with a partial view of beautiful Lake Cumberland.
No-Smoking, Pets welcome for a fee. The property is not suited for parties or weddings.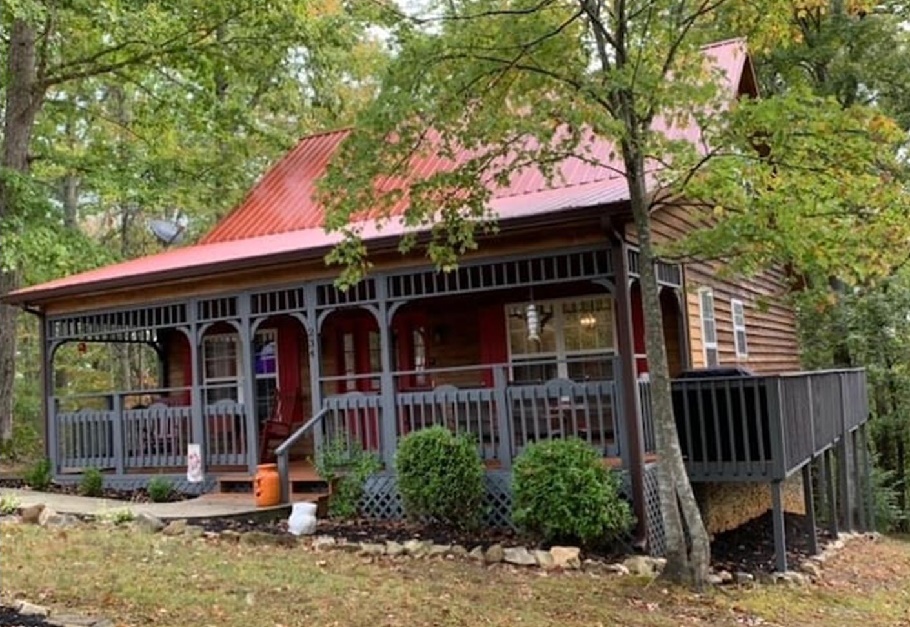 Ma-Honey's Cabin
234 Enchanted Forest Way
Burnside, KY
502-415-8607
This secluded cabin located at Lake Cumberland Resort is a hidden gem. Renovated 3br, 2bt home sleeps 9-11 people. This cozy cabin offers 24hr security, blacktop road, manicured lawn and landscaping throughout neighborhood. It is a peaceful getaway with that mountain vacation feel. The one step gated entry porch is helpful for wheels, dogs, and children. The walk around one level porch is 36 inches wide with 36 inch doorways. 3 community pools are located within the resort with the closes being approx 300 ft away, private screened hot tub, A/C, dishwasher, laundry, game area, grill, 10 person dining table, flat screens in every room, outdoor seating with fire pit and provided wood, Wi-Fi, cable, fooseball table, tennis courts with balls and rackets, private resort ramp with trailer parking. That is just the beginning of the fun activities that can be experienced here. The cabin is also decorated for the seasons with a Christmas Tree for celebrating the holidays. There is parking enough for 3 vehicles.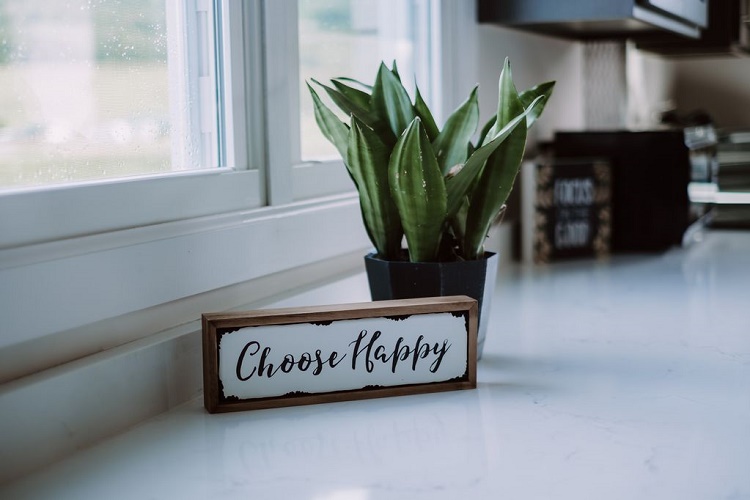 Morning Sun Farm Oasis
4334 Rush Branch Rd.
Somerset
859-509-6095
LOOK NO FURTHER THIS WILL BE THE BEST VACATION YOU HAVE EVER HAD. – if you like mother nature's gifts -. Imagine waking up to the sounds of mother nature's music from the birds, rooster crowing, pure country. Step out on the patio to hear the rustle of the breeze in the trees and let it soothe your soul, and the view what a priceless gift. You will not want to leave. If you want a fun activity take a kayak or canoe or tube to strawberry road just a few minutes away and float down the creek. 10 minutes from six boat ramps on Lake Cumberland, and plenty of convenient parking room for your boat. A couple of miles from downtown Somerset, water park nearby. Just remodeled 5/2019. Quiet family friendly 3 bedroom, sleeps up to 8, has full size bed, queen size bed and king size bed – ceiling fans in every bedroom and living room and kitchen, Furnished with washer/dryer in closet in kitchen – easy access, kitchen has oven/stove microwave, coffee maker including Keurig, refrigerator with ice maker, dishwasher, bath has full tub/shower. Fully furnished in every way – including starter coffee from our local favorite Baxter's coffee.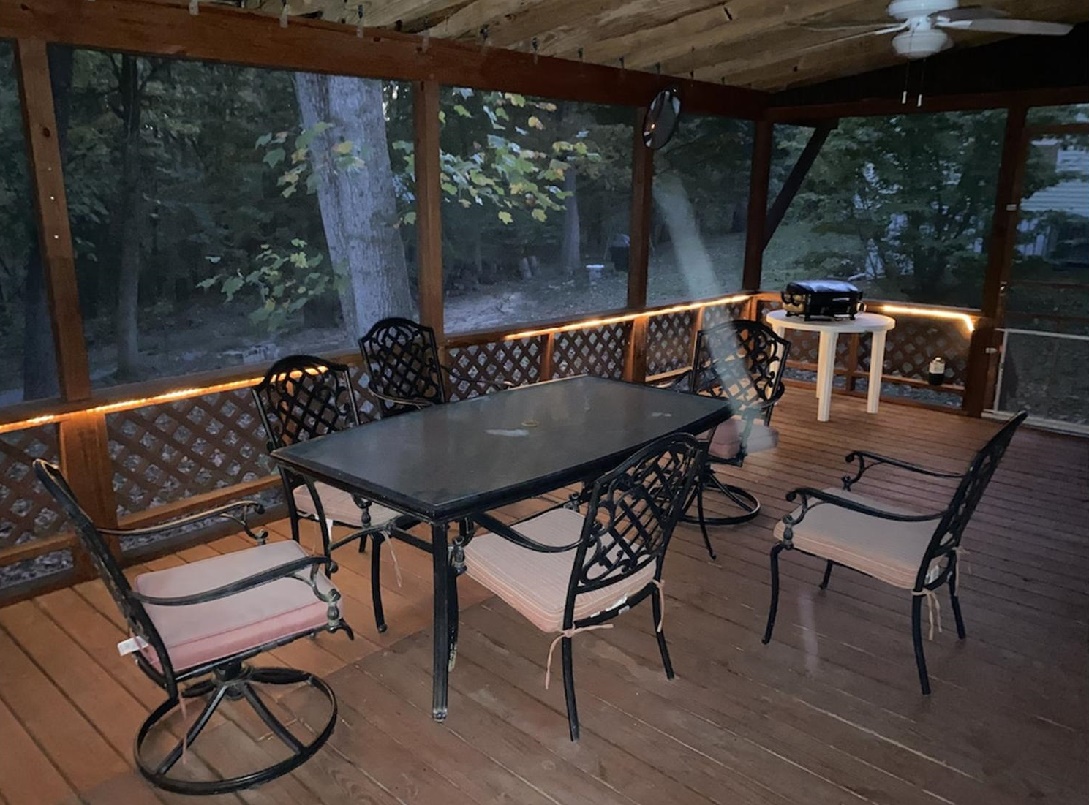 Marsh's Lake House Getaway
655 Three Springs Rd. 
Somerset, KY 
513-335-6339
Enjoy your time sitting on the large screened in porch or around a campfire when not on the lake. Don't be surprised to see deer or turkeys with your morning coffee. Have a Mobile Home with 2 bedrooms (1 king, 1 full, and queen couch bed). Kitchen with microwave, stove, refrigerator/freezer, utensils, plates and cups. Also has Wifi, TV, AC, washer and dryer. Small to medium size dog friendly (Limit of two), but you will need to take them with you when not in home and clean up after them.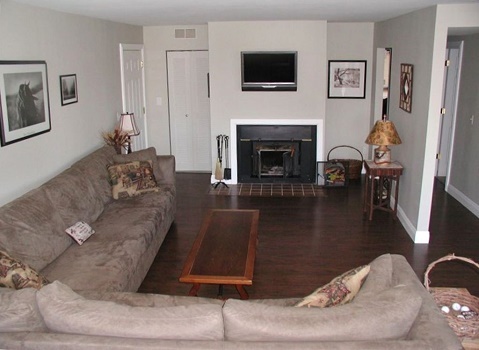 Naiser's Woodson Bend Condo
Unit 9-4 Woodson Bend Resort
14 Woodson Bend Road
Bronston
502-396-9228
This rustic condominium at Woodson Bend Resort is located near the swimming pool, Mulligan's restaurant, tennis courts and overlooks a par-three hole that allows you to watch golfers play. This unit is also within walking distance to the volleyball court, basketball court and children's playground, making this one of the best locations on the resort property.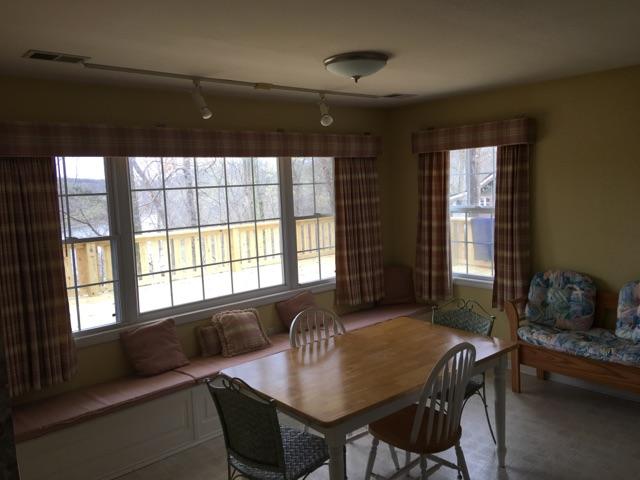 Nana Gay's Retreat
865 Boat Dock Road
Somerset
859-878-8001
Spacious two-bedroom/two-bath home featuring a fully furnished kitchen, expanded cable and free Wi-Fi.  Located within a 6-mile radius of Burnside and Lee's Ford marinas. Linens are provided.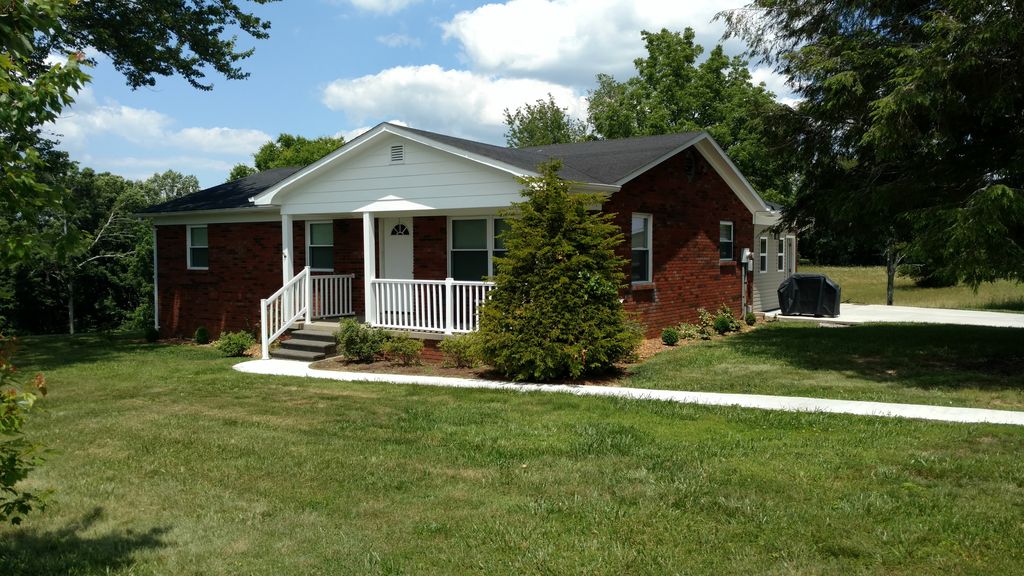 Nancy Vacation Home near Pulaski County Park
40 Park Road
Nancy
937-325-9991
This home boasts over 2,600 square feet of space including six bedrooms, three and a half baths and eat-in kitchen. The Master Bedroom has a King bed and private half bath and other bedrooms have queen beds. The large dining room has seating for eight and the kitchen has seating for four more. Free Wi-Fi is available.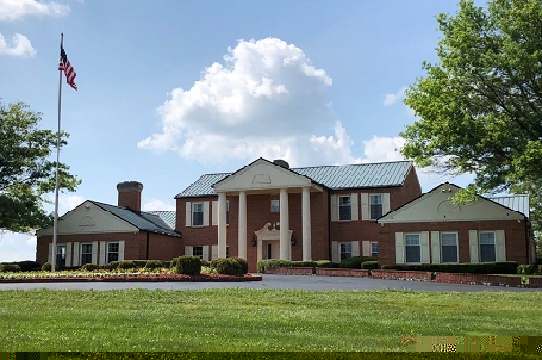 Oak Hill House
1610 Oak Hill Road
Somerset
606-679-6316
Oak Hill House sits atop a hill on a beautiful southern Kentucky farm just minutes from Lake Cumberland. Oak Hill Cabin sits just off the main house. Both houses together can accommodate up to twenty-four guests. The basement of the main house includes a kitchenette, pool table, ping-pong table, foosball table, and media area. A large patio, in-ground pool, covered picnic area, croquet course, tennis court, volleyball court and a gazebo round out the entertainment possibilities.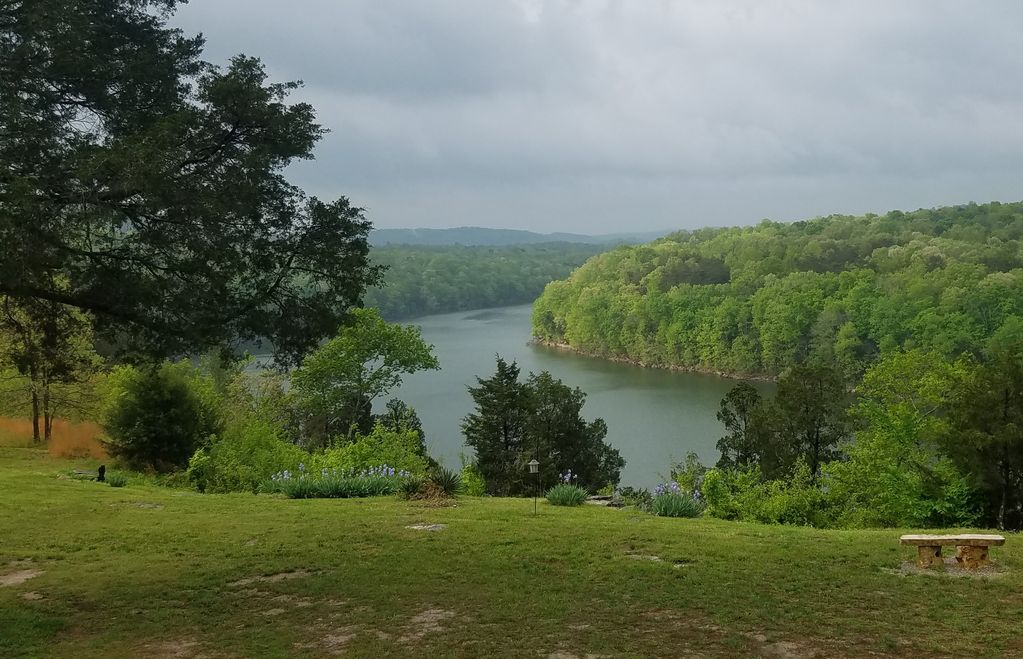 Omega Park Retreat
125 Dogwood Dr.
Somerset
606-305-0395
Five Bedrooms, Three Bathrooms Nestled in the Omega Park community just outside of Somerset. Relax on the scenic Cumberland River in this newly renovated charming Five-bedroom three bath retreat with all the amenities. You will love this smartly appointed home with all the features and comforts you have come to expect. Come enjoy the beautiful and peaceful surroundings of the Daniel Boone National forest as you fish, canoe, kayak, or just pleasure ride the undisturbed picturesque Cumberland River. Boating on the Cumberland is made easy with the Omega boat ramp less than 1500 feet away for easy launching. Otherwise relax in the serenity and peacefulness of Omega Park and appreciate the beauty of the Cumberland River. Enjoy a bike ride or a short hike or maybe just sit back and take in some much needed rest. Whatever you are looking for in a vacation rather it be fun and adventure or just a quiet time to relax you will find it all here.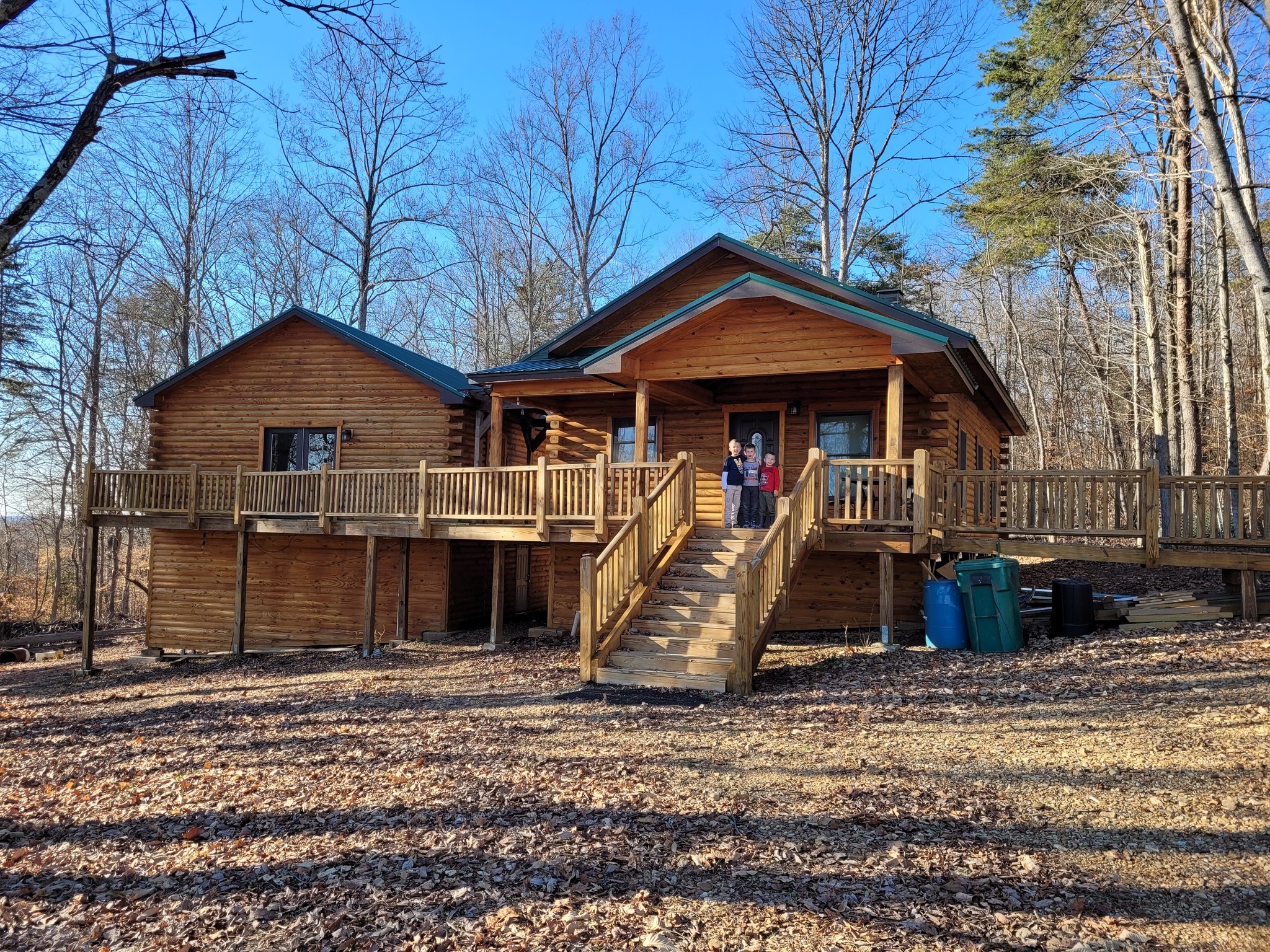 Pleasant Point Retreat
310 Pleasant Point Rd
Nancy
859-358-8043
Bring the family and get away from the city to enjoy a cabin in the hills of Kentucky. You can enjoy the woods and wildlife from the porch or get closer to it and take a walk on the 20 acres of mostly wooded property. After you are done relaxing, you'll be close to Somerset and Lake Cumberland with plenty of activities for the family all year round.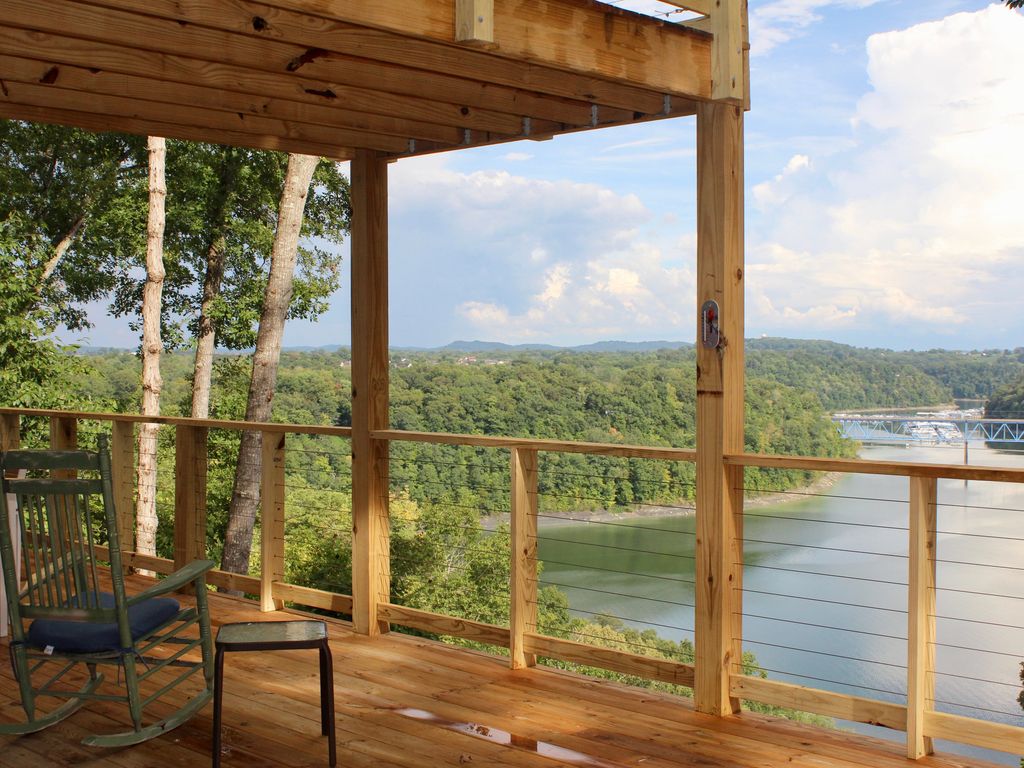 Prather Place
1254 Prather Drive
Nancy
606-219-6471
This large, three-story lake view house is located less than a mile from Lee's Ford Marina and Pulaski County Park. A spacious open floor plan is great for large gatherings with full lake view throughout the house. The house has four bedrooms and three and a half baths, a lower level with entertainment bar area, game room and theater. Fully equipped, modern kitchen with seating for 12. There is plenty of parking for several cars/boat plus a 2-car garage.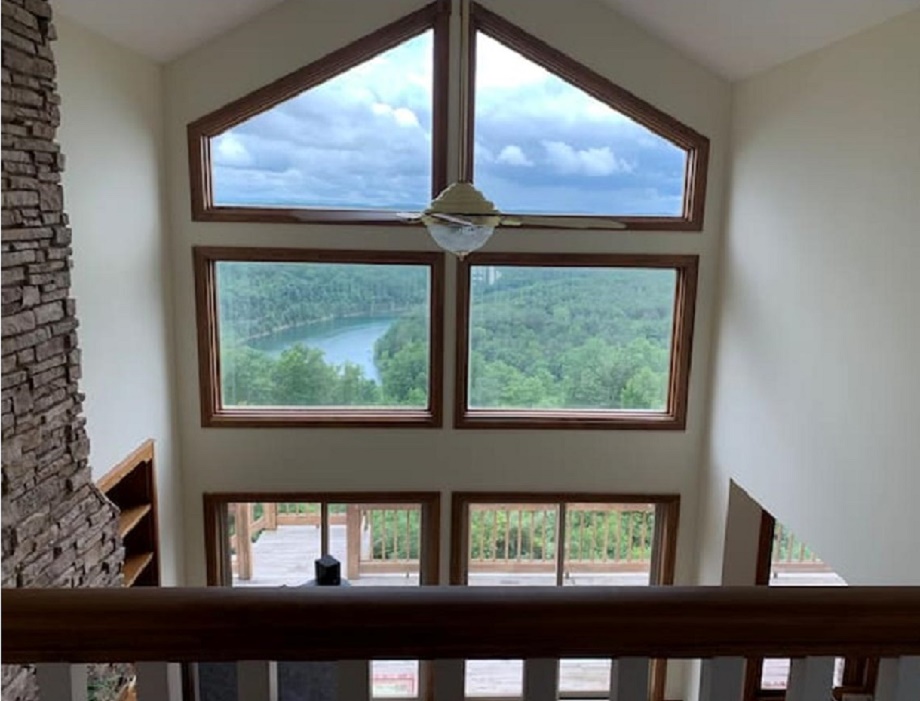 Ohana Burnside
23 Highland Dr. 
Burnside, KY 42519
859-361-0199
One of the best views on the lake nestled in the Daniel Boone National Forest. Spacious 3 BR home w/bonus basement sleeping area w/Queen memory foam mattress. Large hot tub under covered screen porch & located in a private gated resort community w/multiple pools, tennis courts, walking/ATV trails- all within 1 mile of boat ramp. New furniture & TVs in every bedroom, basement game room with bar/poker table, jacuzzi tub in master. Terrific lake views from every room and enjoy a gorgeous lake view from the large outdoor deck.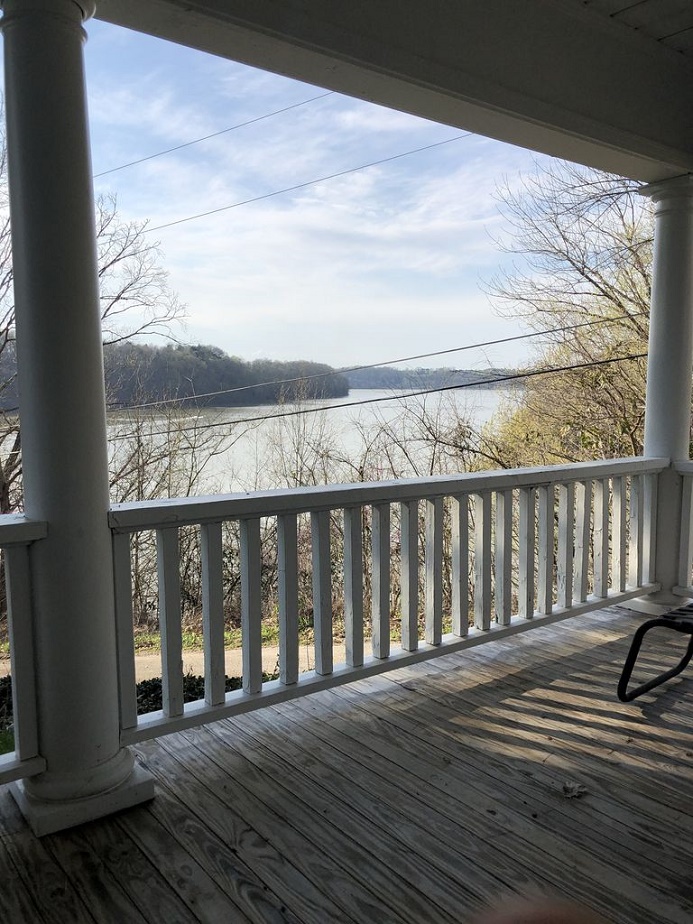 Pitman Pointe Estate
145 Weyland Dr.
Somerset, KY 42503
614-354-6625
Pitman Pointe Estate is a privately owned, 4,400 sq ft lake house that is perfect for large groups. 7 bedrooms, 3 full baths, 1 half bath, living room, kitchen, dining room, and party room. 6 bedrooms with queen beds, 1 bedroom with 2 sets of bunk beds. 1 bedroom with pull-out couch. Full kitchen, including dishwasher. There is a large wrap-around porch with deck chairs and view of the lake. Gas grill and washer/dryer are included for use by guests. Wi-Fi included and two 50" TV's with Roku. As a guest you will also have full access to the private boat dock, swimming pool, sport courts, shelter house, and other amenities located next door at Villager Resort. This is a kid-friendly place!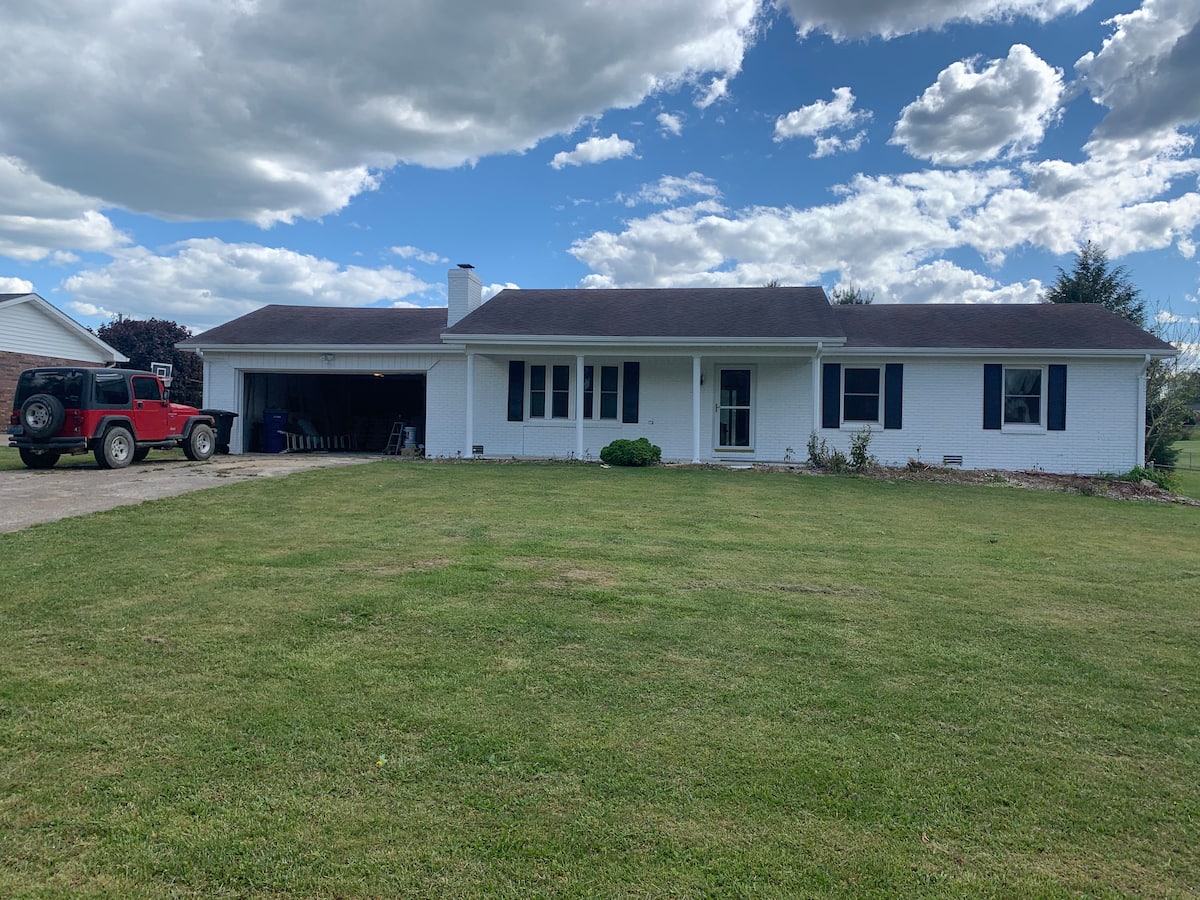 Pond Meadow Place
2019 Pond Meadow Rd. 
Somerset, KY  
606-669-2745
This 3-bedroom 1 ½ bath home is located in a quiet neighborhood that is centrally located. The home is a Pet friendly home with fenced in back yard and garage for boats/cars. Near several boat ramps on beautiful Lake Cumberland, Waitsboro (5.5 miles), Lee's Ford Marina (4.6 miles) and General Burnside Island (9.4 miles) and Cumberland Falls State Resort Park is only 33miles. Several hiking destinations, and the downtown area (2.9 miles), home of the Somernites Cruise and the Master Musicians Festival.  The Lake Cumberland Regional Airport is just 2.4 miles from the house. The house is near wedding venues like The 5th Quarter (5.4 miles), and Cave Hill Winery (15 miles). Convenient to Kroger, Wal-Mart and tons of dining and shopping options.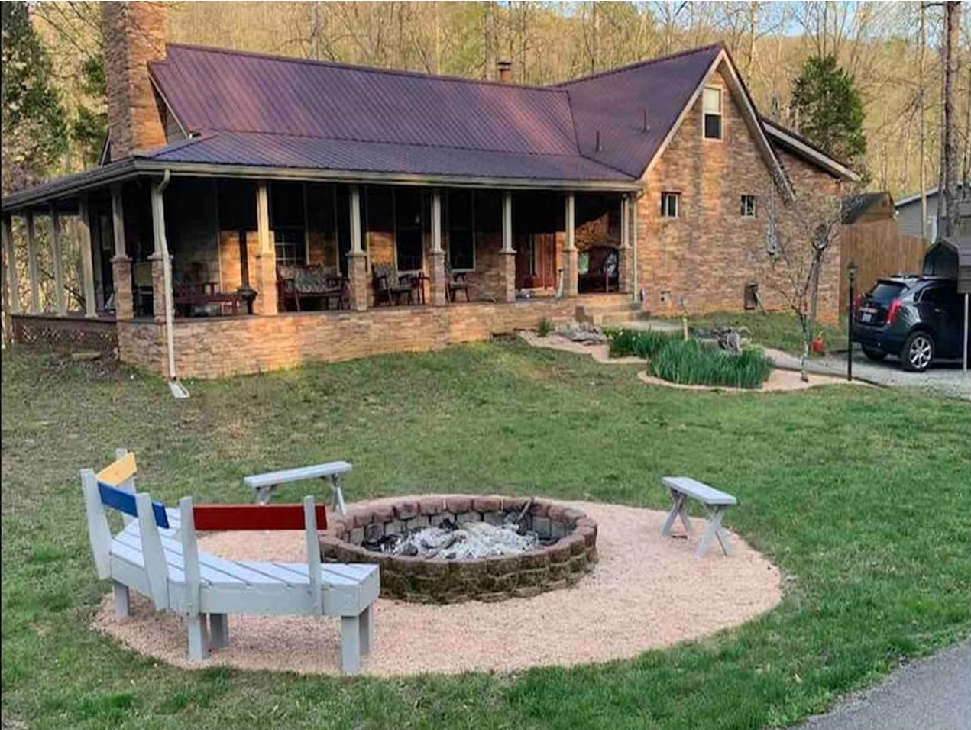 Private Lake House on Cumberland
847 George Hardwick Rd.
Bronston, KY
859-653-3030
Private home with 4 bedrooms, 2.5 baths with private dock in Bronston, KY near the water. Located on a large lot on dead end street. Fire pit, Corn hole boards, wrap-around porch, rear deck overlooking water, gas grill. 2 Kayaks and SUP board with lake access. House has WiFi, 2 DVD players and plenty of room for entertaining.
8 miles to Burnside Marina. Hill & steps down to a private dock (check dock access after Labor Day). 2 refrigerators, large freezer for ice, drip coffee maker, very private!!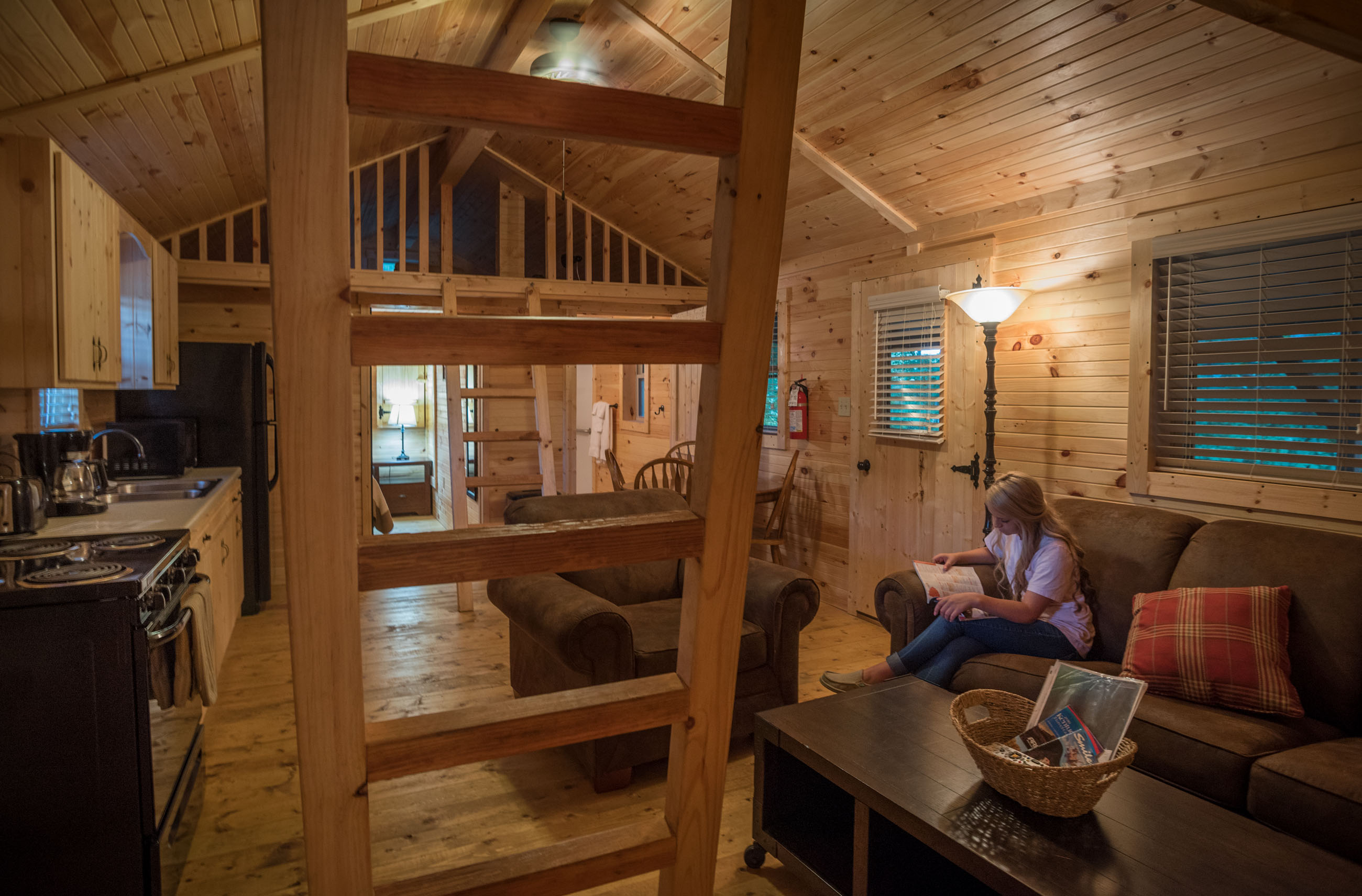 Pulaski Park Cabins
1200 Hwy 3189
Nancy
606-636-6450
Rustic but modern one and two bedroom cabins located in beautiful Pulaski County Park. Some with views of Lake Cumberland all within walking distance of the water. Plenty of space at the cabins for boat parking and all the cabins are located near the park's boat ramp.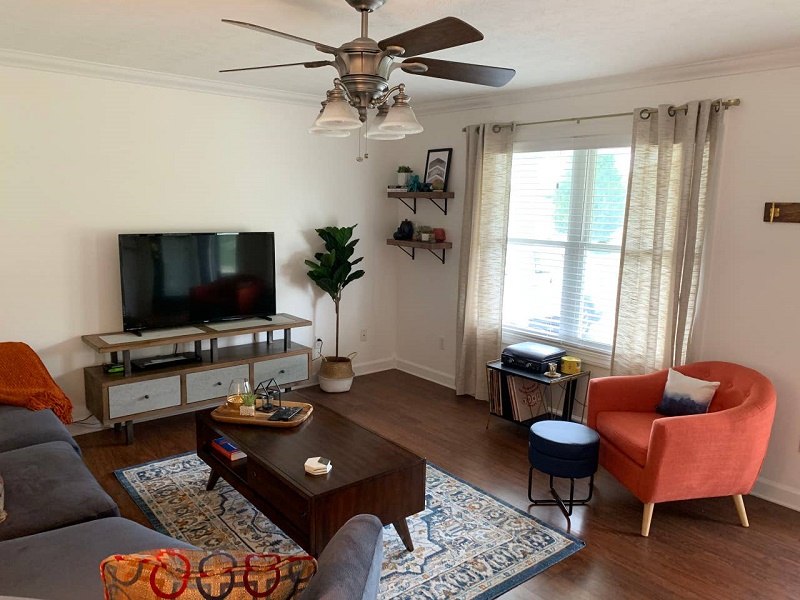 Quiet and Convenient in Somerset
175 Coffee Tree Lane
Somerset, KY
606-271-8403
Close to beautiful Lake Cumberland but also conveniently located minutes from growing downtown Somerset, this home is just right for your weekend getaway! Located on a quiet cul-de-sac with farmland views and newly redecorated with sleek, mid-century modern design, you'll feel relaxed and at home in the neighborhood here.
3 bedrooms; 2 full baths; Kitchen with dining space; Laundry room; Porch & patio; Garage; Sufficient outdoor space for activities. Completely updated and decorated with lots of amenities. The house has Wi-Fi; smart TVs in living & master bedrooms; Netflix; Hulu; Amazon Prime Video; Vudu; no cable or satellite but you can log-in to apps on the TV with your own cable provider information (if applicable).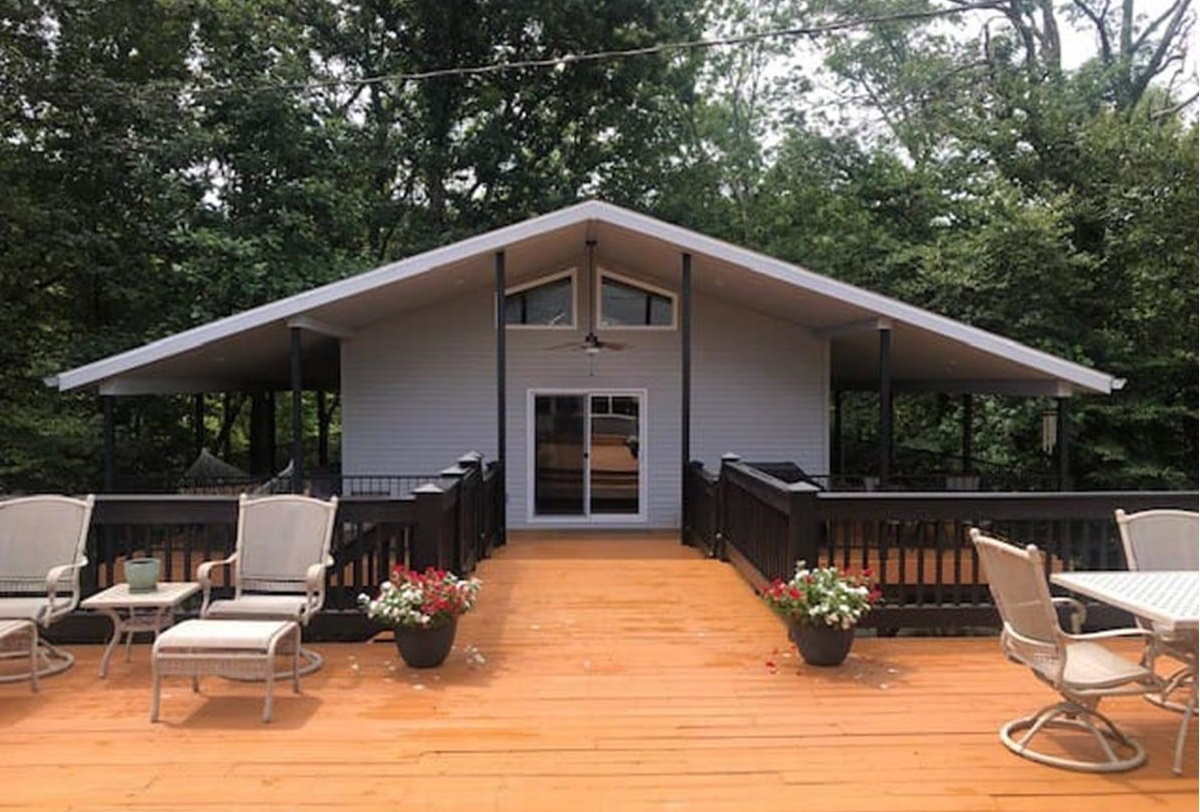 T T's Treehouse
475 Bond St.
Science Hill, KY
270-585-3274
Cozy studio guesthouse with beautiful oak vaulted ceiling overlooking scenic woods and creek just 10-15 minutes from boat ramp on Lake Cumberland. Covered porch around guesthouse with gas grill access. Kitchen stocked with pots, pans, dishes, and coffeemaker. Full size sofa couch and 2 full size floor mattresses in loft. Free WiFi, onsite boat parking and a fire pit are available. We know you will enjoy this quaint little get away. Guests have access to the large deck connecting the guesthouse and main house. Deck wrapping around guest house is private for guests. We do ask there be no smoking. Pets are welcome!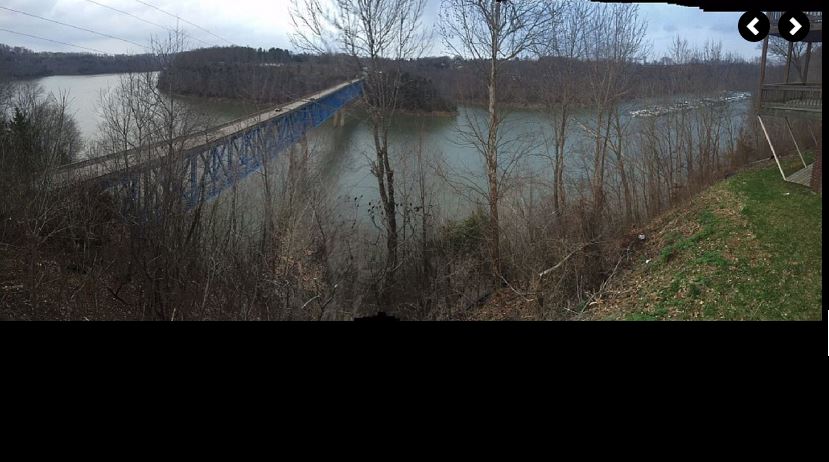 Riegelsberger Lakeview Rental
51 Bridgeview
Nancy
513-885-2766
Large custom built townhome with a great view of Lee's Ford Marina and Lake Cumberland from many of the rooms and large level two tier deck. Located inside Lee's Ford Marina and walking distance to the Harbor Restaurant and marina where dockage, boat ramp, boat and jet ski rentals are available. This home has over 2,500 square feet with four bedrooms and two baths.  Plenty of boat parking in driveway. Three of the bedrooms have queen beds and the master bedroom has a king bed.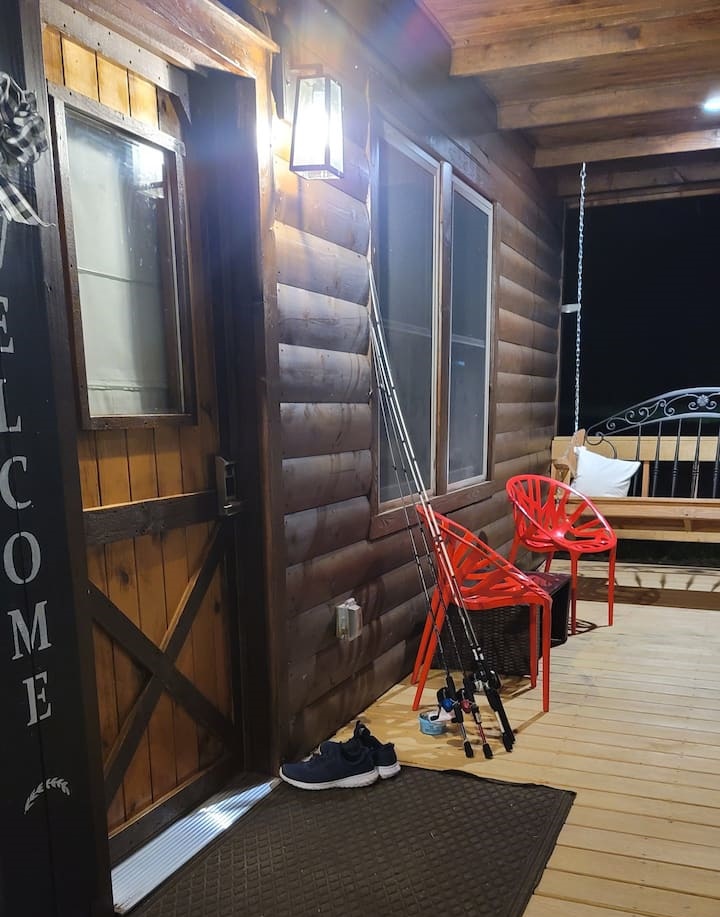 Ruckel's Cabins
192 W. Hwy 70
Eubank, KY
606-379-6400
Cabin A and Cabin B are both 2-bedroom, 1-bath units that sleep 6 each with a queen bed and four twin beds. Both cabins feature an outdoor porch with a swing, chairs, and a cozy place to listen to the 'frog symphony', eagle watch and relax. It is much like a cozy hotel with internet, internet TV, microwave, frig washer/dryer and more. Located a short walk away is Ruckel's Paylake, and Eubank park with walking trails, disc golf course, and playground.
Sackett's Lake Bluff Cabins
Vicki Street
Nancy
606-871-9595
Sackett's Lake Bluff Cabins are located just five minutes from Lee's Ford Marina and Pulaski County Park. The three cabins are furnished and all have three bedrooms and two baths. The cabins are located minutes from stores and restaurants and offering plenty of room for boat parking and access to overnight slips at the marina. The cabins are a popular destination for many.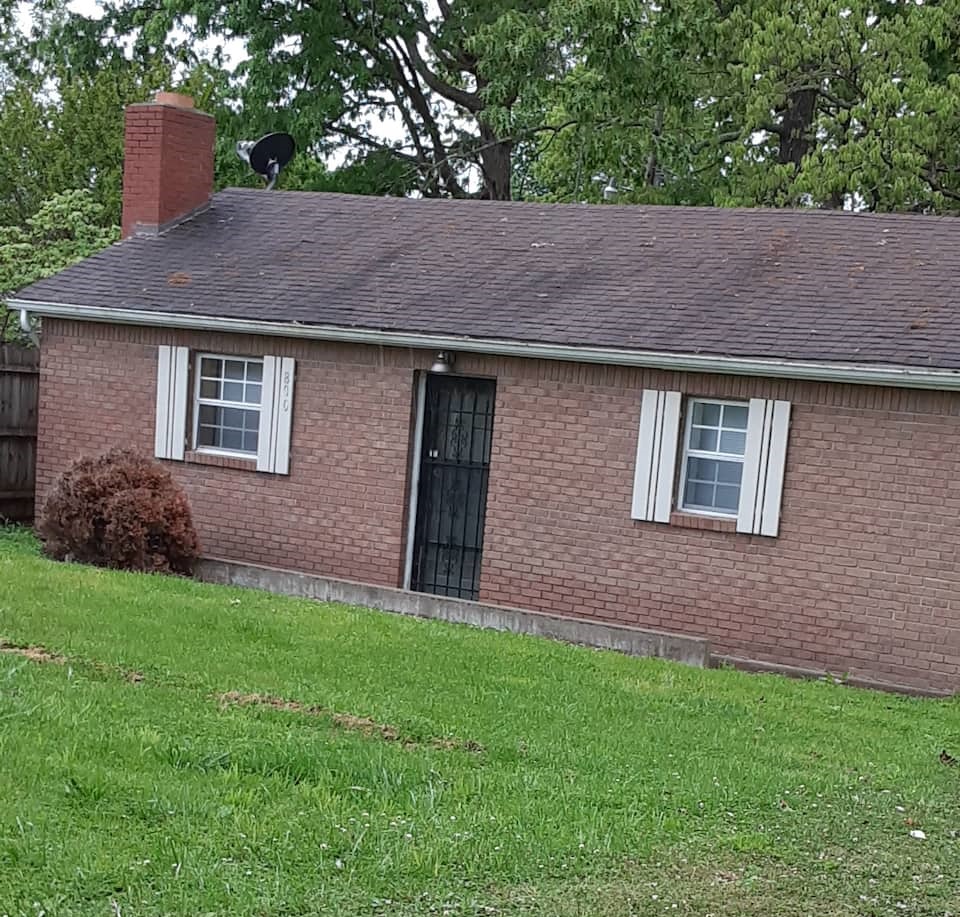 Shannon's Cozy Lakeside Cottage
800 Shoreline Dr. 
Nancy, KY 42544
606-425-8133
A seasonal view of Lake Cumberland from the backyard. The cottage is lakeside, not lake access. Close to boat ramps, shopping, dining and Mill Springs Battlefield National Monument Visitor Center and Museum, a Civil War sight in Nancy. Lee's Ford Marina is less than a mile away and Pulaski Co. Park is about 4 miles away. Relax, enjoy the lake see the sights and be at home. This 2 bedroom, one bath cottage is nothing fancy, but it has everything you need for a lake vacation, history buff, or a cozy weekend for two. The eat-in kitchen is stocked with dishes and silverware. The cottage has free Wi-Fi, washer/dryer and more.  Outside patio seating is also provided.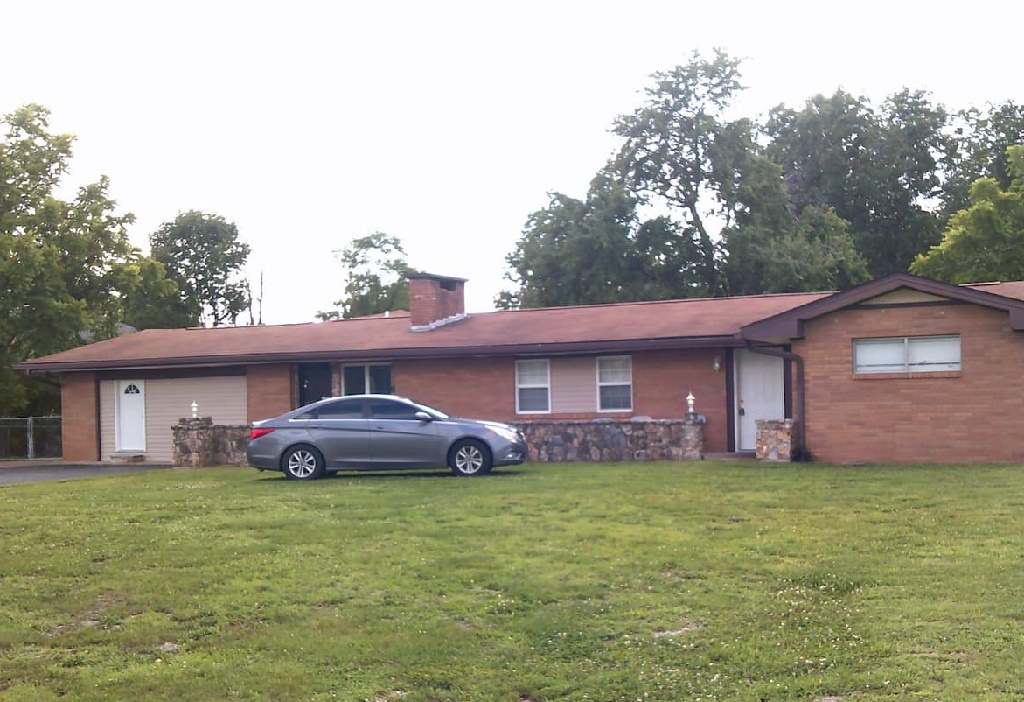 Shannon's Lake Getaway Condo
4690 Hwy 80 
Somerset, KY 
606-425-8133
The living room of this three-bedroom, two-bath condo has antique water ski's on wall as shelving, to give you that lake feeling. The bigger bathroom has a makeup desk and chair. The one bedroom has a fireplace. Kitchen is fully equipped and the unit has a washer/dryer. The whole front yard can be used for parking. Outside patio chairs. Close to everything, Somerset, Lee's Ford Marina and Pulaski County Park, yet feels secluded. This was a business and we gutted the walls, all new electric, plumbing, toilets, showers and hardwood and ceramic tile. We hope that you love what we have done with the place.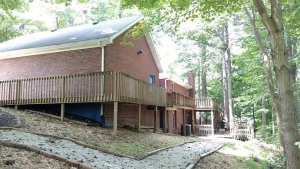 Somerset 9-Bedroom House near Lee's Ford
205 Elizabeth Court
Somerset
937-325-9991
Located two miles from Somerset, near Fishing Creek and four miles from Lee's Ford Marina and restaurant. This large home offers a beautiful view of rural wooded KY and has a large, 1,500 square foot deck. The home has over 4,600 SF of including nine bedrooms, four bathrooms and an eat-in kitchen. Free Wi-Fi is available.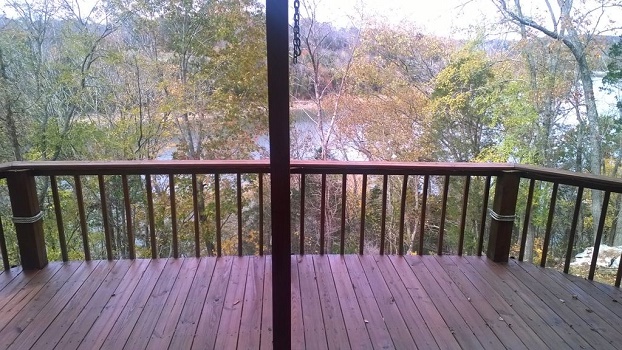 Terry's Overlooking Lake and Island
282 Circle Lane
Burnside
937-477-0574
Fantastic location for this 3 bedroom 2 bath split floor plan ranch. Nearly 1600 sq ft plus huge covered deck overlooking the cove between Burnside Island and Burnside. This home sleeps up to 8. Kitchen is fully equipped with regular range/oven, huge refrigerator, dishwasher and microwave. There is also a full size washer and dryer and all linens and towels. The covered deck has large picnic table and additional chairs along with gas grill and hammock.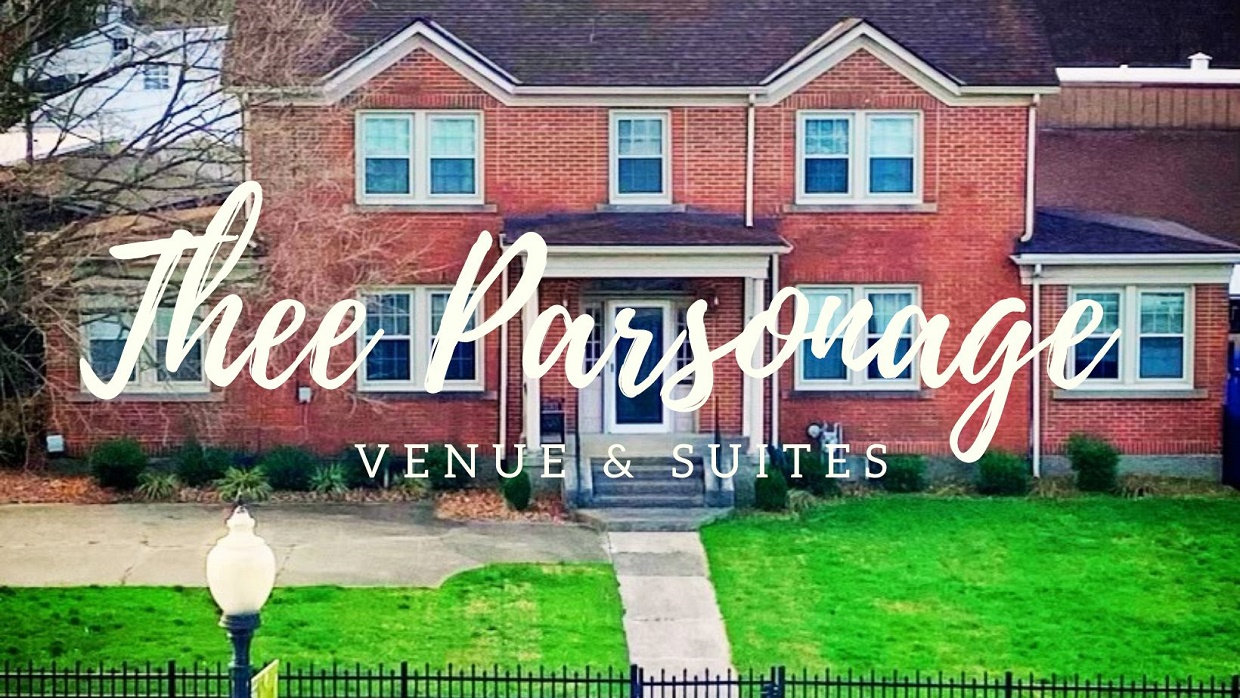 Thee Parsonage Suites
301 E. Main St.
Somerset, KY
606-425-4965
Thee Parsonage is the right choice for visitors who are searching for a combination of historical charm with all the updated luxury accommodations and a convenient location to explore all downtown. The Suites are arranged on the second floor. Each Suite has a Kitchenette, living room, bathroom, and separate bedroom. Enjoy relaxing in your private space, while enjoying the view of downtown Somerset.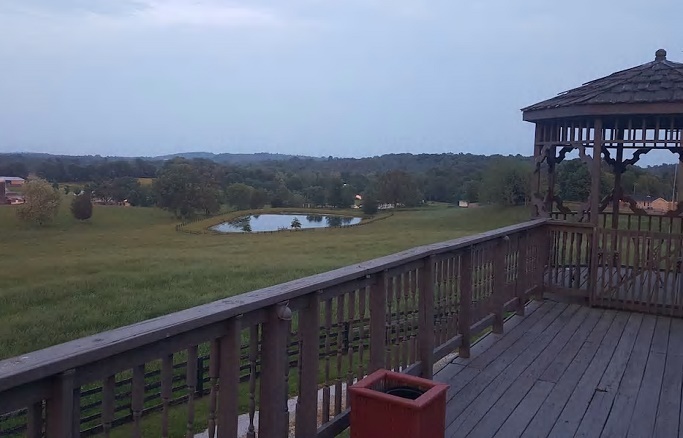 The Barn House
3810 E. Hwy. 452
Eubank
606-669-5989
This unique house, built on top of a barn, features tongue-and-groove cedar ceilings, updated kitchen, large bedroom, loft space and amazing views from the bedroom and large porch. Imagine a Gatlinburg like Chalet with farming country views and that is what we have. With ample parking for vehicles and/or boats this is a must-visit property. This property offers a great getaway if you want something a little different and definitely relaxing.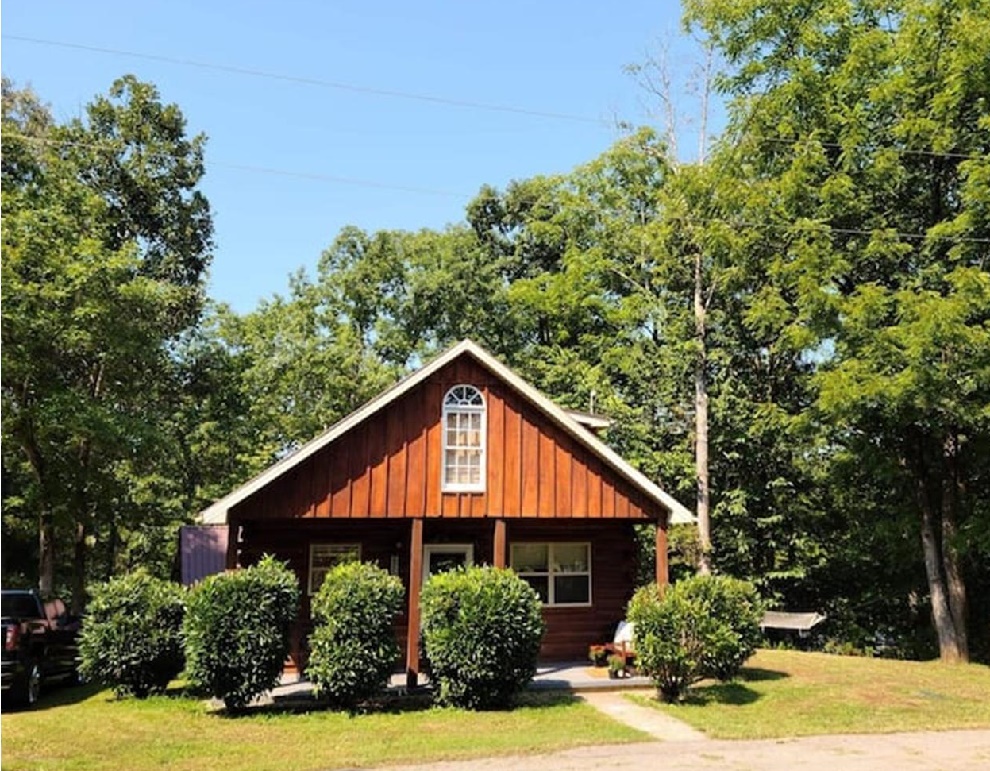 The Cozy Bear Cabin
15 Traveler Rd. 
Somerset, KY 
606-215-4387
This 3 bedroom 1 ½ bath cabin is located on Buck Creek. There is access to a boat ramp, making this location a boater/kayaker/fisherman's paradise. This cabin offers a Gatlinburg vacation without the travel! Located in the beautiful mountains of Kentucky you will be surrounded by some of nature's most beautiful views. Being 30 minutes from town, you will find peace and quiet while enjoying a cozy stay here. Other things to note
There is very limited, if any, cell phone signal here. High speed Wi-Fi is offered making communication easy if needed.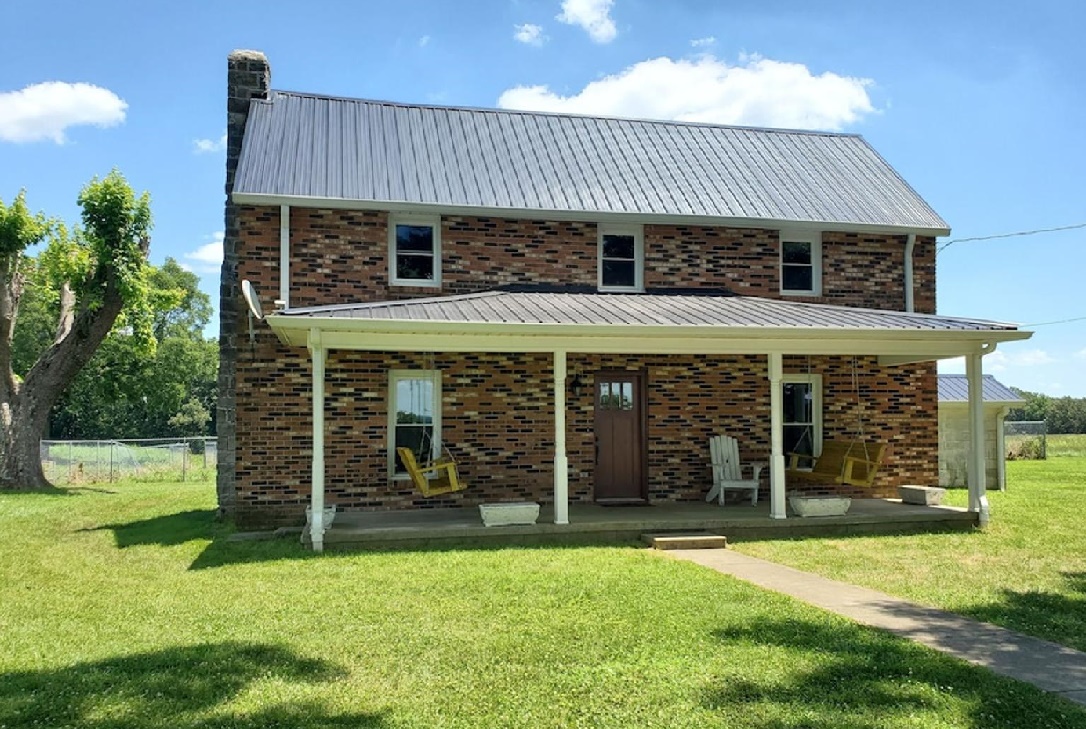 The Homeplace
2535 Faubush Rd.
Nancy, KY
606-875-3265
Stay in a 100 year old totally remodeled and updated farmhouse in a quiet rural setting that is easily accessible from the Cumberland Parkway (Nancy exit #78). From the front porch swings you can see relaxing farm land and beautiful sunsets. The house has 4 large bedrooms (3 upstairs and 1 downstairs), large modern kitchen and dining and living room which are nicely furnished. There is a large fenced in area out back for dogs. The U shaped driveway is easy to navigate for boats and larger vehicles and there is plenty of parking.
The house is on the road leading to Wolf Creek Marina (15 miles) on Lake Cumberland. Nancy center has the Mill Springs National Cemetery, Mills Springs Battlefield museum, grocery store, gas station, post office, pizza and is about 5 miles from the house. Pulaski County Park with hiking and lake activities is 8 miles. Somerset is 15 miles and an easy drive on the Cumberland Parkway.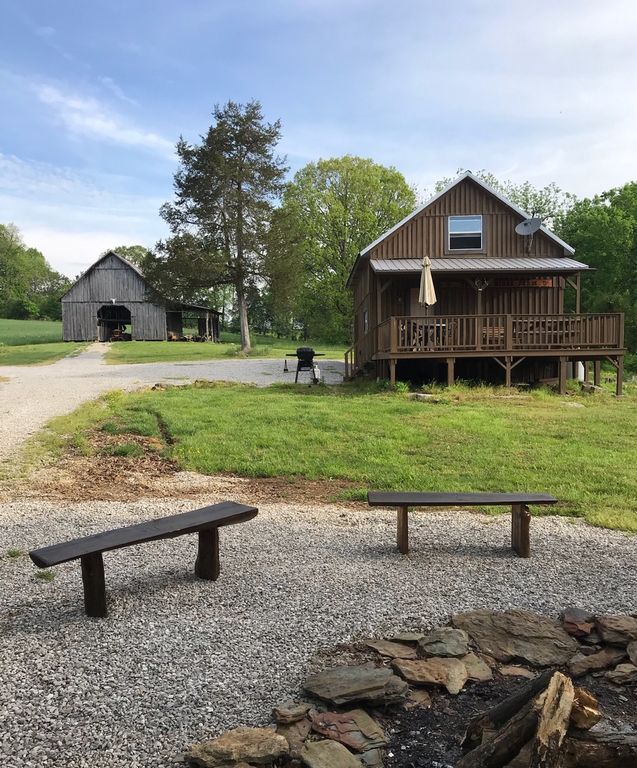 Tobacco Ridge Farm
Silver Star Road                            Temporarily Closed
Somerset
772-216-3718
Modern, immaculate and comfortable cabin surrounded by nature at its finest. Tobacco Ridge Farm consists of 64 magnificent acres that you will have all to yourself to explore. The original tobacco barn has been fully renovated into a warm and cozy cabin that is clean, comfortable, modern inside and will easily sleep 5 – 6 people. The cabin has hard wood floors, knotty pine interior walls and the trim and stairs are made of reclaimed oak barn wood from a nearby farm. The custom handcrafted kitchen has a solid red oak countertop and cabinets also created from reclaimed barn wood. The kitchen has a farm house sink, refrigerator, microwave, stove, coffee maker, breakfast table with chairs and everything else that will make your stay comfortable. Downstairs is a private bedroom with 1 queen size bed and a dresser. Upstairs is a large "L" shaped loft with 3 twin beds and 1 full size bed. The bathroom is spacious with large step-in shower, blow dryer, cubbies for storage and a washer and dryer. The cabin offers Direct TV, a central a/c and heating system along with an instant hot water heater. Step outside onto the 16×20 deck overlooking the fire pit and views of the farm. Outside are tables, chairs and a propane BBQ grill. Sit on the deck and listen to the wild turkey calling and the bluebirds singing while enjoying your morning coffee. There are 64 acres to explore which includes a creek, 3 small waterfalls, fields and woods. Walk quietly and you will see whitetail deer, wild turkey plus numerous other wildlife. The farm has great views of the surrounding hills and is very quiet and peaceful.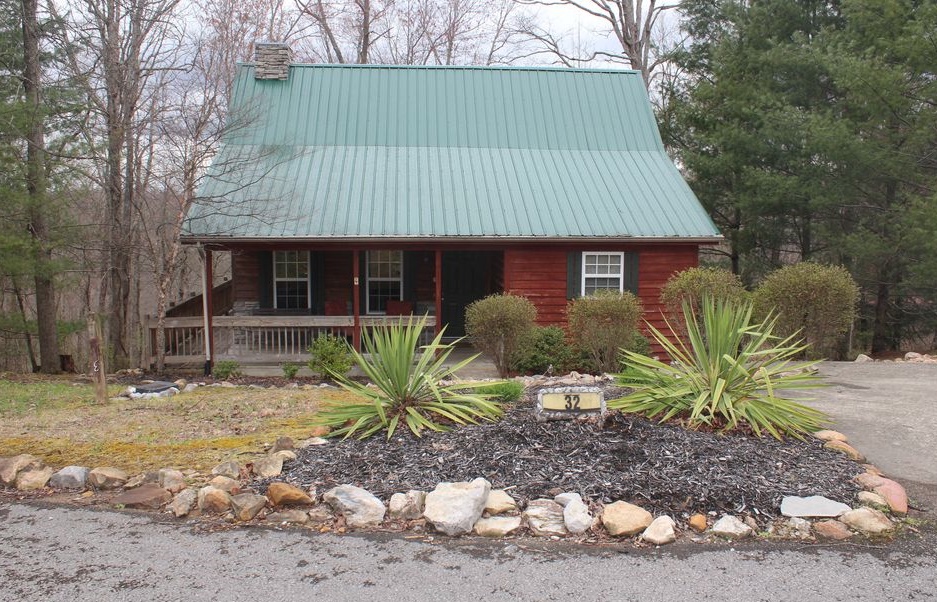 Tranquil Cabin in Gated Resort
32 Tranquility Place
Burnside
888-829-7076
740-225-0033

This 3 bedroom, 3 bath cabin has a cozy secluded feel at the gated Lake Cumberland Resort in Burnside, Kentucky. The family room and dining area has an open concept and a 2 story stone gas fireplace. The family room TV has basic cable and is streaming device ready. The kitchen is fully equipped to make your stay easy and enjoyable. The main floor screened in back porch offers quiet relaxing views of the Daniel Boone National Forest. The lower level has a screened porch which offers seating area, a hot tub and access to the large deck with fire ring overlooking the forest. Free wi-fi is included and TV's are streaming device ready, but you need to bring your favorite device such as a "Fire Stick". The resort provides 24 hour security and we will provide you with a security code to open the gates. As a renter of our cabin, you will have access to all the amenities of the resort, such as 3 pools, a tennis court, a country store with basic supplies, great pizza, and gasoline. You will also have access to a very nice boat ramp and dock a very short drive from the cabin.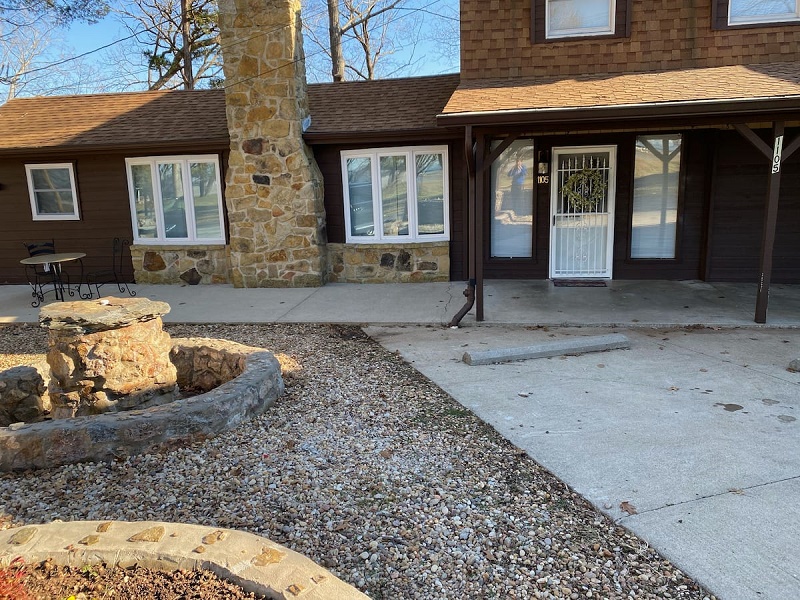 Tree-Tops Lake Cumberland
1128 Boat Dock Rd. 
Somerset, KY
606-305-5382
Perched Lakeside high in the Tree-Tops near Somerset, our cozy newly remodeled home sleeps 12 w/ 4 bed-rooms, 2 Q sleeper sofas, 1 Q bunk & a day sofa. It is 2 story w/2 kitchen, 3 baths, & 2 Decks. TreeTops has a unique Gazebo Rec Room w/Bumper Pool/Poker/Dining Table combo, Foosball, Darts & many games. Adjacent is our Kentucky Horse Country themed Bar Room w/mini fridge & 65" TV leading to a Bright "Cellar" walkway to the lower deck. TreeTops is two individual units connected with a Gazebo Rec/Bar Room. The first level is a complete house and sleeps 6. The second level can also be a separate unit, with full amenities that sleeps 6. Guests have access to the entire house, other than the garage.Parking for 4 vehicles & 2 boats!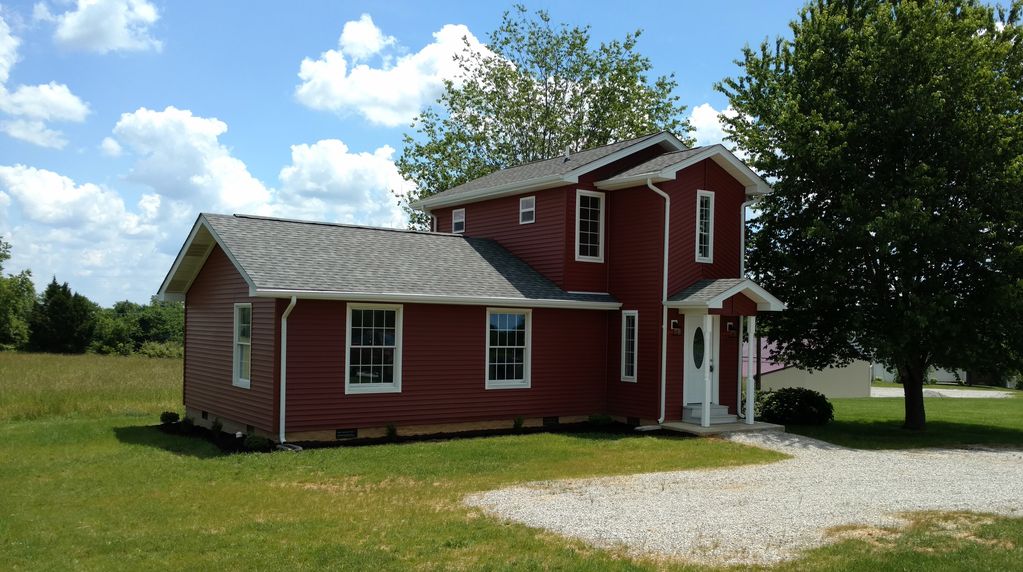 Vacation Rental Home near Pulaski County Park
44 Park Road
Nancy
937-325-9991
This home boasts over 1,250 square feet of space including 3-bedrooms, 2 & 1/2-baths and an eat-in kitchen. The Master Bedroom has a King bed and private bath with shower. Two other upstair bedrooms have queen beds and share a full bath. The Living Room includes ample seating for eight and 50″ HDTV and has a futon for additional sleeping space. The newly added eat-in kitchen has seating for 8 at the table and 2 more at the breakfast bar. Free wireless service is available.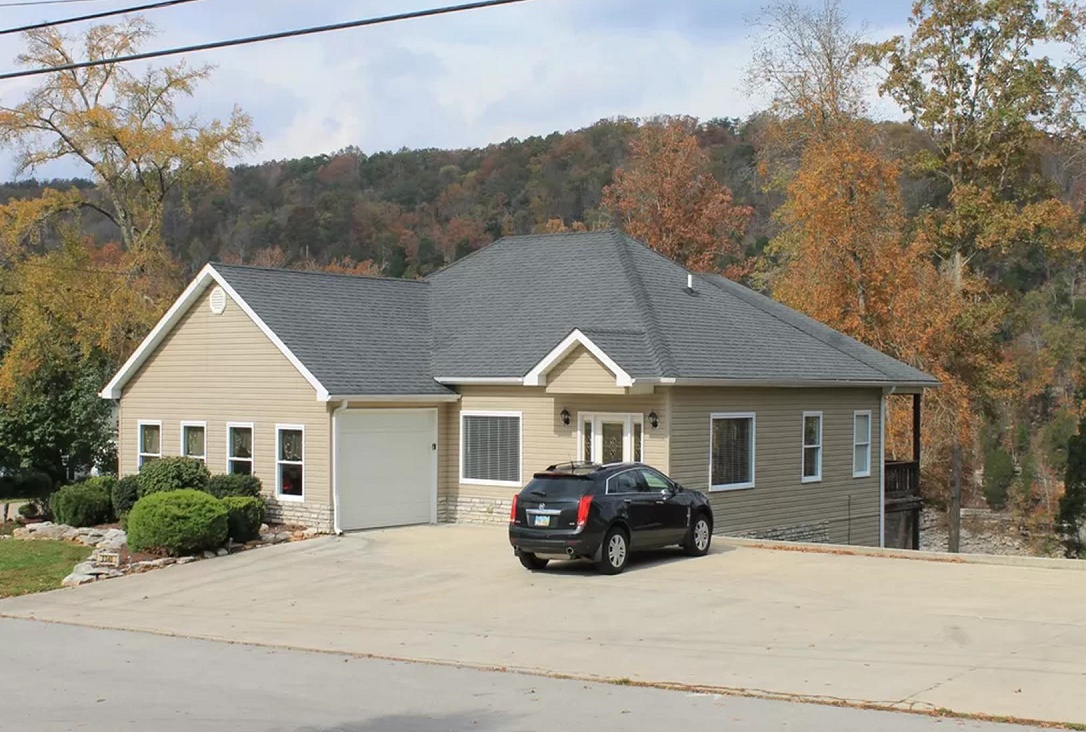 Whitmire Properties
2340 Roberts Bend Road
Burnside
330-492-7162
This lakefront vacation rental offers four bedrooms, three and a half baths plus a boat garage. Great view of the lake with plenty of deck space. Located next to a boat ramp.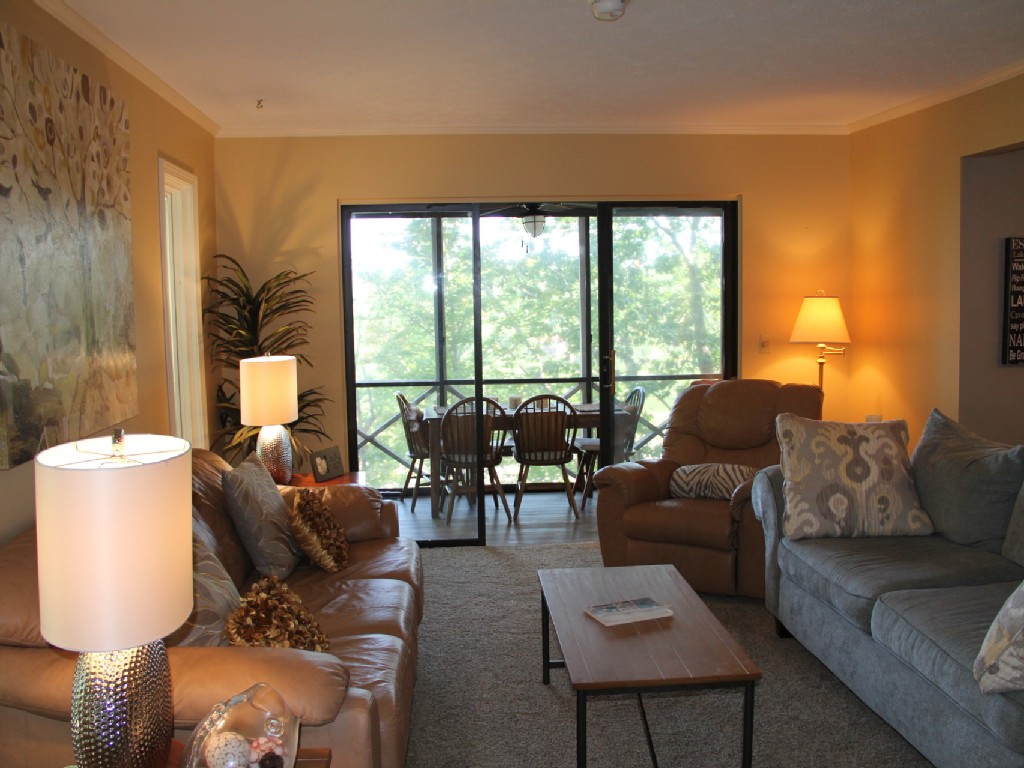 Woodson Bend Rental 14-1 Star Trek
14-1 Star Trek
Bronston
859-509-1288
This 3-bed, 2-bath condo sits on a gorgeous panoramic vista of Lake Cumberland. It is located within 3-5 minutes walking distance to the clubhouse which features a restaurant, swimming pool, kiddie pool, 5 tennis courts, basketball, volleyball, and a huge shaded playground. The family room has beautiful views of the lake; a well-appointed kitchen with stainless appliances and includes a bar area. The screened in heated and cooled back porch features amazing lake views with seating and dining table for 6.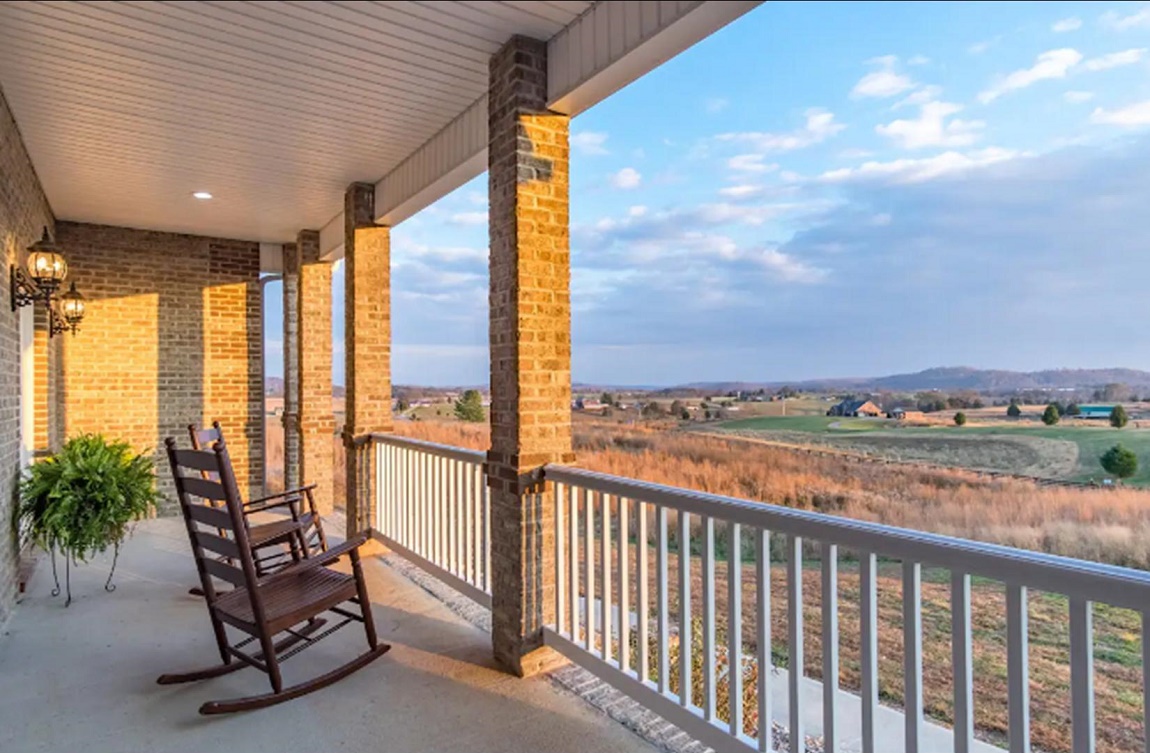 Lodge at Rabbit Run
1521 White Rd.
Somerset, KY
606-687-0395
Country living at its best. Lots of quiet space. Small area with private quarters, the back of large club house (club is seldom used). There is a private kitchen, dining and living space along w 2 sleeping rooms. Black plank fence w horses inside. The location is perfect for Somernites Cruisers or Lake Goers and there is a Wedding/Banquet area also available. Close to the lake and Somerset but far enough out for a peaceful, quiet and relaxing stay. Plenty of available parking.