Events for November 1, 2019
Events Search and Views Navigation
All Day
FLW Open Fishing Tournament – Burnside Island State Park Ramp, 8801 S. hwy 27, Burnside, KY 6am-4pm daily. Come out and enjoy FLW's largest Lake Cumberland tournament, watch the weigh-ins, shop vendors, talk to professional anglers and more. Info 270-703-9551 or www.flwfishing.com.
Find out more »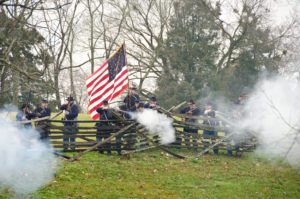 This may be the last large-scale reenactment on the Mill Springs Battlefield. There will be daily battles/skirmishes, Civil War encampments, Sutler area, food from the 1860's, an 1860's style Evening Ball on Saturday, Civil War era music and much more. Military Commands to be coordinated by: Federal Commander: Bob Van of the Cumberland Guard Confederate […]
Find out more »
7:00 pm
ABA Haunted House – ABA Offices, 105 College St., Somerset, 7pm-10pm. Come in to the haunted basement and discover the "creepy dolls" that inhabit the building. Info 606-677-2636.
Find out more »
+ Export Events